Horga Lab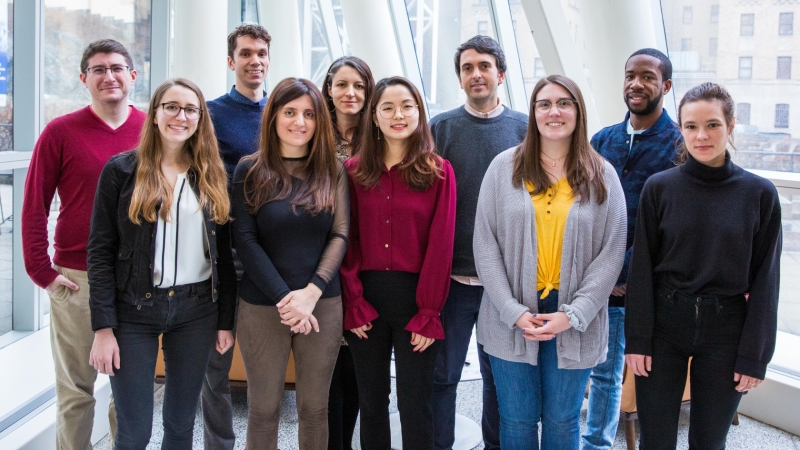 Location and Contact Information
1051 Riverside Drive, Suite 6100
New York State Psychiatric Institute
United States
Our lab mainly focuses on the neurobiological and computational mechanisms of psychotic symptoms in schizophrenia and of related cognitive functions in health, including sensory and reward-based learning and decision-making. Psychosis is characterized by the experience of abnormal percepts, such as hallucinations, and delusional beliefs. While excessive dopamine transmission in the striatum is known to play a role in these symptoms, the cognitive and computational mechanisms mediating psychotic experiences remain unclear. To understand these neural mechanisms, our research uses behavioral paradigms and computational tools in combination with a variety of functional, structural and molecular in vivo neuroimaging techniques (mainly functional Magnetic Resonance Imaging [fMRI] and Positron Emission Tomography [PET]) in healthy humans and patients with psychotic disorders. We also use pharmacological manipulations to understand the relationships between neurotransmission and specific neural computations, and collaborate with other groups to collect invasive and non-invasive electrophysiological data relevant to our research focus.
Sensory learning and hallucinations
Our prior research showed that voice-sensitive regions of the auditory cortex have increased activity while patients experience auditory hallucinations of voices (Horga et al., J Neurosci 2014; Horga et al., J Psychiatry Neurosci 2011). This hallucination-related increase in neural activity was further associated with abnormal learning signals, suggesting that a learning dysfunction could lead to faulty sensory attenuation and hallucinatory percepts (Horga et al., J Neurosci 2014). We have also discovered that abnormal functional connectivity between the striatum and associative cortical regions, including parts of the auditory cortex, relate to psychosis and dopamine receptor density (Horga et al., JAMA Psychiatry 2016). Our current projects aim at elucidating the relationships between dopamine abnormalities and downstream cortical dysfunctions associated with specific symptoms of psychosis and to formalize these mechanisms in a computational model of psychosis. To this end, we are also studying perceptual disturbances in people at clinical high risk for psychosis (Lehembre-Shiah et al., JAMA Psychiatry 2016) in collaboration with Ragy Girgis, MD, and the COPE Clinic at NYSPI. In an EEG study in collaboration with Nima Mesgarani, PhD, we are also investigating the dynamics of sensory gating of irrelevant stimuli during speech processing in schizophrenia and how abnormalities in sensory gating may be relevant to psychosis.
Inference and delusional beliefs
More recently, we have been focusing on the cognitive processes related to inference and belief formation in health and illness. We have developed an incentive-compatible version of the "beads task" to evaluate specific abnormalities in probabilistic inference that may relate to the formation and maintenance of psychotic symptoms, particularly delusional beliefs. We are using a number of other well-established decision-making tasks and computational models to understand whether subjective valuation can explain some of the observed behaviors attributed to delusion-proneness.
Cognitive control, reinforcement learning, and working memory
We have also studied mechanisms related to other cognitive functions in healthy individuals, including cognitive control (Horga et al., J Neurosci 2011), reinforcement learning (Horga and Maia et al., Hum Brain Mapp 2015), and working memory (Cassidy et al., J Neurosci 2016), both in terms of the neural computations that are relevant to adaptive behaviors and the network dynamics that may support them. Building on this work, we have used and are using similar paradigms to investigate cognitive dysfunctions in a number of psychiatric populations in collaboration with other groups. We also collaborate with Sameer Sheth's group in the Neurosurgery Department at Columbia University to use invasive intra-cranial recordings and advance our understanding of these and other cognitive functions in humans.
Biomarker development
We are also interested in developing neuroimaging biomarkers that can be used to predict clinically relevant outcomes and can be ultimately used to guide clinical decision-making (Abi-Dargham and Horga, Nat Med 2016). Among other promising neuroimaging biomarkers, we are using neuromelanin-sensitive MRI as a potential candidate to predict conversion to overt illness in at risk populations for schizophrenia and Parkinson's disease.
Lab Members
Collaborators
Rachel Marsh, PhD

Sameer Sheth, MD, PhD

Nima Mesgarani, PhD

Peter Balsam, PhD

Anissa Abi-Dargham, MD

Jared Van Snellenberg, PhD

Nathaniel Daw, PhD

Jacqueline Gottlieb, PhD

Anna Konova, PhD
Previous Lab Members
Emeline Lagache, MD

Postdoctoral Research Fellow

Clifford Cassidy, PhD

Former Postdoctoral Fellow

Seth Baker, BA, MS

Former Research Assistant

Kathleen Fan, MSc

Former Research Assistant

Nina Diamond, BA

Former Undergraduate Volunteer

Vanessa Rhee, BS

Former Undergraduate Volunteer

Quincy Harrison, BS

Former Undergraduate Student

Naomi Hollard, BA

Former Undergraduate Student

Arianna Noya, BA

Former Undergraduate Student

Garrett Salzman, BA

Former Research Coordinator

Julianne Carey, MA

Former Volunteer Graduate Student

Seth Baker

Sylvie Messer

Former Research Assistant

Marianne Broeker

Former Volunteer Graduate Student

Fabyen Ragalmuto

Florian Ragalmuto