Horga Lab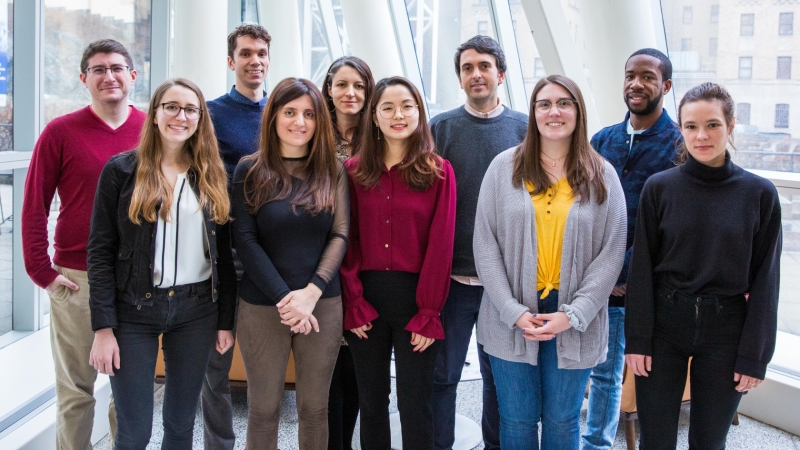 Location and Contact Information
1051 Riverside Drive, Suite 6100
New York State Psychiatric Institute
United States
Our lab mainly focuses on the neurobiological and computational mechanisms of psychotic symptoms in schizophrenia and of related cognitive functions in health, including sensory and reward-based learning and decision-making. Psychosis is characterized by the experience of abnormal percepts, such as hallucinations, and delusional beliefs. While excessive dopamine transmission in the striatum is known to play a role in these symptoms, the cognitive and computational mechanisms mediating psychotic experiences remain unclear. To understand these neural mechanisms, our research uses behavioral paradigms and computational tools in combination with a variety of functional, structural and molecular in vivo neuroimaging techniques (mainly functional Magnetic Resonance Imaging [fMRI] and Positron Emission Tomography [PET]) in healthy humans and patients with psychotic disorders. We also use pharmacological manipulations to understand the relationships between neurotransmission and specific neural computations, and collaborate with other groups to collect invasive and non-invasive electrophysiological data relevant to our research focus.
Sensory learning and hallucinations
Our prior research showed that voice-sensitive regions of the auditory cortex have increased activity while patients experience auditory hallucinations of voices (Horga et al., J Neurosci 2014; Horga et al., J Psychiatry Neurosci 2011). This hallucination-related increase in neural activity was further associated with abnormal learning signals, suggesting that a learning dysfunction could lead to faulty sensory attenuation and hallucinatory percepts (Horga et al., J Neurosci 2014). We have also discovered that abnormal functional connectivity between the striatum and associative cortical regions, including parts of the auditory cortex, relate to psychosis and dopamine receptor density (Horga et al., JAMA Psychiatry 2016). Our current projects aim at elucidating the relationships between dopamine abnormalities and downstream cortical dysfunctions associated with specific symptoms of psychosis and to formalize these mechanisms in a computational model of psychosis. To this end, we are also studying perceptual disturbances in people at clinical high risk for psychosis (Lehembre-Shiah et al., JAMA Psychiatry 2016) in collaboration with Ragy Girgis, MD, and the COPE Clinic at NYSPI. In an EEG study in collaboration with Nima Mesgarani, PhD, we are also investigating the dynamics of sensory gating of irrelevant stimuli during speech processing in schizophrenia and how abnormalities in sensory gating may be relevant to psychosis.
Inference and delusional beliefs
More recently, we have been focusing on the cognitive processes related to inference and belief formation in health and illness. We have developed an incentive-compatible version of the "beads task" to evaluate specific abnormalities in probabilistic inference that may relate to the formation and maintenance of psychotic symptoms, particularly delusional beliefs. We are using a number of other well-established decision-making tasks and computational models to understand whether subjective valuation can explain some of the observed behaviors attributed to delusion-proneness.
Cognitive control, reinforcement learning, and working memory
We have also studied mechanisms related to other cognitive functions in healthy individuals, including cognitive control (Horga et al., J Neurosci 2011), reinforcement learning (Horga and Maia et al., Hum Brain Mapp 2015), and working memory (Cassidy et al., J Neurosci 2016), both in terms of the neural computations that are relevant to adaptive behaviors and the network dynamics that may support them. Building on this work, we have used and are using similar paradigms to investigate cognitive dysfunctions in a number of psychiatric populations in collaboration with other groups. We also collaborate with Sameer Sheth's group in the Neurosurgery Department at Columbia University to use invasive intra-cranial recordings and advance our understanding of these and other cognitive functions in humans.
Biomarker development
We are also interested in developing neuroimaging biomarkers that can be used to predict clinically relevant outcomes and can be ultimately used to guide clinical decision-making (Abi-Dargham and Horga, Nat Med 2016). Among other promising neuroimaging biomarkers, we are using neuromelanin-sensitive MRI as a potential candidate to predict conversion to overt illness in at risk populations for schizophrenia and Parkinson's disease.
Lab Members
Lab Members
Kenneth Wengler, PhD

Postdoctoral Research Fellow

Kenneth Wengler is a Postdoctoral Research Fellow in the Horga Lab. He received his BS in Physics from St. John's University and PhD in Biomedical Engineering from Stony Brook University where his research focused on the development of novel MRI sequences and analysis methods to study diffusion, perfusion, and exchange. His work at Stony Brook University also included the application of MRS, ASL, and neuromelanin-sensitive MRI to study psychiatric disorders. Kenneth joined Dr. Horga's lab in 2019, where his research is focused on the development of neuromelanin-sensitive MRI as a biomarker for predicting conversion to overt illness in at risk populations for schizophrenia. His interests also include the application of computational methods to behavior and fMRI data to study the cognitive neuroscience mechanisms of delusions and hallucinations, and the use of PET and MRI to investigate the associated biological mechanisms that are involved.

Andra Mihali, PhD

Postdoctoral Research Fellow

Andra Mihali is a Postdoctoral Research Fellow in the Horga Lab. She received her BA in Biochemistry from Columbia University and her PhD in Neural Science from NYU, mentored by prof. Wei Ji Ma. She worked on developing tasks aimed to quantify and understand differences in the precisions of visual representations and perceptual decisions, in neurotypicals as well as observers with ADHD. To this end, she used psychophysics, eye tracking and computational modeling. In April 2019, she joined Dr. Horga's lab, with the aim of combining these methods with neural measures of dopamine function to better understand psychosis and inform individualized treatment. Her project focuses on developing psychophysical markers to quantify perceptual distortions and understand how people make use of and update beliefs about the reliability of their sensory information.

Brandon K. Ashinoff, PhD

Postdoctoral Research Fellow

Brandon is a Postdoctoral Research Fellow in the Horga Lab. He received his PhD from the School of Psychology at the University of Birmingham, UK, where his research focused on the behavioral and neural mechanisms underlying proactive and reactive distractor inhibition in healthy aging. He has also published papers investigating how video games affect the brain and cognition, as well as their effectiveness as a pedagogical tool. In Dr. Horga's lab, Brandon's research will be focused on identifying the neurocognitive mechanisms underlying belief updating, and their role in the development and maintenance of delusions and hallucinations in schizophrenia. The ultimate goal will be to use this research as a foundation for the development of novel non-pharmacological treatments which may be able to provide relief for patients who are treatment refractory with respect to antipsychotic medications.

Najate Ojeil, MS, MA, LMHC

Chief of Assessments and Evaluations

Najate Ojeil, MS, MA, LMHC, directs clinical assessments and evaluations at the Horga lab and is a senior research scientist at the Center for Practice Innovations. She is also a consultant for Stony Brook University and Intra Cellular Therapy, and serves as the director of the Mental Health Counseling Service Westchester, PLLC. She is an expert in diagnostic evaluations, clinical and neuropsychological assessments, as well as in cognitive behavioral therapy. She provides training and supervision to research coordinators and oversees quality control of clinical evaluations.

Nicholas Singletary, BS, MA

Nicholas Singletary is a Ph.D. candidate at Columbia in Neurobiology and Behavior. He graduated from Emory University with a B.S. in Neuroscience and Behavioral Biology, where he completed an honors thesis with Dr. Todd Preuss comparing the structural connectivity of human and nonhuman primate dorsomedial prefrontal cortex. He is broadly interested in cognitive neuroscience, and he has collaborated on psychophysics and decision-making studies with Dr. Ennio Mingolla at Northeastern University and Dr. Michael Shadlen at Columbia. Under co-mentorship by Drs. Horga and Jacqueline Gottlieb, his current research focuses on behavioral and neural correlates of belief updating and information sampling, both of which are crucial to real-world decision making.

Justin Buck, BS

Justin is a Ph.D. student in the Neurobiology and Behavior program at Columbia. He graduated from the University of Maryland in 2019 with Bachelor's Degrees in Cell Biology and Psychology. During undergrad, he worked in the lab of Dr. Kuan Wang at the National Institute of Mental Health where his research focused on developmental and evolutionary changes in dopamine circuitry in mice. Justin joined Dr. Horga's lab in 2020, where his research will focus on the cognitive and neural mechanisms underlying psychosis.

Seth Baker, MS

Sylvie Messer, BA

Research Assistant, PhD Student

Sylvie Messer has been a research assistant in the Horga Lab since February of 2018. She graduated from Hunter College, CUNY with a Bachelor's Degree in Psychology. She is a Clinical Health Psychology doctoral student at Ferkauf Graduate School of Psychology at Yeshiva University. Currently, she is carrying out her doctoral research project in the Horga Lab under the supervision of Drs. Andrea Weinberger and Guillermo Horga. She is investigating substance use, clinical symptoms and sequential belief updating in a clinical high-risk for schizophrenia population.

Jocelyn Kim, BA

Jocelyn Kim joined the Horga Lab in October 2019 as a research assistant. She graduated from Johns Hopkins University with a BA in Psychology and Public Health. As an undergraduate student, she volunteered as a research assistant in Dr. Marina Bedny's Neuroplasticity and Development lab where she investigated visual cortex plasticity in blindness. She also worked under Dr. Suman King in Crown Psychological Services, where she helped determine eligibility for disability claims. Jocelyn is responsible for participant recruitment and coordination, imaging procedures, and behavioral tasks. She is planning to pursue a PhD in Counseling Psychology.

Alissa Fogelson, BA

Alissa Fogelson joined the Horga Lab in June 2021 as a research coordinator. She graduated from the University of Pennsylvania in 2021 with a BA in Psychology. As an undergraduate student, she volunteered as a research assistant in the Boundaries of Anxiety and Depression Laboratory, where she helped investigate the effect of positive events on depression. She also conducted a research study with her professor Dr. Melissa Hunt, where she investigated the impact of social media on mental wellbeing. In the Horga Lab, Alissa is responsible for recruitment and coordination of participants, imaging procedures, and behavioral tasks. She is planning to pursue a PhD in Clinical Psychology.

Anastasia Velikovskaya

Anastasia Velikovskaya joined the Horga Lab in September 2021 as an undergraduate student to complete her senior thesis. She graduated from Barnard College, Columbia University in 2021 with a BA in Neuroscience & Behavior. As an undergraduate student, she volunteered as a research assistant in the Hen Lab, where she conducted research on depression and identified antidepressant effects on neurogenesis caused by activation of serotonin 1A receptors (5-HT1A). In the Horga Lab, Anastasia studies signal detection theory and auditory-like hallucinations in healthy individuals. She is also involved in recruitment and coordination of participants, as well as administration of clinical assessments and behavioral tasks. She is planning to pursue a degree in psychiatry.

Marianne Broeker

Volunteer Graduate Student

Marianne is a volunteer in the Horga Lab. She is currently a graduate student in Clinical Psychology at Columbia University, Teacher's College. She graduated from Free University Berlin with a bachelor's degree in Psychology. Before coming to the U.S., Marianne worked with Prof. Dr. Daniel Senkowski at Charité Berlin at the Multi-Sensory Integration lab. Her independent research during her time at the multi-sensory integration lab focussed on biomarkers in bipolar disorder using EEG-analysis. Marianne works with Andra Mihali on a project researching visual aftereffects and insight.
Collaborators
Rachel Marsh, PhD

Sameer Sheth, MD, PhD

Nima Mesgarani, PhD

Peter Balsam, PhD

Anissa Abi-Dargham, MD

Jared Van Snellenberg, PhD

Nathaniel Daw, PhD

Jacqueline Gottlieb, PhD

Anna Konova, PhD
Previous Lab Members
Emeline Lagache, MD

Postdoctoral Research Fellow

Clifford Cassidy, PhD

Former Postdoctoral Fellow

Seth Baker, BA, MS

Former Research Assistant

Kathleen Fan, MSc

Former Research Assistant

Nina Diamond, BA

Former Undergraduate Volunteer

Vanessa Rhee, BS

Former Undergraduate Volunteer

Quincy Harrison, BS

Former Undergraduate Student

Naomi Hollard, BA

Former Undergraduate Student

Arianna Noya, BA

Former Undergraduate Student

Garrett Salzman, BA

Julianne Carey, MA

Volunteer Graduate Student