Marsh Lab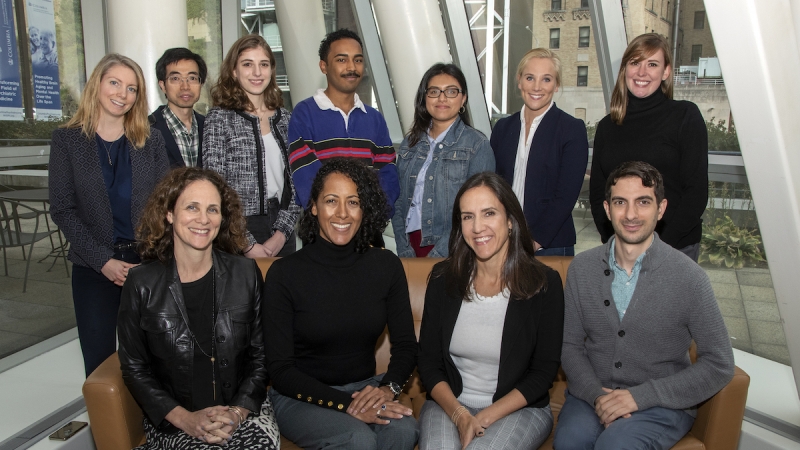 Our research focuses on understanding the neurodevelopmental trajectories of psychiatric disorders that arise during childhood and adolescence. We use multimodal magnetic resonance imaging (MRI) to study the functioning and structure of neural circuits that support the capacity to self-regulate one's thoughts, actions, and urges, and the circuits that support learning and memory. We conduct studies aimed at assessing the neurodevelopment of these circuits in healthy children and adolescents and in adolescents with eating disorders. We also assess circuit-based changes following treatment in children, adolescents, and adults with obsessive-compulsive disorder.
Lab Members
David Pagliaccio, PhD

Assistant Professor of Clinical Neurobiology (in Psychiatry)

Dr. David Pagliaccio received his PhD in neuroscience from Washington University in St. Louis. His graduate work with Drs. Deanna Barch and Joan Luby focused on the effects of stress and stress-system genes on brain structure and function in children with early-onset depression. During his postdoctoral fellowship with Drs. Daniel Pine and Ellen Leibenluft, Dr. Pagliaccio continued fMRI research to examine the neural underpinnings of pediatric anxiety and irritability. His research aims are to use neuroimaging and other methods to understand the mechanisms underlying psychiatric disorders in youth, particularly affective psychopathology, as well as to assess the psychometrics and reliability of currently used research methods. With his collaborators at the Columbia University Irving Medical Center/New York State Psychiatric Institute, Dr. Pagliaccio is exploring alterations in brain circuitry and functioning relating to affective disorders, OCD, learning disorders, and other pediatric pathologies.

Kate Durham, PhD

Dr. Katherine Durham graduated with a bachelor's degree in psychology from the University of Colorado at Boulder before completing her Ph.D. in School Psychology at Columbia's Teachers College. She also earned her master's degrees in Clinical Psychology and Applied Statistics from Teachers College, both of which facilitated her research on posttraumatic stress symptoms and cognitive functioning in children and adolescents. Dr. Durham is interested in research on treatments for various psychopathology among youth. She is currently providing diagnostic evaluations and evidence-based psychotherapy to children and adolescents as part of ongoing research in the lab.

Marilyn Cyr, PhD, PsyD

Post-doctoral Research Fellow

Dr. Marilyn Cyr received a PhD in experimental psychology & neuroscience and a PsyD in clinical psychology from University of Quebec at Montreal. Her doctoral work focused on the neural and behavioral mechanisms of central cholinergic systems known to be affected in several psychiatric and neurological disorders. Her postdoctoral work in Dr. Marsh's lab has focused on brain circuits that support control, reward and learning processes in adolescents with Bulimia Nervosa and other populations with compulsive behaviors, and how these circuits develop in relations with symptoms and symptom changes over time. Her overarching career goal is to uncover the cognitive and neural mechanisms underlying the development of healthy and maladaptive behaviors, with the ultimate purpose of identifying targets to guide early prevention and treatment strategies via cognitive-behavioral and circuit-based interventions.

Amy Margolis, PhD

Principal Investigator, Promise Project Reading Study, Assistant Professor of Medical Psychology (in Psychiatry)

Amy Margolis has a PhD in applied educational psychology: school psychology, and an MSEd in neuroscience and education from Teachers College. In the first decade of her career, she established a comprehensive assessment and treatment program for children with learning disabilities and attention disorders. In 2010, Dr. Margolis transitioned to a research career and completed the NIMH-funded T32 in research in child psychiatry in 2013, becoming an Assistant Professor in the Division of Child & Adolescent Psychiatry. Her research aims to understand how learning problems are related to underlying deficiencies in the structure and function of neural systems that support learning processes. With funding from PROMISE at Columbia, she is using MRI to examine how neural circuits that support cognitive control and learning processes produce reading disorder and, with funding from the NVLD Project, she is studying children with nonverbal learning disorder. Dr. Margolis is the recent recipient of an NIEHS–funded K Award to study how exposure to neurotoxic chemicals may affect neurodevelopment and manifest as subsequent learning and social problems. Her research program seeks to inform the development of novel therapeutics and early prevention programs for people with learning disabilities.

Xiaofu He, PhD

Assistant Professor of Clinical Neurobiology

Dr. He received his PhD in pattern recognition and intelligent systems from Shanghai Jiao Tong University. During his graduate studies, he was trained in the research of image processing and pattern recognition with a focus on biometrics. During his postdoctoral training, Dr. He developed expertise in brain imaging, including structural MRI, functional MRI (fMRI), and, particularly, diffusion tensor imaging (DTI). One of Dr. He's long-term goals is to bring together his expertise in image processing, pattern recognition, computational modeling, and neuroimaging to the challenge of understanding the developing brain, leading to more reliable findings in the important area of clinically oriented neuroimaging research and to better understand the mechanisms of depression and other psychiatric disorders.

Tracey Shi, BA

Tracey is an MD-PhD student at Columbia University currently pursuing her doctoral research with Dr. Marsh and Dr. H. Blair Simpson. She received a BA in Economics from Harvard University. Her current research focuses on the use of machine learning methods and resting state fMRI in the diagnosis and classification of psychiatric disorders such as OCD.

Martine Fontaine, BS

Martine obtained a BA in psychology from Paul Valéry University of Montpellier, where she also completed the first year of a MA in clinical psychology and mental health. She began training at the Institute of Family Therapy in France before moving to the US. Martine began volunteering for Dr. Marsh in 2011 and learning neuroimaging techniques. She is now responsible for acquiring multi-modal imaging data from our research participants with bulimia nervosa, obsessive-compulsive disorder, and healthy control participants. She is also responsible for processing the anatomical data acquired for these participants. Martine is currently expanding her knowledge of computerized brain models by beginning an introduction to FreeSurfer (a software program). These diverse experiences are allowing Martine to explore her research interests prior to pursuing a PhD in clinical psychology.

Jenna Patterson, BA

Jenna Patterson graduated from Barnard College of Columbia University in 2020 with a BA in psychology. As an undergraduate, she worked as a volunteer research assistant at the Center for OCD and Related Disorders, where she worked on a study using fMRI to assess neural circuits associated with OCD. Her current role at Dr. Marsh's lab involves coordinating pediatric fMRI studies and clinical trials that examine the neural underpinnings of OCD and anxiety. Jenna is involved in the collection, processing, and analysis of both neuroimaging and clinical data. Her research interests focus on better understanding the connection between brain abnormalities and the development of obsessive compulsive disorders. In the future, she hopes to pursue a doctoral degree in clinical psychology.

Anna Seraikas, BS

Anna Seraikas, B.S., graduated from Union College in 2016 with a degree in Psychology. She coordinates an NIH funded grant investigating the intergenerational transmission of deficits in self-regulatory control. She is involved in the collection, processing, and analysis of both neuroimaging and clinical data. Her research interests lie mainly in investigating the neural mechanisms that underlie pediatric anxiety and OCD. She is particularly interested in the effect that early life adversity and anxiety have on brain development, and in turn, the use of different interventions to examine treatment outcomes and trajectories through adulthood. Anna plans to attend graduate school in clinical psychology.

Past Lab Members

Mirjana Domakonda, MD

Mirjana Domakonda, MD, is a clinical researcher and child, adolescent, and adult psychiatrist at Hartford Hospital and an adjunct assistant professor at the Yale University School of Medicine. Dr. Domakonda worked with the Marsh Lab as a postdoctoral fellow from 2016 to January, 2018, pursuing translational research on the development of experimental therapeutics for childhood psychiatric disorders.

Lana Khamash, BA

Lana Khamash graduated from Columbia University in 2018 with a BA in psychology. As an undergraduate, she worked as a research assistant in the Developmental Affective Neuroscience Lab, where she studied early life adversity and its relationship to neurodevelopment and psychopathology. Her current role at Dr. Marsh's lab involves coordinating pediatric fMRI studies and clinical trials that examine the neural underpinnings of OCD and anxiety. Lana is involved in the collection, processing, and analysis of both neuroimaging and clinical data, and she is interested in employing this understanding of the mechanisms behind psychiatric disorders to inform the development of early intervention strategies. In the future, she hopes to pursue a doctoral degree in clinical psychology.

Sophie Schiff, BA

Sophie Schiff graduated from the University of Pennsylvania in 2014 with a BA in cognitive science. As an undergraduate, Sophie worked as a research assistant in a psychology lab studying neuroeconomics. After two years at Horizon Media, Sophie joined Dr. Marsh's lab where she coordinated pediatric and adult fMRI studies on OCD and was involved in the collection, processing, and analysis of neuroimaging data for Dr. Marsh's projects. Sophie is interested in utilizing fMRI to understand the mechanisms underlying anxiety and other disorders and to investigate the effect of current therapies on brain function. Sophie is currently pursuing a PhD in clinical psychology at CUNY's Graduate Center at Queens College.

Mihaela Stefan, MA

Mihaela received her BA in communication sciences from the University of Bucharest, followed by an MA from SNSPA Bucharest in communication sciences. After graduating from university, Mihaela joined a group that founded one of the first media monitoring agencies in Romania and developed expertise in content-analysis methods and research software (most of the social and psychological research had been previously discouraged due to the political context). She came to the USA in 2007 and began volunteering at NYSPI in 2010 and learning about neuroimaging research, specifically MRI data acquisition and processing. Mihaela began working with Dr. Marsh in 2012 and was most recently manager of the Cognitive Development and Neuroimaging lab. She oversaw all MRI data acquisition, data storage, and anatomical image processing for the lab, contributing to the scientific research as well. She also trained and coordinated the activities for volunteers and other research assistants.

Emily Steinberg, BA

Emily graduated from the University of Michigan in 2015 with a BA in psychology. Emily first joined NYSPI as a volunteer at the Pediatric Anxiety and Mood Research Clinic (PAMRC), where she worked on a study exploring antibiotic augmentation to SRI medication for youth with treatment-resistant OCD. Emily spent two years as coordinator of Dr. Marsh's research studies, where she developed a particular interest in examining post-treatment changes in the neural circuits implicated in pediatric OCD, as well as family factors that may influence children's treatment trajectories. Emily is currently pursuing a PhD in clinical psychology at Fordham University.

Kate Terranova, BA

Kate graduated from George Washington University in 2012 with a BA in psychology. In our lab, Kate coordinated an NIMH multimodal imagining study of adolescents with bulimia nervosa. She is now a third-year graduate student at Fordham University's Counseling PhD Program. She has a continued interest in eating disorders and has chosen to focus her master's thesis research on women's recovery from bulimia.

Lauren Thomas, EdM, FCSP

Lauren is currently in the Combined School-Clinical Child Psychology PsyD program at Ferkauf Graduate School of Psychology. She graduated from the George Washington University in 2012 with a BA in psychology and a secondary degree in business administration. As an undergraduate, Lauren was a research assistant in the Health Cognitions and Behavior Lab, and studied college students' thoughts and beliefs about health issues (e.g., skin cancer). Lauren went on to graduate from Teachers College in 2015 with an EdM in school psychology and a MA in educational psychology: schooling. She spent three years as a research assistant coordinating Dr. Amy Margolis's research studies, which investigate learning disabilities in children.
Select Publications
Cyr, M, Pagliaccio, D, Yanes-Lukin, P, Fontaine, M, Rynn, MA, & Marsh, R. (2020.) Altered network connectivity predicts response to cognitive-behavioral therapy in pediatric obsessive–compulsive disorder. Neuropsychopharmacology. doi:10.1038/s41386-020-0613-3.

Pagliaccio, D, Cha, J, He, X, Cyr, M, Yanes‐Lukin, P, Goldberg, P, Fontaine, M, Rynn, MA & Marsh, R. (2020.) Structural neural markers of response to cognitive behavioral therapy in pediatric obsessive‐compulsive disorder. J Child Psychol Psychiatr. doi:10.1111/jcpp.13191.

Pagliaccio D, Middleton R, Hezel D, Steinman S, Snorrason I, Gershkovich M, Campeas R, Pinto A, Van Meter P, Simpson HB, Marsh R. (2019.) Task-based fMRI predicts response to exposure therapy in obsessive-compulsive disorder. Proceedings of the National Academy of Sciences; 116(41), 20346-20353. doi:10.1073/pnas.1909199116.

Berner L, Wang Z, Huo Z, Stefan M, Marsh R. (2019). Subcortical shape abnormalities in adolescents and adults with bulimia nervosa. Biological Psychiatry: Cognitive Neuroscience and Neuroimaging. 4(12), 1070-1079. doi:10.1016/j.bpsc.2018.12.011.

Margolis A, Davis K, Thomas L, Cyr M, Pao L, Marsh R. (2019). Neural correlates of cognitive control deficits in children with reading disorder. Brain Imaging and Behavior. doi:10.1007/s11682-019-00083-x.

Cyr M, Tau GZ, Fontaine M, Levin FR, Marsh R. (2018). Deficient functioning of fronto-striatal circuits during the resolution of cognitive conflict in cannabis-using youth. Journal of the American Academy of Child & Adolescent Psychiatry. 58(7), 702-711. doi:10.1016/j.jaac.2018.09.436.

Cyr M, Kopala-Sibley DC, Lee S, Chen C, Stefan M, Fontaine M, Terranova K, Berner LA, Marsh R. (2017.) Reduced Inferior and Orbital Frontal Thickness in Adolescent Bulimia Nervosa Persists Over Two-Year Follow-Up, Journal of the American Academy of Child & Adolescent Psychiatry. 56 (10): 866-874. View PDF

Cyr M, Wang Z, Tau GZ, Zhao G, Friedl E, Stefan M, Terranova K, Marsh R. (2016.) Reward-Based Spatial Learning in Teens With Bulimia Nervosa, Journal of the American Academy of Child & Adolescent Psychiatry. 55 (11): 962-971. View PDF

Marsh R, Tau GZ, Wang Z, Huo Y, Liu G, Packard MJ, Peterson BS, Simpson HB. (2015.) Reward-based spatial learning in unmedicated adults with Obsessive-Compulsive Disorder, American Journal of Psychiatry, 172 (4): 383-92. View PDF

Marsh R, Stefan, M, Bansal R, Hao X, Walsh BT, Peterson BS. (2015.) Anatomical characteristics of the cerebral surface in bulimia nervosa, Biological Psychiatry. 77 (7): 616-23. View PDF

Marsh R, Horga G, Parashar N, Wang Z, Peterson BS, Simpson HB. (2013.) Altered activation in fronto-striatal circuits during sequential processing in unmedicated adults with obsessive-compulsive disorder. Biological Psychiatry. pii: S0006-3223(13)00147-9. View PDF

Marsh R, Horga G, Wang Z, Klahr K, Berner L, Walsh BT, Peterson BS. (2011.) An FMRI study of self-regulatory control and conflict resolution in adolescents with bulimia nervosa. American Journal of Psychiatry. 168 (11) 1210-20. View PDF

Marsh R, Maia T, Peterson BS. (2009.) Functional disturbances within frontostriatal circuits across multiple childhood psychopathologies. American Journal of Psychiatry. 166/6: 664-74. View PDF

Marsh R, Gerber AJ, Peterson BS. (2008.) Neuroimaging Studies of Normal Brain Development & Their Relevance for Understanding Childhood Neuropsychiatric Disorders. Journal of the American Academy of Child and Adolescent Psychiatry. 47/11: 1233-51. View PDF