OPAL Center
Optimizing and Personalizing interventions for people with schizophrenia Across the Lifespan ― an NIMH Center
A vast gap separates the clinical research environments where evidence-based treatments for mental disorders are developed and tested from the real-world clinical practice environments where large-scale implementation of these interventions are delivered. Key contributors to this gap include limited access to and poor engagement in treatment and the unfortunate reality that the available treatments and services are often poorly matched to the needs and preferences of individual patients.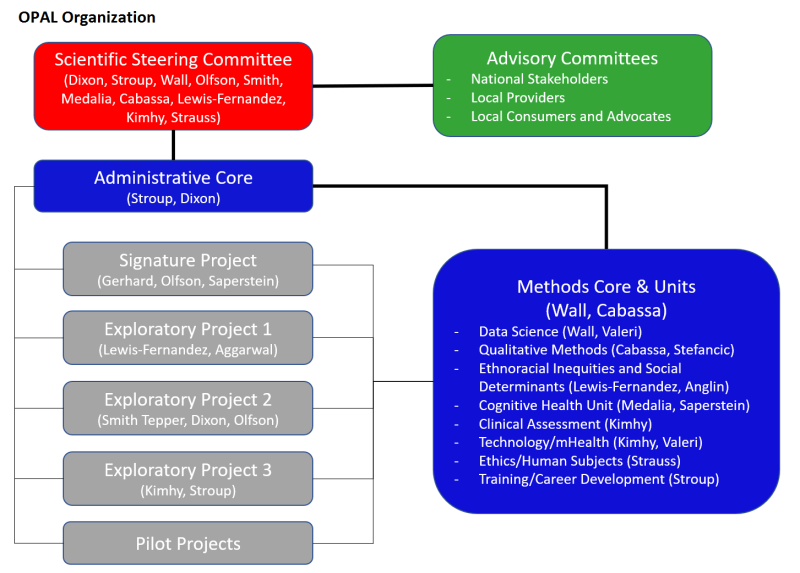 The target population for this ALACRITY Center is people diagnosed with schizophrenia, which typically affects individuals from adolescence or early adulthood until the end of life. Affected individuals commonly have impaired social and occupational functioning, experience persistent psychotic and mood symptoms, and are at risk for disability and premature death. Access to and engagement in established and effective treatments could ameliorate or even reverse these negative outcomes. We named this proposed center OPAL, after its goal of Optimizing and Personalizing interventions for people with schizophrenia Across the Lifespan. To address core problems in the treatment of schizophrenia, OPAL adapts and tests scalable interventions that are personalized to meet the needs of individuals. The goal of OPAL is to accelerate the development and implementation of effective, individualized treatments for schizophrenia in real clinical settings. OPAL Center projects will produce scalable interventions that are targeted to the needs of individuals and that aim to address and ultimately eliminate ethnoracial inequities in treatments, services, and outcomes.  
Goals
The specific aims of this Center are as follows:
Strengthen our infrastructure to support research that examines innovative ways of optimizing treatments for people with schizophrenia throughout the lifespan and that accelerates the translation of clinical research on schizophrenia to routine practice settings. 
Conduct projects that develop, adapt and test innovative, accessible, and person-centered interventions that improve engagement in treatment and can be readily deployed. 
Train scientists who will conduct translational research on interventions for schizophrenia.
OPAL is a platform on which to develop, adapt, and examine interventions that address important issues in the treatment and delivery of services for schizophrenia using a multi-disciplinary approach. OPAL supports pilot studies that extend its scientific reach and take advantage of Center resources and synergies. The goal of the pilot program is to support research ideas that are consistent with OPAL's goals and that have a high potential to obtain additional competitive funding for full-scale projects.