Sussman Lab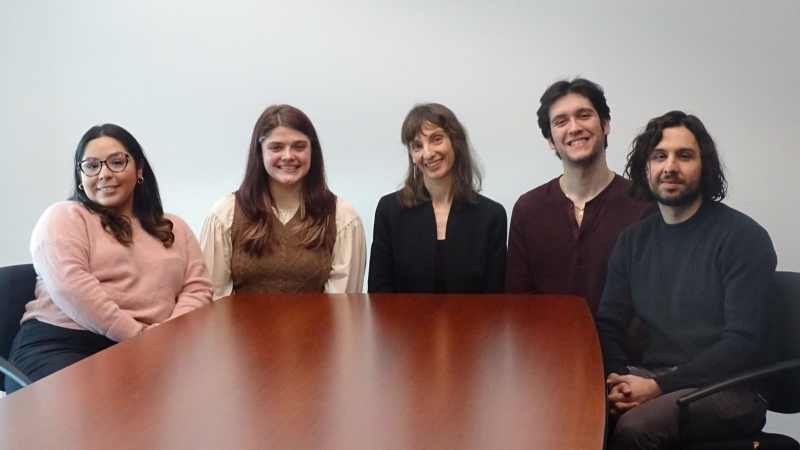 Location and Contact Information
1051 Riverside Drive, Mail Unit 74
United States
Our lab's research program aims to characterize how exposure to childhood adversities leads to changes in cognitive processes via altered neurodevelopment, and how these changes lead to increased risk for negative life outcomes such as increased substance use. We use multimodal magnetic resonance imaging (MRI) and computational modeling of task performance to examine how exposure to adversities during childhood impact the development of decision making and related brain activity. The ultimate goal of our research program is to suggest novel approaches to the prevention and intervention of negative outcomes related to early life exposure to adversities, e.g. cognitive therapies for components of decision making impacted by childhood exposures.
The Sussman Lab works with the Center for Intergenerational Psychiatry and collaborates with the Boricua Youth Study.  
Lab Members
Albert Wakhloo

Albert Wakhloo joined the Sussman Lab as a research assistant in February 2020. He graduated from New York University with a BA in Psychology and Philosophy and has since completed post-baccalaureate coursework in Applied Mathematics at Columbia and NYU. At the Sussman lab, Albert contributes to computational model implementation, data analysis, and experimental task design. He is planning to pursue a PhD in computational neuroscience.

William Campo

William Campo joined the Sussman Lab and the G2 Preteen Study team, within the Center for Intergenerational Psychiatry, in November of 2020 as a research assistant and has assisted in the coordination and completion of clinical interviews and MRI scans. He hopes that this study can fill gaps in the literature connecting parent experiences to those of their children. He received his BA in 2019 from Manhattan College and his MA in 2022 from the City College of New York, where he majored in psychology. As a master's student, William completed his thesis, which investigated classic psychedelic substances, psychological flexibility, decentering, mystical experiences, ego-dissolution, and insight. The aim of his thesis study was to further investigate potential associations between these variables, in which some have previously been found to be important in treating certain psychiatric disorders. He is planning to pursue a doctoral degree in Psychology.

Monica Benitez

Monica Benitez graduated from Marymount Manhattan College in 2019 with a BA in psychology. Monica became a research intern at the New York State Psychiatric Institute working with the Boricua Youth Study in 2020. Later she would go on to work with Dr. Jazmin Reyes-Portillo as her research assistant for the Youth Anxiety Center Social Media Study as well as work with Dr. Lillian Polanco Roman with the G2 Preteen Study and the Boricua Youth Study Social Media Study. Monica is interested in studying the effects of gender dysphoria and anxiety in transgender individuals and hopes to get her PhD in clinical psychology in the future.

Mia Lancelotti

Mia Lancelotti is a recent graduate and earned her degree in psychology with a neuroscience focus from Penn State University. Her research interests revolve around how emotions and maladaptive behavior are affected by our environment and how that in turn impacts the brain. She joined the Sussman Lab and the Boricua Youth Study not only because it aligned with her research interests, but because it allows members of the lab to have closer relationships with our participants. Her favorite part about research is getting to connect with people! Aside from research, she enjoys playing on New York's premier women's rugby team, crossfit, and reading. She is planning to pursue a PhD in clinical psychology.
Select Publications
Sussman, T.J.*, Posner, J., Jackowski, A.P.; Correa, A., Hoffmann, E.V., Peruzzi, F.P.O., Grecco, F.R., Nitzsche, S.H., Mesquita, M.E., Foester, B.U., di Cillo, F.B., Mello, M.F., & Milani, A.C.C. (2022). The Relationship between Recent PTSD Secondary to Sexual Assault, Hippocampal Volume and Resting State Functional Connectivity in Adolescent Girls. Neurobiology of Stress, 100441

Sussman, T.J.*, Baker, B. H., Wakhloo, A. J., Gillet, V., Abdelouahab, N., Whittingstall, K., Lepage, J.F., St-Cyr, L., Boivin, A., Gagnon, A., Baccarelli, A.A., Takser, L. & Posner, J. (2021). The relationship between persistent organic pollutants and attention deficit hyperactivity disorder phenotypes: Evidence from task-based neural activity in an observational study of a community sample of Canadian mother-child dyads. Environmental Research, 112593. DOI: https://doi.org/10.1016/j.envres.2021.112593

Im, S., Marder, M. A., Imbriano, G., Sussman, T.J., & Mohanty, A. (2021). Effects of a Brief Mindfulness-Based Attentional Intervention on Threat-Related Perceptual Decision-Making. Mindfulness, 12(4), 959-969. DOI: 10.1007/s12671-020-01562-9

Margolis, A. E., Pagliaccio, D., Ramphal, B., Banker, S., Thomas, L., Robinson, M., Honda, M., Sussman, T.J., Posner, J., Kannan, K. Herbsman, J., Rauh, V, & Marsh, R. (2021). Prenatal environmental tobacco smoke exposure alters children's cognitive control circuitry: A preliminary study. Environment International, 155, 106516.

Sussman, T.J.*, Santaella-Tenorio, J., Duarte, C. S., Wall, M. M., Ramos- Olazagasti, M., Suglia, S. F., Canino, G., Bird, H. & Martins, S. S. (2020). Do trajectories of sensation seeking vary by sex and child maltreatment subtypes?. Journal of Interpersonal Violence, 0886260520943722. DOI: 10.1177/0886260520943722. PMID: 32783490.