A Child of the Rwandan Genocide Seeks to Stop the Transfer of Trauma to Future Generations
Belinda Busogi discovered her research calling in a program that pairs Columbia psychiatry researchers with historically underrepresented racial or ethnic groups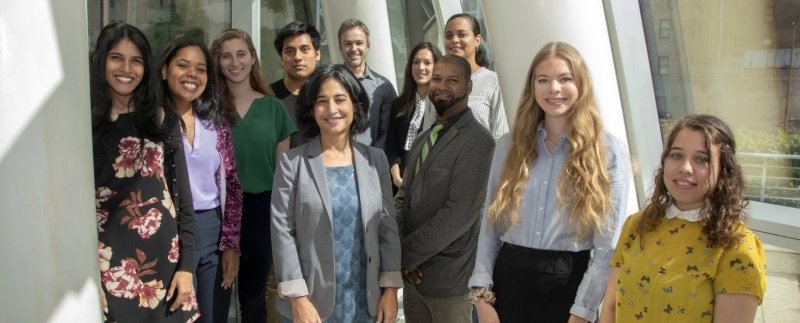 Belinda Busogi was born in Nairobi, Kenya, to Rwandan parents who survived the genocide. After fleeing central Africa shortly before Belinda's birth, the couple led a peripatetic life, moving first to Canada, then on to Delaware, North Carolina, and finally settling in Texas when she was 11.    
Raised mostly in Dallas, Busogi, the oldest of four siblings, found herself trying to find balance between two cultures. As one of the few Black or African teens in the community, she felt these differences most keenly at sleepovers or dinners with other families. "My schoolmates led normal lives, while I was part of a family who had witnessed unimaginable atrocities," she said. "I couldn't relate.
Today Busogi, 25, is a second-year student at McGovern Medical School at the University of Texas Health Science Center at Houston pursuing a career in global mental health, in part to understand the impact of her family's brutal history. Later this month she will present a research poster to the American Psychiatric Association on the very subject she has lived—intergenerational trauma—based on the research she began at Columbia.
Busogi is one of two fellows who participated last summer in Columbia Psychiatry's June Jackson Christmas First Year Summer Research Fellowship program, which pairs promising medical students from historically underrepresented ethnic and racial groups across the country with research mentors.
Busogi matched with Cristiane Duarte, PhD, MPH, Ruane Professor for the Implementation of Science for Child and Adolescent Mental Health (in Psychiatry). Dr. Duarte's group studies the development of mental disorders in children, adolescents, and young adults from diverse, often underserved and understudied populations, and the effects of parental exposure to trauma on psychiatric outcomes in the next generation.
Busogi worked closely with Dr. Duarte's team on its seminal Boricua Youth Study, a longitudinal study that for more than 20 years has followed nearly 2,000 Puerto Rican children in the South Bronx, New York, and the metropolitan area of San Juan, Puerto Rico.
Breaking the trauma chain
With her mentor's support, Busogi sought to deepen her understanding of the intergenerational impact of the Rwanda genocide, when between April and July 1994, hundreds of thousands of Rwandans were murdered in the most rapid human massacre ever recorded. Many survivors were left with mental health problems such as PTSD and depression. Research is beginning to show that Rwanda's post-genocide generation, like children of Holocaust survivors, inherited a legacy of trauma that puts them at higher risk of anxiety and depressive disorders. These transgenerational effects, researchers say, are not only psychological, familial, and cultural but neurobiological and genetic as well.
Yet, how this occurs on a molecular level is poorly understood. Busogi realized that if trauma can stem from experiences occurring before we are born, it is critical to know how it could be reversed or prevented. "Ultimately, that's what I became most passionate about," she said. "If we can detect a stress chain, how can we alter that gene to stop the transfer of trauma to future generations?"
An opportunity to showcase her work
Once Busogi returned to medical school, she submitted a poster proposal to the American Psychiatric Association on the work she began at Columbia. The APA accepted her submission, and she is excited to be presenting her research at the its annual meeting in New Orleans at the end of May. 
Busogi's research poster establishes theories on reducing the cycle of trauma via multigenerational analysis and study of mechanisms that regulate gene function—in particular, the stress-related FKBP5 gene, which is associated with a higher rate of PTSD and depression.
"Unresolved psychological wounds from wars and genocides, such as the one in Rwanda, continue to impede Africa's development," she said. "If we can determine the epigenetic changes that occur across generations, we could deliver interventions to change responses to life experiences and increase resilience, a potential protective measure for mental illness."
Going forward, Busogi would like to continue her research as she develops her clinical skills as a physician. She is leaning toward trauma as her specialty.
"Trauma is a very subjective thing to approach. It looks different for everybody," Busogi said. "I want to comprehend humans as a whole by understanding the factors that affect us both circumstantially and from within ourselves."
Dr. Duarte is excited for Busogi and looks forward to supporting her next steps. "Belinda came in with the clear intention of deepening her understanding about the consequences of the genocide in Rwanda for the current generations," Dr. Duarte said. "She cleverly combined her interest to learn more about transmission mechanisms and the prevention-oriented framework we are developing in our newly created Center for Intergenerational Psychiatry."
A family tradition of healing
Busogi's parents had a profound impact on her decision to pursue medicine. Growing up she heard many stories about her grandfather who was a physician in Rwanda. Her mother, a psychiatric nurse, saw similar qualities in her daughter and father and believed that someday she would make a great doctor. Busogi's family, including extended relatives spread out throughout the world, also supported her aspiration of becoming a physician. Through listening to their stories and witnessing the impact of the genocide on survivors and their children, Busogi became passionate about advocating for the importance of mental health.
"Mental health was not something that was effectively addressed in Rwanda in the past," People don't often talk about their personal difficulties," she said. But that's changing, she said. Busogi hopes that as more scientific data and research available, more post-conflict mental health policies will be implemented in African countries.
"As I continue my medical and public health studies, I've noticed that doctors can help their patients in a variety of ways," Busogi said. "I am confident that I will become a physician who strives to heal all types of wounds—whether mental or physical—in hopes of providing holistic therapeutic care."
Columbia Psychiatry News published an article about the Dr. June Jackson Christmas Medical Student Program Feb. 3, 2022. The Columbia summer program, launched in 2016, aims to interest students from historically underrepresented groups in becoming psychiatrists.