Building Better Representation in Psychiatry's Ranks
Columbia summer program aims to interest students from historically underrepresented groups in becoming psychiatrists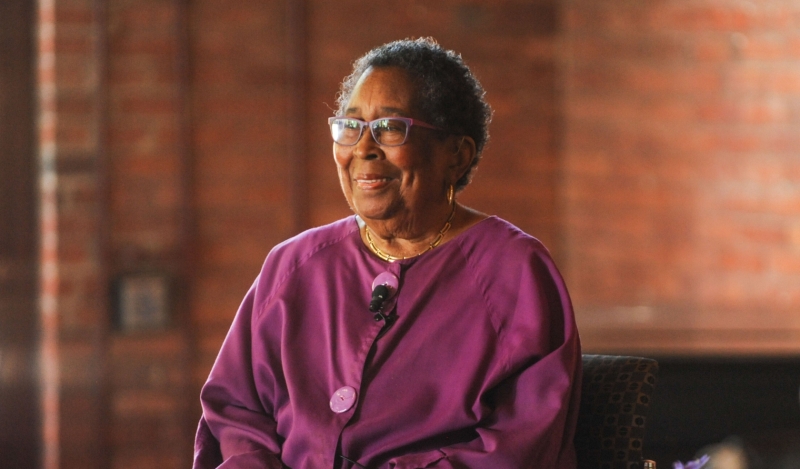 How can more racially and ethnically underrepresented medical students be encouraged to specialize in psychiatry?
Only about 10 percent of practicing psychiatrists in the U.S. are from historically underrepresented groups. That imbalance negatively affects patients and the profession. Factors contributing to the disparity include students' lack of exposure to the field and a history of structural racism in psychiatry, acknowledged by the American Psychiatric Association in a January 2021 apology and commitment to make amends.
"In many communities of color, mental health is seen in a negative light," said Patrice K. Malone, an assistant professor of psychiatry at Columbia. "Because of that, when you're in medical school as a person of color, you're not really thinking of going into psychiatry, not knowing all it has to offer."
As a chief psychiatric resident at Columbia in 2016, Malone proposed creating a summer program for rising 2nd-year medical students that could increase the number of psychiatrists from underrepresented groups. "I felt if students understood the breadth of psychiatry early on in their medical school career, they would get a better sense of what a psychiatrist is and be more apt to choose it as their specialty," she said.
Malone received an American Psychiatric Association SAMHSA Minority Fellowship for the project, an award given to residents addressing psychiatric mental health issues for underserved minorities.
From personal experience, Malone knew that gaining a wider view could inspire students' career choices. As an undergraduate, she attended a summer program that fueled her interest in research and pursuing a PhD before going on to medical school and residency.
Honors a Pioneering Professor
The project was launched in 2016 and named the Dr. June Jackson Christmas Medical Student Program to honor a pioneering African American psychiatrist and clinical professor of psychiatry at Columbia. In her long career, Christmas founded the Harlem Rehabilitation Center and served under three mayors as commissioner of mental health, mental retardation, and alcoholism services in New York City, among other achievements.  
"You want to pay homage to the people who have come before you," Malone said. "It's like standing on their shoulders."
For several years until the COVID-19 pandemic, Christmas spoke to program fellows about her challenges and successes in psychiatry. In a 2020 interview with The Women in Medicine Legacy Foundation, Christmas, now 97, talked about growing up believing she could do something about racism, and thinking, "Maybe if I went into psychiatric medicine I could teach people not to be racist and to be anti-bias."
Clinical and Research Experience
The summer program at Columbia has a five-week clinical fellowship, with students rotating through psychiatric clinical services. An eight-week research fellowship conducts behavioral health research with a mentor. Both tracks are for students who have completed their first year of medical school.
A fourth-year elective sub-internship is now also part of the program. The elective was conceived by Columbia resident Nicole Pacheco, MD, who was awarded an APA/SAMHSA fellowship for it. The four-week track gives seniors rotations on one of Columbia's adult outpatient psychiatric clinics, along with teaching and training.
Applicants for all tracks must be in good academic standing at a U.S. medical school and identify as belonging to a group historically underrepresented in psychiatry, such as Black or African American, Hispanic or Latino, American Indian or Alaska Native, and Native Hawaiian and other Pacific Islanders.
Since the summer program began, 33 medical students have participated. They receive stipends for expenses and materials. Past fellows have matched in psychiatry at UCLA, NYU, Baylor, Yale and more.
The pandemic affected the program temporarily, in particular the clinical track because visitors were not allowed on campus. In 2020 and 2021, the research track was virtual. Fellows in the sub-internship shadowed psychiatrists in virtual sessions with patients (with patients' agreement).
For 2022, all tracks are planned to be in-person but will become virtual if needed.
The program has received strong support from Columbia psychiatry faculty and staff. Mentors and lecturers volunteer their time. Jeffrey A. Lieberman, professor and chair, helped obtain funding from the Leon Levy Foundation.
Malone is pleased by the program's growth. She thinks about what else might help—such as creating a similar project for undergraduates. "There's not enough students of color that go into medicine, so even less that go into psychiatry," she said. "That creates a problem in communities of color of not having enough mental health providers."
"It's a pipeline," she said, "but if you didn't have the numbers in the beginning, you're not going to have the numbers in the end."