Research Studies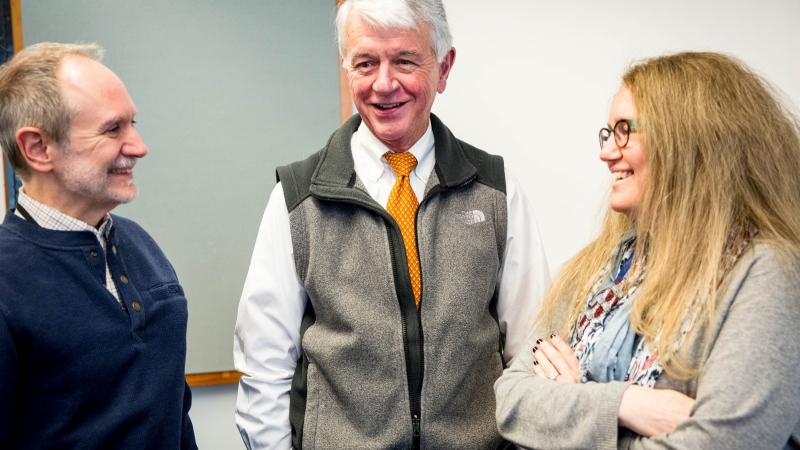 Our Center has been at the forefront of research in the field of eating disorders for over 30 years.
Research can encompass many things: structured interviews, questionnaires, computer tasks, observations in specific settings, and imaging modalities all constitute research. These activities are done to try to answer questions about the behaviors, biology, and neurobiology of these illnesses. Participation provides a valuable contribution to the field, and helps inform the future directions.
Current Research Includes:
Real Time Assessment of Stress, Mood, and Eating Behavior in Adolescents
This study aims to investigate associations between physiologic signals of stress (e.g., heart rate) and self-reported stress, mood, and eating behavior among adolescents who report binge eating or out-of-control eating. Teens (ages 12-17) will be asked to wear a biosensor for one week, and answer questions on a smart phone. Compensation (up to $169) will be provided for participation. 
Longitudinal Assessment of Neural Circuits in Adolescents with Anorexia Nervosa (PEDI)
We are looking at how the brain changes over time in teens with and without Anorexia Nervosa. To develop better treatments for this disorder, it is crucial to better understand the pathophysiology. We will use MRI to understand the neural systems involved in decisions about food—a crucial question in Anorexia Nervosa. Teens with Anorexia Nervosa (ages 14-18 years) and matched healthy controls will participate in MRI scans and be followed in the study for two years.
Neural Mechanisms of Food Choice
We aim to understand the neurobiology of Anorexia Nervosa, and why the illness is hard to treat. In this study, we are examining decision-making and the brain among individuals with Anorexia Nervosa, individuals with Subthreshold Anorexia Nervosa, healthy individuals who diet, and healthy individuals who do not diet. Participants will be asked to look at and make decisions about pictures of food in an fMRI scanner. An MRI uses a magnet to take pictures of the brain (there is no radiation in this study). The next day, participants have lunch in our eating lab. Individuals with Anorexia Nervosa will be asked to participate again at the end of treatment.
Memory and Decision Making in Anorexia Nervosa
Do patients with anorexia nervosa use the same brain mechanisms to make decisions as those without the illness, and just arrive at different choices? Or are these processes fundamentally different in some way? To answer this question, we ask individuals with anorexia nervosa – as well as healthy peers – to make some decisions while looking at pictures of food in an MRI scanner. Working closely with our cognitive neuroscience colleagues, we use measurement of eye movements as well as brain activation patterns during neuroimaging to understand how these decision-making processes change with illness, and to test whether this relates to actual eating patterns.
Brain Imaging and Eating Behavior in Healthy Kids
In the Healthy Kids Study, we are trying to learn more about how children make food choices about the food they eat. The study takes place on two different days, always outside of school hours. Kids in the study answer questions about foods they like or don't like, play computer games, and eat snacks in our Eating Behavior Laboratory. Some will also be asked to have an MRI brain scan and eat lunch in our laboratory on a second day. We offer prizes throughout the study and also offer gift card compensation for participating in the first study day.
Cognitive Neuroscience of Weight Loss
This study aims to understand decision making and eating patterns that promote successful weight loss, and involves eating some meals at our clinic, making decisions about pictures of food, and brain imaging procedures. We are recruiting: 1) individuals who have lost weight and kept it off, 2) current dieters, and 3) non-dieting healthy controls. Compensation (up to $200) will be provided for participation.
Columbia University Center for Metabolic and Weight Loss Surgery
This multi-site study assesses psychosocial aspects of adults who undergo bariatric surgery. A second study is analyzing the relationship between body weight and cognitive functioning before and after surgery.
Weight Suppression, Dieting and Bulimia Nervosa: A Bio-behavioral Study
This study is looking at the biology of dieting and weight in individuals with bulimia nervosa. Participants will be asked to come in to the clinic on three separate days during a 3 week period and once for a follow-up visit 6 months later. Study measurements will include a breathing test which measures resting metabolism, a DXA scan which measures bone density and body composition, and a fasting blood draw.
After the 3 weeks of assessments, participants will be offered one of two types of treatment: 20 sessions of outpatient cognitive behavioral therapy over 4-5 months, with medication if appropriate or inpatient treatment, which consists of a 4-6 week hospitalization at the New York State Psychiatric Institute.
Long Term Course of Eating Disorders
The purpose of this study is to gather information about how various eating and weight problems change over time among patients with eating disorders who receive inpatient treatment at the Eating Disorders Research Unit. Participants are contacted once per year for up to ten years to participate in a brief phone interview and will be asked to complete and return several self-report forms. Interviews and self-report forms ask about eating and weight as well as psychological and physical health.
Communities of Healing
This study aims to evaluate whether mentorship and social support outside of treatment  can improve recovery from an eating disorder. Participants meet weekly with a mentor for 6 months. Mentors are located in 12 cities across the US, with online mentorship available to those who live outside one of these areas.  It is a randomized controlled trial done in collaboration with ProjectHEAL, and offered to those currently in outpatient treatment for an eating disorder.
If you are interested in serving as a control subject for a study, please contact us as well.