Our Commitment to Diversity and Anti-racism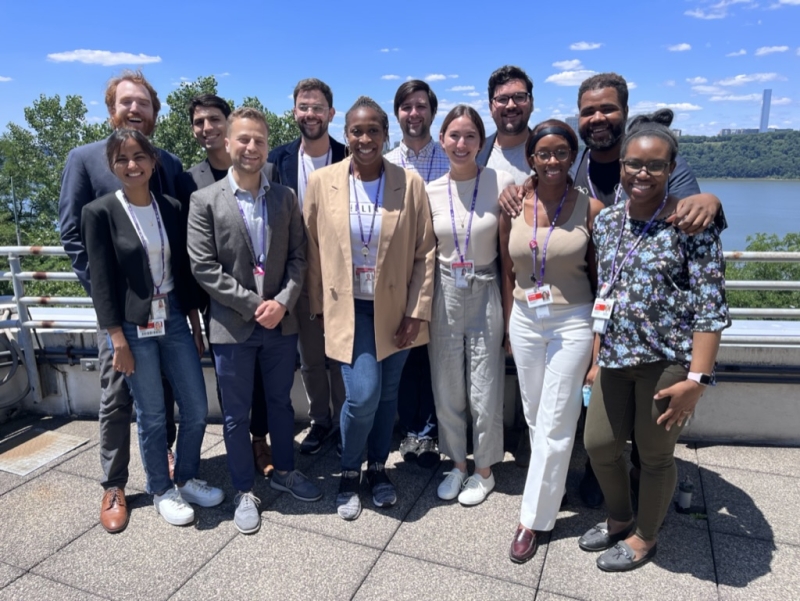 UPCOMING EVENT:
Information on the NYP & CUIMC GME Diversity Open House Webinar for Residency Applicant
September 19, 2023; 6:30-8:00 PM ET
https://drive.google.com/file/d/1d2K-uqXGLSZsX86y6_nf0D28Ym8ySi_k/view?u...(link is external and opens in a new window)
Racism and other forms of social injustice are endemic in academia and the American healthcare system. Our department knows this from personal experience. We—the leadership, trainees, and staff of the Columbia Psychiatry Residency Training Program—strive every day to try to make our work and training spaces inclusive environments that value diversity in race, ethnicity, gender identity, sexual orientation, religion, disability, and socioeconomic status. We are committed to increasing diversity and inclusion in our department and believe that our psychiatric workforce should reflect the diverse communities we serve.
We know that this work needs to be continuous and ongoing. To this end, our community (residents, faculty, and staff)  will spend the 2022-2023 academic year engaged in surveying our program using the Self-Assessment for Modification of Anti-Racism Tool (SMART), a quality improvement approach developed by Drs. Rachel Talley, Sosunmolu Shoyinka, and Kenneth Minkoff to address structural racism and disparities in behavioral healthcare.
We are committed to working against racism and addressing health care disparities through our approach to (1) applicant recruitment and selection, (2) residency training, and (3) patient care. 
Applicant Recruitment and Selection 
We strive to create a community that is diverse in race, ethnicity, gender identity, sexual orientation, religion, ability, and socioeconomic status—both for our program and for psychiatry as a field. Approximately a third of our current residents come from backgrounds that are historically underrepresented in medicine (URM). 
Our Dr. June Jackson Christmas Summer Fellowship Program, started by Dr. Patrice Malone in 2016, offers URM first year medical students the opportunity to enhance their exposure to psychiatry and our department by spending five weeks rotating through a variety of clinical settings. In 2017, we expanded the program to include a NIMH-funded 8-week research track option and in 2021 we added a funded sub-internship experience in psychiatry for 4th year URM students.
All faculty participating in resident recruitment to are required to complete training in unconscious bias. We aim to conduct holistic reviews of applicants and do not use Alpha Omega Alpha membership or a USMLE score cut-off (other than a passing score for Step 1) as part of applicant screening. 
Residency Training
To train the diverse psychiatric workforce of the future, we have courses in Health Equity and Social Justice in all four years of the residency. This includes didactics in Cultural Psychiatry, taught by Dr. Roberto Lewis-Fernández, Director of the New York State Center of Excellence for Cultural Competence, which has been an integral part of our curriculum for decades. In 2021, we initiated an annual "Equity in Education" training program for our faculty to encourage our clinical teaching faculty to include the impact of racism and health care inequities in clinical case discussions and care management when supervising residents. Our goal is to ensure that these principles are integrated into all aspects of clinical care and supervision. Our residents receive peer-peer mentorship from our Psychiatry Residency Diversity Alliance, and faculty mentorship from faculty in our Office of Equity, Diversity, and Inclusion.
Patient Care
We are dedicated to providing outstanding patient care to all. The Washington Heights Community Service (WHCS), a comprehensive community-based program, is a highlight among our clinical training sites. The program provides both inpatient and outpatient care to those with serious mental illness, regardless of their ability to pay. To meet the need of the community which is 70% Hispanic/Latinx, these services offer treatment in both Spanish and English. In an effort to reduce health disparities, the WHCS has integrated primary medical care into the outpatient psychiatric clinics. We are incredibly excited that part of our residents' training in primary care is in this integrated care clinic. 
As a community, our residents have partnered with our clinical service chiefs, the NewYork-Presbyterian Hospital Center for Health Justice, and our department's Office of Equity, Diversity. and Inclusion to make racial and ethnic disparities the focus of our ongoing residency-wide quality improvements effort. We aim to educate trainees and faculty on the ways race and ethnicity are considered in clinical assessments and medical record-keeping in order to: 
Decrease bias in clinical assessment and treatment 
Focus care on the impact of structural racism and other social determinants of health 
Track and eliminate disparities in health care