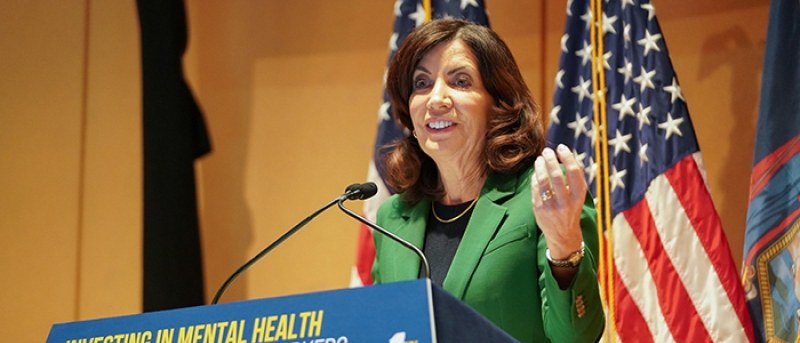 Governor Hochul Kicks Off Statewide 'Listening Tour' on Youth Mental Health at New York State Psychiatric Institute
On March 16, Gov. Kathy Hochul announced a statewide listening tour and a spring summit aimed at exploring the issues affecting the mental health of youth in New York State at the New York State Psychiatric Institute (NYSPI), where she hosted the first listening session with teens participating from New York City schools.
"As New York State's first female governor and the only mother to hold this office, I'm deeply disturbed by recent reports on instances of teen depression—especially following the isolation and uncertainty of the COVID-19 pandemic," Gov. Hochul said. "It's time we put the mental wellbeing of our youth at the forefront and listen to what they're going through to gain a deeper understanding of this issue and meaningfully address the problems young New Yorkers face.
The initiatives build on the governor's $1 billion plan to reform the state's psychiatric system and halve the unmet mental health needs of youth. Among the investments to help youth, the proposal includes funds to expand school-based mental health services and strengthen suicide prevention programs for high-risk youth.
Gov. Hochul cited alarming trends in depression, anxiety, and suicide attempts—with an increase that is particularly high for girls, Black youth, and teens identifying as LGBTQ+. According to recent reports, 40 percent of teenagers state that they struggle with persistent feelings of sadness or hopelessness, and more than half of parents and caregivers express concern over their children's mental well-being.
Well-matched to challenges
Columbia's Department of Psychiatry is well-positioned to help set a new generation on a path to mental wellness. The Division of Child & Adolescent Psychiatry, in collaboration with NewYork-Presbyterian Hospital and the New York State Psychiatric Institute, is committed to transforming the lives of families struggling with mental health and developmental disorders through innovative patient care, community engagement, research, and education and training.  
Columbia faculty who are leaders in child mental health clinical care, research, and training are dedicated to advancing the field in many different ways. Their focus spans from prevention strategies to promote resilience, to longitudinal studies which examine genetic, environmental, and neuropathologic antecedents to psychopathology; to treatment breakthroughs and novel approaches to reduce disparities among underserved and underrepresented youth.
Spotlight on programs and activities
At the Translational Research on Affective Disorders and Suicide Laboratory, for example, researchers are using technology to develop potentially life-saving strategies for adolescents in psychiatric crisis. They are gathering information from youth using their smartphones to better understand the transition from suicidal thinking to behavior, and to identify early warning signs of adolescent depression and suicidal behavior and improve timing and access to treatment.
Researchers at the Center for Intergenerational Psychiatry are studying the transmission between generations of vulnerability and resilience to mental illness in order to develop interventions that interrupt negative cycles, thereby limiting the impact of mental illness earlier than ever thought possible. And in the Cognitive Development and Neuroimaging Lab, scientists use fMRI, EEG, and behavioral assessments to understand the neurodevelopmental trajectories of psychiatric disorders that arise during childhood and adolescence (such as Tourette syndrome, OCD, and eating disorders), and to contribute to the development of novel, evidence-based treatments.
In addition to research activities, Columbia and NewYork Presbyterian (NYP) offer a multitude of clinical programs focused on key issues in youth mental health. The Division of Child and Adolescent Psychiatry provides high-quality clinical care through their programs at NYP–Morgan Stanley Children's Hospital, which serves the Washington Heights/Northern Manhattan community and provides a spectrum of care to address community needs, from prevention programs and outpatient treatment to more intensive and acute care programs.
ColumbiaDoctors recently launched an adolescent dialectical behavioral therapy (DBT) program, which provides group-based support for teens and families after school and in the evenings. DBT, a form of cognitive behavioral therapy that can help individuals who experience significant trouble managing their emotions, thoughts, and behaviors, has shown great promise for reducing adolescent self-harm and suicidal ideation.  
Columbia clinicians are also dedicated to the treatment and recovery of individuals with serious mental illnesses. OnTrack NY, a network of 25 coordinated specialty care programs across New York State, delivers multidisciplinary interventional services to adolescents and young adults who have started experiencing psychotic symptoms. The program is a joint collaboration of the New York State Office of Mental Health (OMH), NYSPI, and the Center for Practice Innovations at the Columbia Department of Psychiatry.  
Training the next generation
The Division of Child and Adolescent Psychiatry is actively engaged in training the next generation of mental health providers, including psychiatrists, psychologists, and social workers.  Particularly given workforce shortages in the mental health field, investing in the development of future clinicians is essential to improving youth's access to mental health treatment. The Division's programs include the child and adolescent psychiatry residency program, predoctoral internship, and externships in clinical psychology, and social work internship, as well as postdoctoral research fellowships. Each of the programs is committed to recruiting diverse trainees—particularly those from groups underrepresented in mental health—and preparing all trainees to serve youth and families using culturally informed approaches to treatment and research.
Summit to coincide with Mental Health Awareness Month
Gov. Hochul's listening tour will take place throughout the state this spring. Coordinated by the state Office of Mental Health and the Office of Children and Family Services, the sessions will be moderated by representatives from these agencies and include a cross section of school-age youth from each host community.  
The Summit on Youth Mental Health and Wellness is scheduled to convene in May, coinciding with Mental Health Awareness Month. The summit will bring together adolescents and parents with a broad array of subject experts from the mental health, education, technology, and law enforcement fields to discuss the challenges affecting the well-being of our youth, including the role social media plays in their lives.
In closing remarks, Gov. Hochul thanked OMH and NYSPI for hosting the event and for their efforts on behalf of youth. "I don't want to pretend we have all the answers," she said. "We will be looking to you for guidance, your advice, your research, and your solutions. I thank you for your help in leading the way."