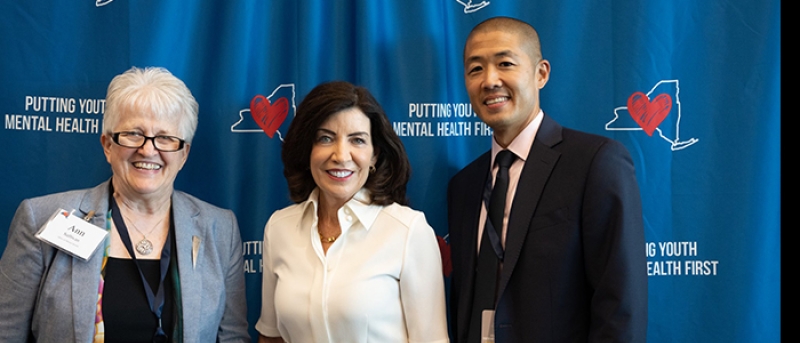 Governor Hochul Hosts Summit Outlining Steps to Address Youth Mental Health Crisis
Recommendations follow 'Youth Listening Tour' launched at NYS Psychiatric Institute
At the first-ever New York State Summit on Youth Mental Health last week, Governor Kathy Hochul released a report outlining both findings and recommendations to address the youth mental health crisis, following a Youth Listening Tour that gave young New Yorkers the opportunity to speak directly with state leadership.   
The summit, held June 15 at the Jacob Javits Center in New York City, brought together youth, parents, mental health experts, educators, law enforcement specialists, and over 1,000 attendees to explore the psychological and emotional challenges impacting the well-being of youth, including the role social media plays in their lives.
"The isolation and uncertainty we experienced during the COVID-19 pandemic continues to impact young people, who navigated key developmental milestones during this unstable time," Governor Hochul said. "The era of ignoring and underinvesting in mental health is over—it is time for us to be the agents of change that our children so desperately need at this moment."
Tour launched at New York State Psychiatric Institute
Governor Hochul launched the statewide Youth Listening Tour initiative in March at the New York State Psychiatric Institute (NYSPI), where the Governor and state Office of Mental Health Commissioner Dr. Ann Sullivan met with more than a dozen New York City middle and high schoolers to learn about their own and their peers' experiences with mental health.
Throughout April and May, nearly 200 young people took part in statewide listening sessions, coordinated by Office of Child and Family Services and NYSPI. The sessions gave young people an opportunity to inform future policy initiatives and provided policymakers with better tools to address the mental health problems that young New Yorkers face.
Suicide rates at 20-year high
New York mirrors the nation in statistics that call for urgent action. On the day of the summit, the Centers for Disease Control and Prevention (CDC) released new data that showed suicide rates among the 10-24 age group reached a 20-year-high in 2021. Earlier this year, the CDC issued its Youth Risk Behavior Survey, which found alarming mental health trends among school-aged youth—especially teen girls.
Nearly three in five teen girls feel persistently sad or hopeless—double that of boys, and almost 1 in 3 seriously consider attempting suicide—up nearly 60% from a decade ago. More than half of LGBTQ+ youth experience poor mental health, and more than 1 in 5 attempted suicide in the past year. Suicide is increasing at a faster rate for Black youth than it is for any other racial or ethnic group.
Columbia faculty participate on panels
Warren Ng, MD, president of the American Academy of Child and Adolescent Psychiatry, moderated the keynote plenary session, The State of Our Youth: Growing Up in the Social Media Era.   
Dr. Ng, who directs clinical services for the Division of Child and Adolescent Psychiatry at Columbia University Irving Medical Center and serves as medical director of Outpatient Behavioral Health at NewYork-Presbyterian/Morgan Stanley Children's Hospital, applauded the Governor Hochul's call for bold actions and transformative changes. "The summit acknowledges our children's crisis in mental health and amplifies national efforts to highlight the urgent need to expand and diversify our workforce, especially increasing access in underserved and minoritized groups and communities," he said.
Renowned suicide prevention expert Madelyn Gould, PhD, MPH, an endowed professor of epidemiology (in psychiatry) at Columbia and research scientist at the New York State Psychiatric Institute, participated in the panel, Finding Balance and Safety On Social Media: Is it Possible? Dr. Gould said that despite working in the field of research and prevention for most of her career, she is alarmed by the trend of suicidal thinking, attempts, and deaths occurring at younger ages. Dr. Gould emphasized accountability. She encouraged parents, guardians, mentors, and adult allies to establish open dialogue about emotions, sexuality, and about friendships and make themselves available to help young people process negative experiences. "Even grandparents should learn which social media and apps children are using and video games that they play," Dr. Gould said. "Be engaged, use them yourself, so you know exactly what they're doing." 
Next Steps
 The Governor's multi-year $1 billion FY 2024 budget makes investments in youth mental health and family care, including $30 million to expand school-based mental health services and $10 million to strengthen suicide prevention programs for high-risk youth. Based on the findings from the listening tour and discussions at the summit, several recommendations emerged, including:
Investing in community-based resources for recreation and mental wellness promotion
Youth-vetted training on navigating social media
Increased mental health resources that are free/low-cost, confidential, respectful, and culturally competent
Increased support in schools, more mental health counselors
OMH Commissioner Sullivan said the summit once again demonstrates Governor Hochul's commitment to the well-being of all young New Yorkers. "Her historic investments in the state's mental health system, and particularly her focus on the concerns and needs of youth, will dramatically improve the mental health and wellness of thousands of children, youth, and families," Dr. Sullivan said.
Pictured above: Commissioner Ann Sullivan, MD, state Office of Mental Health; Governor Kathy Hochul; and Jihoon Kim, deputy secretary for Human Services and Mental Hygiene