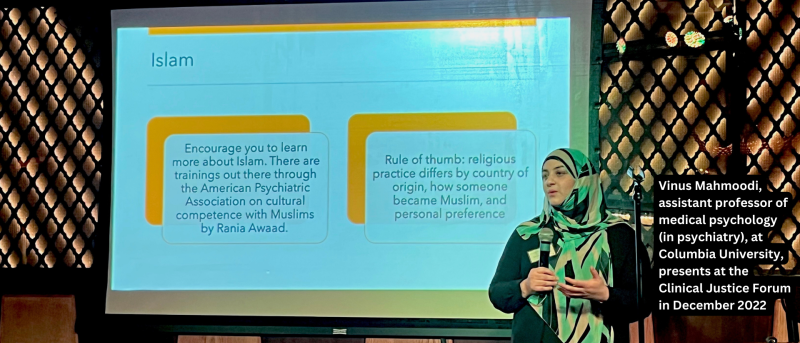 Focus on Clinical Health Justice
Columbia clinicians seek to create new pathways to mental health for patients and communities they serve
In December,  Adrian Jacques H Ambrose, MD, MPH, the senior medical director of the Columbia Psychiatry Faculty Practice, brought together a cross-section of the clinical community—medical students, residents, fellows, early career faculty, senior faculty, and staff—to discuss and collaborate on a sensitive and critical topic: how clinicians can better address health equity on behalf of patients and communities.
The intergenerational Clinical Health Justice Forum, made possible by a grant from Johnson & Johnson focused on medical education and health equity, took place at the Red Rooster, an iconic Harlem restaurant, drawing more than 60 people from the Columbia medical community.
The forum was an opportunity for open conversations about racism and discrimination, poverty and income inequality, and cultural barriers that impede the delivery of effective behavioral health care to marginalized groups, including residents in neighborhoods surrounding the medical center. 
New pathways to mental health
"It is incumbent on us to create new pathways to mental health and make a concerted effort to remain rooted in this community that we serve," Dr. Ambrose said. "As mental health champions, we are uniquely positioned to leverage our expertise, not just as clinical providers but also as health advocates who recognize and respond to the various social determinants that impact our patients' health and lives."
With the help of many clinical leaders and the Columbia Women's Program, this year's theme focused on women in minoritized spaces—the structural and environmental factors that create and perpetuate inequity for women, especially women and pregnant people of color.
Attendees tackled a wide range of topics, from reproductive justice and abortion rights, maternal mortality, to inequities around parental leave in the United States versus the rest of the world, and the imperative for a more inclusive clinical framework for women's mental health that spans the gender spectrum, such as, gender nonbinary people and transgender men.
The attendees agreed that Columbia Psychiatry must expand its efforts into the community and not preach from the "ivory tower."
Dr. Ambrose hopes to offer a similar platform to the Columbia community next year, focusing on children, adolescents, and young adults and ways in which practitioners can meet the deepening youth mental health crisis and fill gaps in access to quality behavioral health treatment and care.