Columbia-NYPL Launch Community Mental Health Project to Address Needs of Underserved New Yorkers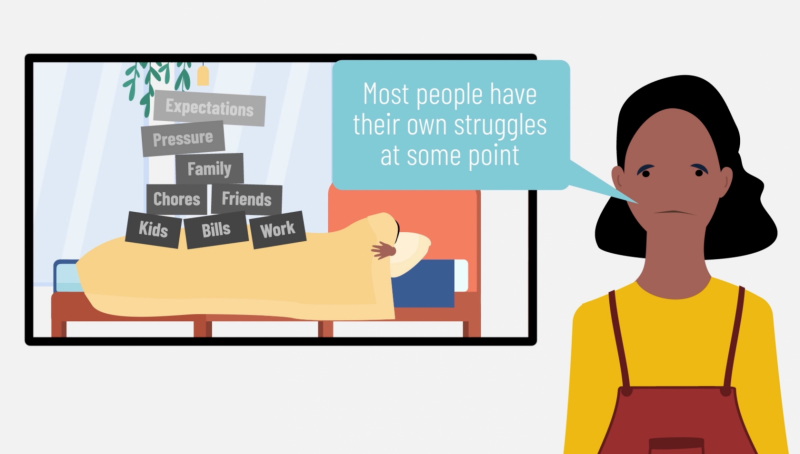 Resources based on input from residents in neighborhoods significantly impacted by health disparities and the pandemic
Columbia University and The New York Public Library have launched a public health initiative—in partnership with the National Black Leadership Commission on Health (Black Health)—to bring free education and resources to New York City residents who face lack of access and cultural barriers to behavioral health care.
The Community Mental Health Project, supported by the Leon Levy Foundation, aims to reduce the distress and trauma in the city's racially and ethnically diverse communities that have borne the brunt of the COVID-19 pandemic.
The initiative kicked off this week with an animated video series focusing on mental health wellness and self-care, the first two videos of 10 planned for the series. The topics address mental health concerns identified in discussions with community members, ranging from mental illness and addiction to stigma in seeking treatment and care.
 "We are proud to support a unique partnership that offers communities accurate education and engaging programs to help those in need receive care," said Shelby White, founding trustee of the Leon Levy Foundation. "By bringing free health resources to New Yorkers, including residents in underserved areas, we can make inroads toward ensuring mental health knowledge and support is accessible to all."
Reflecting community voices
A priority for the project has been to create culturally responsible programming to address the challenges communities of color have faced during the pandemic, which has had a disproportionately higher impact the city's Black and Latin American residents.
To identify behavioral health areas most relevant to communities, NYPL and Columbia partnered with Black Health, a nonprofit organization committed to achieving health equity. Earlier this year Black Health facilitated five roundtable discussions with residents in neighborhoods from Harlem to The Bronx. The groups included adolescents, young adults, and seniors who came together to identify and discuss their community's mental health needs.
Melissa Baker, chief operating officer at Black Health, said the COVID-19 pandemic has brought racial injustice and inequity to the forefront of public health.
"Due to lack of access to care and cultural barriers, including the stigma of seeking mental health care, the risk of untreated mental illness is higher in Black and Latinx communities, leading to increased mental health-related deaths," Baker said.
"We developed these resources with an understanding of these barriers, using the voices of the community to make an impact," she added. "People need to hear that you shouldn't be embarrassed to struggle with any aspect of your health. Not only shouldn't you struggle by yourself, but it is also critical to know what support and resources are available to get you to a better space in life."
Virtual and in-person forums
The Community Mental Health Project will roll out its programming and health resources, including the animated video series, produced by Columbia Department of Psychiatry's Center for Practice Innovations,over the next several months.
The short animations, each no more than five minutes and available in English and Spanish, will be paired with a series of virtual and in-person programs and workshops to take place this winter. The programs led by experts on mental health and wellness will include video screenings.
Forthcoming videos address such topics as community support and resources, mental wellness resources for seniors, overcoming stigma, the impact of COVID-19 on young adult lives, feeling misunderstood by elders, seeking support from mental health professionals, and how family members can help or hinder well-being.
Shared commitment to mental health reform
Jeffrey A. Lieberman, MD, professor and chair of the Department of Psychiatry at Columbia University, said Columbia Psychiatry is honored to partner with The New York Public Library and Black Health, esteemed organizations that share its commitment to improving mental health care.
"As we recover from COVID-19, it is critical that we extend our reach to diverse communities," Dr. Lieberman said. "Through the Community Mental Health Project, we can increase awareness of mental health issues and risks, including addiction; expand access to behavioral health care; and improve health outcomes. This exciting initiative has the potential to transform the lives of individuals and have a positive impact on the city as a whole."
The public can access the project through an online space created by the library that includes the short animations, as well as links to other mental health wellness resources freely available to New Yorkers. In addition, the video series will be supported by specially selected books in Spanish and English to check out throughout the system.
"The pandemic has brought extreme challenges to the mental health and well-being of New Yorkers, and The New York Public Library is grateful to the Leon Levy Foundation for its support of the city's recovery and renewal with the launch of this important initiative with our partners at Columbia University and Black Health," said NYPL President Anthony Marx. "For over 125 years our branches have served as valued community centers, offering vital resources that reflect the needs of our patrons; this project not only continues that legacy of service but also creates new opportunities to inform and educate others about how they can help themselves and their loved ones."