2018 Gray Matters at Columbia Spring Benefit Luncheon Puts Focus on Anxiety and Related Disorders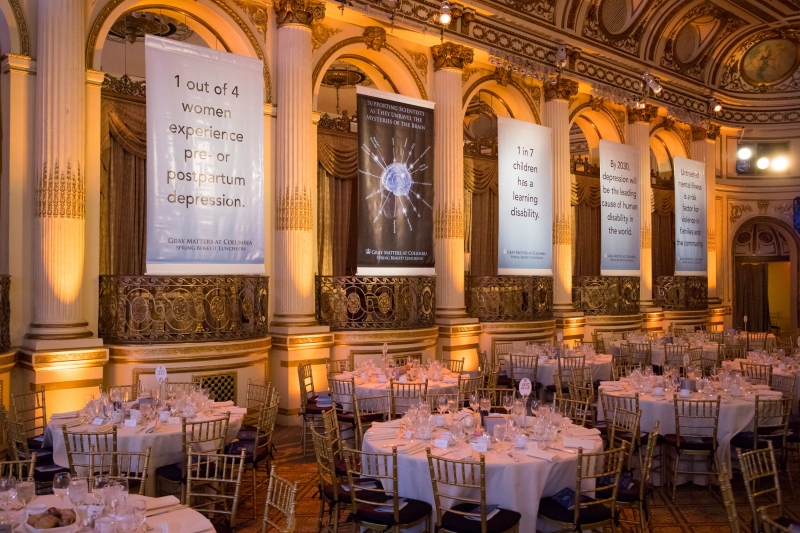 New York, NY (May 11, 2018) – The 11th annual Gray Matters at Columbia Spring Benefit Luncheon was held at The Plaza Hotel on Thursday, April 26, 2018. Anne Marie Albano, PhD, ABPP, renowned scholar and director of the Columbia University Clinic for Anxiety and Related Disorders (CUCARD) and Andrea Petersen, author of "On Edge: A Journey Through Anxiety" and noted mental health journalist, both shared their experiences and expertise with anxiety. Mistress of Ceremonies Donna Hanover welcomed the more than 350 luncheon guests who raised a remarkable $620,000 to support the Gray Matters fellowships in the Department of Psychiatry. These fellows continue to grow and advance the future of world-class psychiatric research and treatment at Columbia, and Gray Matters assists them as they pursue their work on the underpinnings of brain disorders.
This year's Gray Matters at Columbia luncheon focused on anxiety and related disorders, which are often gateway disorders to depression and substance abuse. Dr. Albano, this year's faculty speaker, is a passionate mental health advocate for children and has devoted her career in clinical psychology to the study and treatment of anxiety disorders in youth. Ms. Petersen, this year's keynote speaker, spoke movingly about her personal battles with anxiety and how she has dedicated her journalistic pursuits to further understand this disorder. She is a well-published journalist and author. Past honorees at the Spring Benefit Luncheon include Glenn Close, Siddhartha Mukherjee, Andrew Solomon, Gwyneth Paltrow, Congressman Patrick Kennedy, Paula Zahn, Anne Ford, and Jane Pauley.
"​Gray Matters fellowships are vital in helping Columbia Psychiatry attract the next great physician-scientists," noted Jeffrey Lieberman, MD, chairman of psychiatry at Columbia University Irving Medical Center. "With more than 20 divisions and 1,000 faculty members, Columbia Psychiatry is poised to tackle the most pressing mental health concerns, including some of society's largest public health issues."
Funds raised by the luncheon support research fellowships to help young scientists pursuing brain research to help solve the mystery of serious mental illnesses like schizophrenia, bipolar disorder, depression, and autism. The chosen fellows benefit from the multidisciplinary expertise of a peerless team of clinicians and scientists that includes two Nobel laureates.
The 2017-18 Gray Matters Fellows are Christine Anne Denny, Ph.D., Guillermo Horga, M.D., Ph.D., and Eleanor Murphy, Ph.D.
To make a gift or for more information, please call Shannon Harknett at 212-304-6670.