Gray Matters at Columbia
The health and safety of the Columbia community are our primary concern. Therefore, in light of the current situation with COVID-19 and guidance we have received from leadership at the Medical Center, the Gray Matters at Columbia Luncheon scheduled for April 23rd will be postponed to Tuesday, September 15th. Please mark your calendars. Thank you for your understanding, and we look forward to seeing you on September 15th! Information and tickets for the new date can be found here: https://events.columbia.edu/go/graymatters, and donations can be made at https://www.givenow.columbia.edu/?_sa=16545&_sd=564# or by calling 212-304-6670.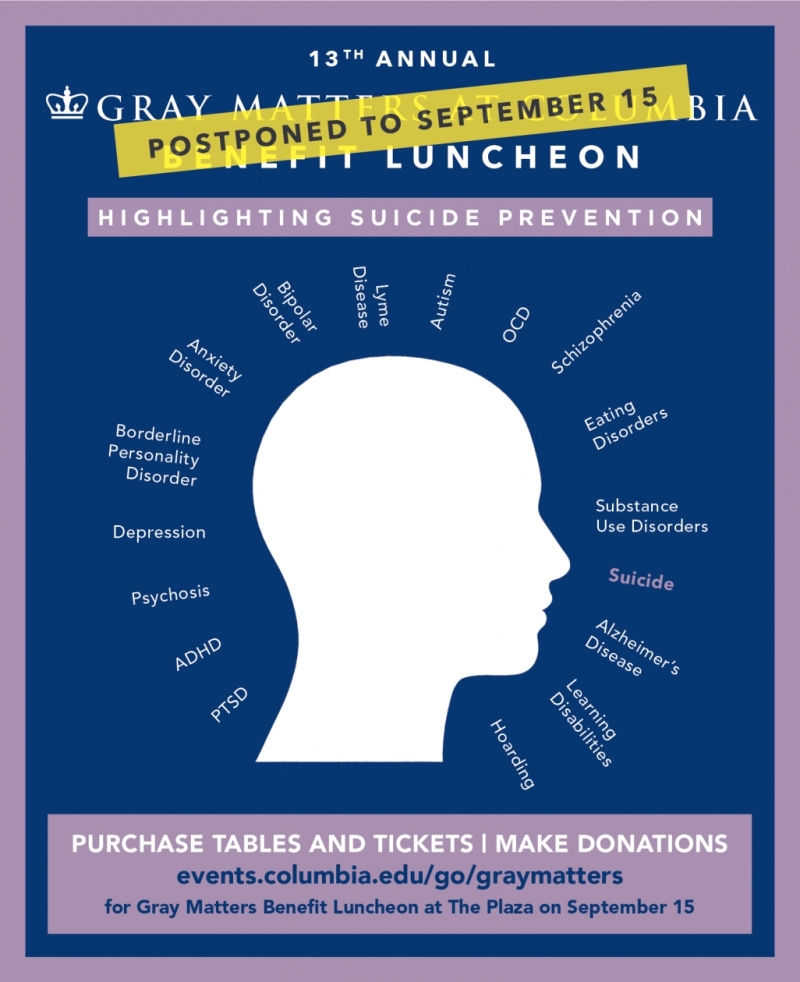 The 13th Annual Gray Matters at Columbia Spring Benefit Luncheon: September 15, 2020
The 13th Annual Gray Matters at Columbia Benefit Luncheon will postponed to Tuesday, September 15, 2020 at The Plaza Hotel at 11:00 am. This year's luncheon program will highlight suicide prevention, and will feature Dr. Kelly Posner Gerstenhaber, Professor of Psychiatry in the Vagelos College of Physicians and Surgeons at Columbia University and the Founder and Director of The Columbia Lighthouse Project. In addition, the luncheon will include remarks from Jeffrey Lieberman, MD, the Chairman of the Department of Psychiatry at the Columbia University Irving Medical Center.
Our Mission
To solve the mystery of such brain disorders as depression, anxiety and related disorders through innovative behavioral therapies and clinical research.
About Gray Matters at Columbia
Gray Matters at Columbia is a research fund within the Department of Psychiatry at Columbia University Vagelos College of Physicians and Surgeons that provides support for outstanding scientists dedicated to searching for the cause and cures of brain disorders. The luncheon is the major annual fundraising event for Columbia Psychiatry supporting research and treatment through the Chairman's initiatives for the department. Since its inception in 2007, the luncheon has raised funds to support chosen fellows who benefit from the extensive expertise of a peerless team of talented scientists that includes two Nobel laureates who serve as their teachers and mentors. Gray Matters is organized and run by a dedicated volunteer committee and is a beacon of hope to all who struggle with brain disorders. Each year, Gray Matters at Columbia features an individual or organization that has made significant contributions to promote brain research on mental illness. In 2019, the spotlight was on eating disorders research and treatment, honoring the Stewart J. Rahr Foundation and featuring faculty speaker Evelyn Attia, MD. Past speakers at the Spring Benefit Luncheon include Congressman Patrick Kennedy, Audrey Gruss, Jane Pauley, Anne Ford, Dick Cavett, Paula Zahn, Andrew Solomon, Gwyneth Paltrow, Dana Buchman, Glenn Close, Ana Marie Cox, Nora Volkow, and Siddhartha Mukherjee, M.D., D.Phil.
Please click here for a full list of Gray Matters Fellows since the program's inception.
Get Involved
Gray Matters at Columbia exists as a result of the kindness, compassion, and generosity of its donors.
We encourage donors to get involved and see the impact of their contributions. We invite you to visit and meet the scientists in person and hear directly from them about the current research projects and progress being made in treating brain disorders.
Learn about the process of scientific discovery. See PET, MRI, and CAT scans. Find out how and why brain imaging often gives scientists the answers they seek and what role DNA samples play. Discover how these leading edge scientists summarize the findings that lead to a better understanding of illness, treatment, and cures.
Find out how this research brings hope, eases the day-to-day coping ability of those who struggle with brain disorders, and gives freedom to some who might otherwise be a prisoner to their illness.
Memorialize a special someone lost to mental illness. A donation made in a loved one's name often helps families transcend their loss through the knowledge that they are helping someone else.
Giving Is Easy
For more information or to make a contribution, please visit our giving page or contact:
Bridget W. Foley
Director of Development, Events & Special Projects
Vagelos College of Physicians and Surgeons
Columbia University Irving Medical Center
516 West 168th Street, Third Floor
New York, NY 10032
Phone: 212.304.6670
Cell: 646.532.8942
E-mail: bridget.foley@columbia.edu