Picard Lab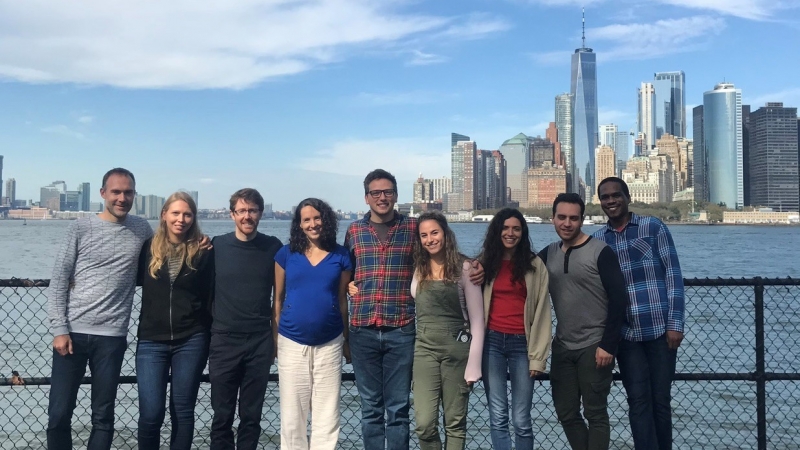 Location and Contact Information 
​Picard Lab
1051 Riverside Drive
Kolb 4
New York, NY 10032
United States
(646) 774-5026
Life emerges from the organized flow of energy through biological systems. Energy flow through our cells is largely driven by mitochondria, which in turn give us the ability to sense and perceive, integrate information, and adapt to stressors and challenges.
Our team integrates knowledge from mitochondrial biology, stress neuroendocrinology, aging, computational biology and network science, and mitochondrial medicine to understand principles of mitochondrial communication and signal transduction. We develop new laboratory assays and machine learning-based approaches to explain how psychological states influence biological and energetic processes within mitochondria, and in turn how mitochondria influence mental and physiological functions.
Together with our collaborators, we deploy our mitochondrial phenotyping platform to map inter-individual variations in mitochondrial health, to understand mitochondrial plasticity over time, and to map their role in the maintenance of human health and aging.
Our goal is to discover bioenergetic principles of brain-body communication and to use this knowledge to build an integrative and more holistic model of human health.
Lab Members
Martin Picard, PhD

Martin initially trained as a physiologist in neuroimmunology and aging mitochondrial biology, then in mitochondrial genetics with Doug Wallace and stress neuroendocrinology with Bruce McEwen, now combining these fields into Mitochondrial Psychobiology.

Kalpita Karan, PhD

Kalpita examines the role of mitochondria in cytokine production in human blood, and age- and stress-related changes in genomic stability.

Caroline Trumpff, PhD

Caroline applies multi-omic approaches to map the effects of psychosocial exposures on human brain mitochondria and circulating hormones.

Jeremy Michelson, BSc

Jeremy is part of the Nutrition and Metabolic Biology graduate program, and examines mechanisms of systemic mitochondrial signaling in humans.

Marlon A. McGill, BSc

Marlon manages lab operations and the MiSBIE biobank, performs cell purification, and applies our mitochondrial phenotyping platform in blood leukocytes.

Gabriel Sturm, BSc

Gabriel leads a longitudinal cellular lifespan study and applies computational approaches to multi-omic data at the intersection of mitochondria, stress signaling, and cellular aging.

Marissa Cross, BA

Marissa coordinates daily operations of the Mitochondrial Stress, Brain Imaging, and Epigenetics (MiSBIE) study.

Shannon Rausser, BSc

Shannon develops novel cell-type specific and dynamic mitochondrial stress biomarkers.​

Ayelet Rosenberg, BSc

Ayelet studies the effects of psychosocial and neuroendocrine stress on brain mitochondria and in human hair.

Grace Liu, MA

Grace manages electronic databases for MiSBIE and other studies in our lab and Division.

Johanne Fortune, RN

Johanne performs blood draws for the MiSBIE study and other specialized repeated-measures protocols.

Shani Erdman, BA

Shani curate stress psychophysiology data from the MiSBIE study and work on omic data visualization.

Alex Junker, BSc

Part-time Graduate Researcher

Alex examines sex differences in human mitochondrial phenotypes.

Jennifer Wang, BSc

Part-time Research Researcher

Jenny examines sex differences in human mitochondrial phenotypes.

Atif Toweed, PhD

Atif is a medical student at Touro College of Osteopathic Medicine and works on the clinical and neurological aspects of the MiSBIE study.

Snehal Bindra

Shenal examines mitotypes variations in normal and cancer tissue, and metabolomic changes with integrative medicine treatments.
Select Publications
Sturm G, Cardenas A,​ Bind MA,​ Horvath S, Wang S,​ Wang Y,​ Hägg S, Hirano M,​ Picard M. Human aging DNA methylation signatures are conserved but accelerated in cultured fibroblasts. Epigenetics 2019; 14(10):961-976

Picard M, Trumpff C, Burelle Y. Mitochondrial psychobiology: Foundation and applications. Curr Opin Behav Sci 2019; 28:142-151

Trumpff C, Marsland AL, Basualto C, Martin JL, Carroll JE, Sturm G, Gu Z, Vincent A, Kaufman BA, Picard M. Acute psychological stress increases serum circulating cell-free mitochondrial DNA. Psychoneuroendocrinol 2019; 106:268-276 [Special issue: Stress and cellular aging]

Trumpff C, Marsland AL, Sloan RP, Kaufman BK, Picard M. Predictors of ccf-mtDNA reactivity to acute psychological stress identified using machine learning classifiers: A proof-of-concept. Psychoneuroendocrinol 2019; 107:82-92 [Special issue: Stress and cellular aging]

Vincent AE, White K, Davey T, Philips J, RT Hogden, Lawless C, Warren C, Hall MG, Ng Y, Falkous G, Holden T, Deehan D, Taylor RW, Turnbull DM, Picard M. Quantitative 3D mapping of the human skeletal muscle mitochondrial network in health and mtDNA disease. Cell Rep 2019; 26(4):996-1009

Picard M, Prather AA, Puterman E, Cuillerier A, Coccia M, Aschbacher K, Burelle Y, Epel ES. A mitochondrial health index sensitive to mood and caregiver stress. Biol Psychiatr 2018; 84(1):9-17

Picard M, McEwen BS, Epel ES, Sandi C. An energetic view of stress: Focus on mitochondria. Front Neuroendocrinol (Elsevier) 2018; 49:72-85

Picard M, McManus MJ, Gray J, Nasca C, Moffat C, Kopinsky P, Seifert E, McEwen BS, Wallace DC. Mitochondrial functions modulate neuroendocrine, metabolic, inflammatory and transcriptional responses to psychological stress. PNAS 2015; 112(48):E6614-23