Maura Boldrini, MD
Virtual Visits/Telehealth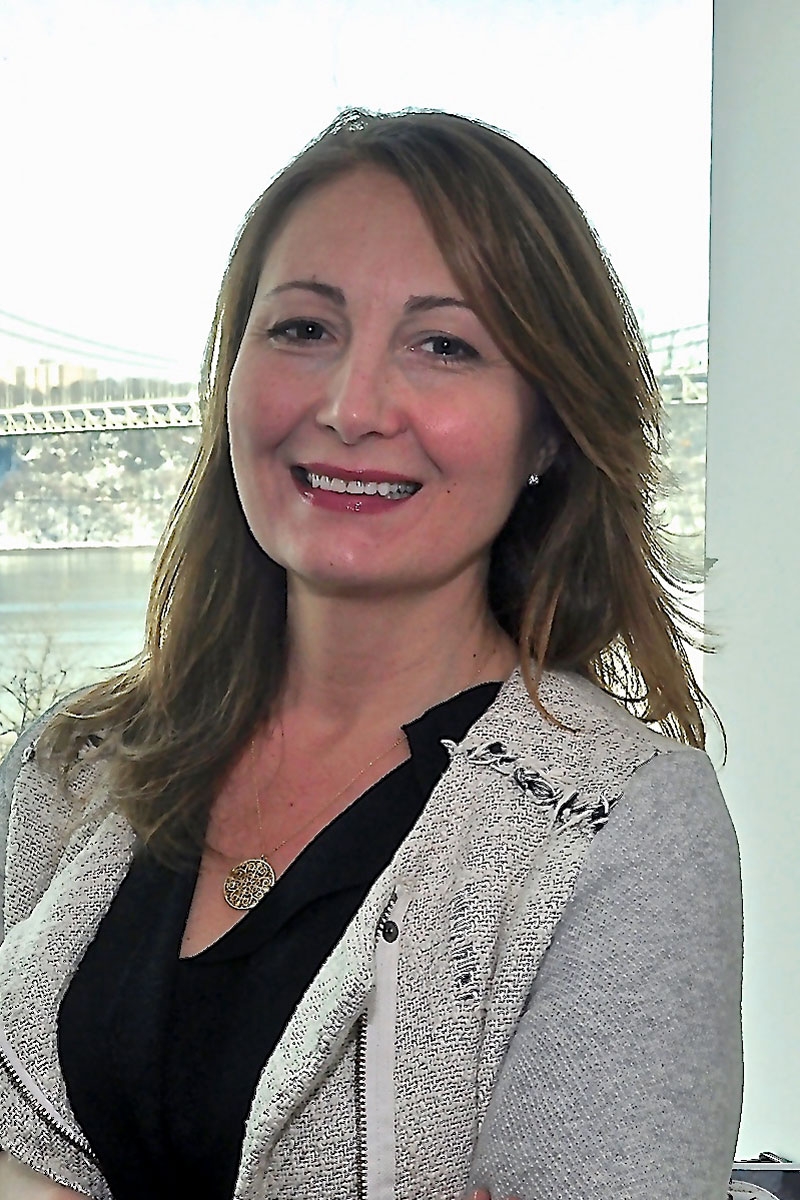 Overview
Maura Boldrini, MD, PhD is an Associate Professor of Psychiatry at Columbia Medical College, Director of the Human Brain Biology Institute (Brain QUANT), and the Human Neurobiology laboratory in the Department of Psychiatry at Columbia University Irving Medical Center and the New York State Psychiatric Institute. Her research focuses on understanding underlying mechanisms of behavioral, cognitive and emotional changes associated with brain diseases.

The Brain QUANT Institute's mission is to apply cutting edge quantitative neuroscience methods to postmortem human brain tissue in order to understand how the human brain functions and the pathogenesis of brain diseases. Direct human brain studies are conducted in parallel with studies in animal and in vitro models. Quantitative methods are used to interrogate, at a cellular and anatomical level, the genomics and molecular basis of brain biology and pathology. The ultimate goal is to identify new treatment targets and inform precision medicine approaches to brain disorders.
In her practice, Dr. Boldrini specializes in affective disorders and suicidal behavior. She has experienced treating a number of emotional and behavioral problems, including depression, anxiety, personality disorders, addictions, and stress reactions.
"I believe in individualized medicine. I focus on understanding the struggles and goals of every person I see, and believe in establishing long term relationships with my clients and families. I like to provide them with comprehensive support throughout the difficult times they are facing."
Dr. Boldrini's treatment strategies are informed by her research efforts, for which she received the Columbia University Gray Matters award, and was invited to participate in a panel discussion about new treatment strategies to combat depression and anxiety.
In her laboratory, Dr. Boldrini is studying brain circuits involved in depression, suicide, aging  and other neurodegenerative conditions. She is studying brain circuits at the cellular and molecular level, and she is interested in understanding how the mind and the brain interact generating symptoms that make people suffer. She has been investigating neurochemical aspects of brain transmission, in order to find better treatments for brain disorders. She has extensively studied neuron re-growth in the brain, and has shown the human brain has the ability to make new neurons throughout our lifetime. These new neurons are necessary for learning and copying with stress, and are important for cognitive functions, successful aging and mental health. Most recently she has been studying how inflammation and COVID affect brain function.
She has published over 45 scientific articles and edited 7 books on depression and suicide, stress responses, panic disorder, and atypical antipsychotics. Her research on brain biology has been published in Cell Stem Cell, Biological Psychiatry, Neuropsychopharmacology and other top journals.
Dr. Boldrini has received international recognition for her work on "New Neurons" in the human brain. Her research has been covered by more than 800 national and international media outlets, including:Science Friday Podcast: "Do Our Brains Keep Growing As We Age?", BBC Radio 4 "The World Tonight", BBC World Service Radio, The Scientist, Los Angeles Times, TIME, Reuters, CBS News, U.S. News & World Report, Science Daily, Forbes 2018 and 2019, The Economist, The Guardian, Discover Magazine, and The Scientist.
She is a faculty member of the Columbia Doctoral Program in Neurobiology and Behavior, Stem Cell Initiative, Data Science Institute, and Zuckerman Mind Brain and Behavior Institute. She is teaching and supervising graduate and undergraduate students, medical students, psychiatry residents and postdocs.
Academic Appointments
Associate Professor of Psychiatry
Hospital Affiliations
NewYork-Presbyterian Hudson Valley Hospital
NewYork-Presbyterian / Columbia University Irving Medical Center
Schedule an Appointment
Virtual Visits/Telehealth
Virtual Visits allow you to connect with your provider from the comfort, convenience, and safety of your own home.
New and Existing Patients:
Connect Patient Portal
For existing patients, login to make an appointment, view documentation or contact your care provider.
Location(s)
New Patient Appointments:
Insurance Accepted
Aetna
Aetna Signature Administrators
EPO
HMO
Medicare Managed Care
NYP Employee Plan
NY Signature
POS
PPO
Student Health
UnitedHealthcare
Behavioral Health (Columbia University Employee Plan)
*Please contact the provider's office directly to verify that your particular insurance is accepted.
Credentials & Experience
Committees, Societies, Councils
2019 Member, Honorific Awards Committee, American College of Neuropsychopharmacology (ACNP)
2019 Member: International Society for Stem Cell Research (ISSCR)
2018 Member: American College of Neuropsychopharmacology (ACNP)
2014 Member: American Psychiatric Association (APA)
2013 Member: InternationalAcademy for SuicideResearch (IASR)
2008 Member: Society of Biological Psychiatry (SOBP)
2007 Member: Society for Neuroscience (SfN)
Honors & Awards
2020 Invited Lecturer, National Institute of Aging Workshop: "Neurogenesis and Aging." March 15-16, 2020, Bethesda, MD
2019 Gray Matters Fellowship Award
2019 Publication featured in Cell Stem Cell Best of 2018: Boldrini M, Fulmore CA, Tartt AN, Simeon LR, Pavlova I, Poposka V, Rosoklija GB, Stankov A, Arango V, Dwork AJ, Hen R, Mann JJ. Human Hippocampal Neurogenesis Persists Throughout the Eighth Decade of Life. Cell Stem Cell. 2018 Apr 5;22(4):589-599.e5. doi: 10.1016/j.stem.2018.03.015. PMID: 29625071
2019 Invited Lecturer, 2nd Neurogenesis Conference, March 5-8 2019, Nassau, Bahamas
2019 Invited Lecturer, 4th Eurogenesis meeting, June 11-13 2019, Bordeaux, France
2017 Selected presenter, Late-Breaking Poster, Society of Biological Psychiatry 72nd Annual Meeting, May 18-20, 2017, San Diego, CA
2015 Invited lecturer, World Congress on Angiogenesis 2015, April 11-12, 2015. Boston, MA
2014 Invited lecturer, Adult Neurogenesis: From Stem Cells to Therapies 1st meeting, February 6-8, 2014, TIFR, Mumbai, India
2013 Invited lecturer, Department of Psychiatry, University of Pittsburgh, April 8, 2013, Pittsburgh, PA,
2013 Grand Round lecturer, Department of Psychiatry, Loyola University, March 13, 2013, Chicago, IL,
2012 Selected presenter, Late-Breaking Session, Society of Biological Psychiatry's 67th Annual Meeting, May 3-5, 2012, Philadelphia, PA
2011 Grand Round lecturer, Department of Psychiatry, NYU School of Medicine, Woodhull Medical and Mental Health Center, Nov 11, 2011, New York, NY
2011 Invited lecturer, Excellence Centre for Research, Transfer and High Education for the Development of DE NOVO Therapies, April 11, 2011, Univ. of Florence, Italy
2010 Kavli Fellow, National Academy of Sciences
2010 Invited lecturer, National Academy of Sciences' twenty-second annual Kavli Frontiers of Science symposium, Beckmann Center, Nov. 4-6, 2010, Irvine, CA
2010 Invited lecturer, XVII Congress of the Italian Society of Neuropsycho-pharmacology, September 22-25, 2010, Cagliari, CA, Italy
2010 Invited lecturer, Meeting: "Pharmacological Modulation of Adult Neurogenesis", University of Novara, October 1-2, 2010, Novara, Italy
2008 Selected presenter, Hot Topics Basic Session at 47th American College of Neuropsychopharmacology (ACNP) Annual Meeting, December 6-11, 2008, Scottsdale, AZ
2007 Travel Scholarship, Society of Biological Psychiatry
2006-2008 Janssen Fellow in Translational Neuroscience Research, Columbia University, New York, NY
2000 Invited lecturer, January 11, 2000, Brickell Suicide Research Conference, Columbia University, New York, NY
Research
In my laboratory, current research focuses on studying stem cells in the human brain and the neurogenic niche associated with them, which involves new vasculature and capillaries. Adult neurogenesis, the making of new neurons in adult life, is a mechanism of brain plasticity occurring in mammals including humans, which is necessary for learning and coping, shows adaptation to the environment and a significant response to drugs and medications. We are studying mechanisms involved in neural cell proliferation maturation and survival in the human brain, and how these change with normal and pathological conditions. We are interested in understanding changes in neurogenesis and neuroplasticity occurring with stress exposure, medications, and aging, and how they contribute to psychiatric disorders, cognitive disfunction, suicide, or resilience. To decipher the neurobiological mechanisms involved in these phenomena, we are combining classic and data mining techniques investigating changes at the gene, transcript, epigenome, proteome, cellular, and brain circuit level. Alterations at any of these levels, resulting from genetic and environmental factors, ultimately affect human behavior.
Dr. Boldrini's three main accomplishments have been showing that: 1. Anterior human dentate gyrus neurogenesis is impaired in depression and suicide; 2. Neurogenesis abnormalities in depression are absent when patients have been treated with antidepressants; 3. Neurogenesis is largely preserved in the first eight decades of life although vascular indices show a decline over that age range indicating the potential for ameliorating some aging effects on cognition.
Among Dr. Boldrini's breakthroughs are reports on: the effects of antidepressants on human adult neurogenesis (Neuropsychopharmacology 2009), the relationship between hippocampal neurogenesis and angiogenesis (Biological Psychiatry 2012), aging effects on adult neurogenesis (Cell Stem Cell 2018), hippocampal volume and neuroplasticity changes associated to resilience to early life adversity (Biological Psychiatry 2019).
She is studying the link between the serotonergic system and neurogenesis, teasing apart the relationship between expression of serotonin receptors and neurogenesis levels in human hippocampus. More recently she is examining the correlation of neurogenesis with neuroinflammation and the hypothalamus-pituitary-adrenal (HPA) stress response in the hippocampus. She is working on proteomics data and RNA sequencing analysis of human brain tissue and single cells, and assessing gene methylation levels.
Research Interests
Brain Imaging
Models of brain aging, epilepsy and psychiatric disorders
Neural Degeneration and Repair
Neuroplasticity in brain aging, psychiatric disorders, epilepsy and suicide
Neuropsychopharmacology
Neurotransmitters systems involved in psychiatric disorders, epilepsy and suicide
Psychiatry
Stem Cell Biology
Grants
2018-2023 Antecedents of Suicidal Behavior Related Neurobiology
NIMH - 2P50MH090964 - Conte Center (Role: Co-I)
2020-2021 Center for the Prevention and Treatment of Depression Pilot Award
New York State Psychiatric Institute Internal Grant (Role: PI)
2019-2021 Brain Proteomics to Understand Suicidal Behavior Biosignatures
American Foundation for Suicide Prevention (Role: PI)
2014‐2020 Sudden Unexpected Death in Epilepsy (SUDEP) Translational Research Alliance (SUTRA) - The Neuropathology of SUDEP: The Central Autonomic Network, Serotonin, and Adenosine
NINDS - 5U01NS090415- Extramural Research Programs in the Neurosciences and Neurological Disorders (Role: MPI)
Selected Publications
2019
Calati R, Boldrini M, Bensassi I, Maller JJ, Meslin C, Ritchie MWK, Courtet P, Artero S, Lopez-Castroman J. Commentary on smaller hippocampal volume in current but not in past depression in comparison to healthy controls: minor evidence from an older adult sample. J Geriatr Psychiatry Neurol. 2019 Apr 28:891988719845504. doi: 10.1177/0891988719845504. PMID: 31030625
*Boldrini M, Galfalvy H, Dwork AJ, Rosoklija GB, Trencevska-Ivainovska I, Palovski G, Hen R, Arango V, Mann JJ. Boldrini M. Resilience Is Associated with Larger Dentate Gyrus while Suicide Decedents with Major Depressive Disorder have Fewer Granule Neurons. Biol Psychiatry. 2019 May 15;85(10):850-862. doi: 10.1016/j.biopsych.2018.12.022. PMID: 30819514
2018
Tartt AN, Fulmore CA, Liu Y, Rosoklija GB, Dwork AJ, Arango V, Hen R, Mann JJ, Boldrini M. Considerations for assessing the extent of hippocampal neurogenesis in the adult and aging human brain. Cell Stem Cell. 2018 Dec 6 PMID: 30526880, DOI: 10.1016/j.stem.2018.10.025
Besnard A, Langberg T, Levinson S, Chu D, Vicidomini C, Scobie KN, Dwork AJ, Arango V, Rosoklija GB, Mann JJ, Hen R, Leonardo ED, Boldrini M, Sahay A. Targeting Kruppel-like factor 9 (Klf9) in excitatory forebrain 1 neurons protects against chronic stress-induced dendritic spine enlargement and maladaptive fear responses. Cell Reports, 2018 Jun 12;23(11):3183-3196. doi: 10.1016/j.celrep.2018.05.040. PMID: 29898391
Boldrini M, Fulmore CA, Tartt AN, Simeon LR, Pavlova I, Poposka V, Rosoklija GB, Stankov A, Arango V, Dwork AJ, Hen R, Mann JJ. Human Hippocampal Neurogenesis Persists Throughout the Eighth Decade of Life. Cell Stem Cell. 2018 Apr 5;22(4):589-599.e5. doi: 10.1016/j.stem.2018.03.015. PMID: 29625071
Thom M, Boldrini M, Bundock E, Sheppard MN, Devinsky O. The past, present and future challenges in epilepsy related sudden deaths and bio-banking. Neuropathology and Applied Neurobiology, 2018 Feb;44(1):32-55. doi: 10.1111/nan.12453. PMID: 29178443
Pillai RLI, Zhang M, Yang J, Boldrini M, Mann JJ, Oquendo MA, Parsey RV, DeLorenzo C. Will imaging individual raphe nuclei in males with major depressive disorder enhance diagnostic sensitivity and specificity? Depress Anxiety. 2018 Jan 24. doi: 10.1002/da.22721. PMID: 29365217
2016
Aizenstein HJ, Baskys A, Boldrini M, Butters MA, Diniz B, Jaiswal MJ, Jellinger KA, Kruglov LS, Meshandin IA, Mijajlovic MD, Niklewski G, Pospos S, Raju K, Richter K, Steffens DC, Taylor W, Tene O. Vascular Depression Consensus Report - A Critical Update. BMC Med. 2016 Nov 3;14(1):161. PMID: 27806704
Donaldson ZR, Le Francois B, Santos TL, Almli LM, Boldrini M, Champagne F, Arango V, Stockmeier CA, Galfalvy H, Albert PR, Ressler KJ, Hen R. The functional serotonin 1a receptor promoter polymorphism, rs6295, is associated with psychiatric illness and differences in transcription. Translational Psychiatry. 2016 Mar 1;6:e746. doi: 10.1038/tp.2015.226. PMID: 26926882
Azmitia EC, Saccomano ZT, Alzoobaee ZF, Boldrini M, Whitaker-Azmitia PM. Persistent Angiogenesis in the Autism Brain: an immunocytochemical study of postmortem cortex, brainstem and cerebellum. Journal of Autism and Developmental Disorders (JADD). 2016 Apr;46(4):1307-18. doi: 10.1007/s10803-015-2672-6. PMID: 26667147
2014
Wu MV, Shamy JL, Bedi G, Choi CW, Wall MM, Arango V, Boldrini M, Foltin RW, Hen R. Impact of Social Status and Antidepressant Treatment on Neurogenesis in the Baboon Hippocampus. Neuropsychopharmacology. 2014 Feb 12. doi: 10.1038/npp.2014.33. PMID: 24518288
Mann JJ, Oquendo MA, Watson KT, Boldrini M, Malone KM, Ellis SP, Sullivan G, Cooper TB, Xie S, Currier D. Anxiety in Major Depression and Cerebrospinal Fluid Free Gamma-Aminobutyric Acid. Depression and Anxiety. Depress Anxiety. 2014 May 27. doi: 10.1002/da.22278. PMID: 24865448
Boldrini M, Butt TH, Dwork AJ, Bakalian MJ, Tamir H, Rosoklija GB, Hen R, Arango V Mann JJ. Benzodiazepines And The Potential Trophic Effect Of Antidepressants On Dentate Gyrus Cells In Mood Disorders. Int J Neuropsychopharmacol 2014 Jun 27:1-11. PMID: 24969726
Boldrini M, Mann JJ. Depression and Suicide. In: Neurobiology of Brain Disorders. Biological Basis of Neurological and Psychiatric Disorders. Edited by Michael J. Zigmond, Joseph T. Coyle and Lewis P. Rowland. Elsevier, San Diego, CA, USA, 2014. Pages 709-729
2013
Boldrini M, Santiago AN, Hen R, Dwork AJ, Rosoklija GB, Tamir H, Arango V Mann JJ. Hippocampal granule neuron number and dentate gyrus volume in antidepressant-treated and untreated major depression. Neuropsychopharmacology. 2013 Jan 7. doi: 10.1038/npp.2013.
2012
Boldrini M, Hen R, Underwood MD, Rosoklija GB, Dwork AJ, Mann JJ, Arango V. Hippocampal Angiogenesis and Progenitor Cell Proliferation are Increased with Antidepressant Use in Major Depression. Biol Psychiatry. 2012 Oct 1;72(7):562-571.
2010
Boldrini M, Arango V. Antidepressants, age and neuroprogenitors. Neuropsychopharmacology Reviews. 2010 Jan;35(1):351-352. doi: 10.1038/npp.2009.130
Boldrini M, Arango V. Consequences of the Stress Response: Stress and suicide. In: L.R. Squire (Ed.) New Encyclopedia of Neuroscience, Elsevier, Oxford, UK. 2010, Pages 471-479
2009
Boldrini M, Underwood MD, Hen R, Rosoklija GB, Dwork AJ, Mann JJ, Arango V. Antidepressants increase neural progenitor cells in the human hippocampus. Neuropsychopharmacology 2009; 34(11):2376-2389 e-Pub ahead of print. PM:19606083
2008
Boldrini M, Underwood MD, Mann JJ, Arango V. Serotonin-1A autoreceptor binding in the dorsal raphe nucleus of depressed suicides. J Psychiatr Res 2008; May;42(6):433-442
2005
Boldrini M, Del Pace L, Placidi GP, Keilp J, Ellis SP, Signori S, Placidi GF, Cappa SF: Selective cognitive deficits in obsessive-compulsive disorder compared to panic disorder with agoraphobia. Acta Psychiatr Scand 2005; Feb;111(2):150-158
Boldrini M, Underwood MD, Mann JJ, Arango V: More tryptophan hydroxylase in the brainstem dorsal raphe nucleus in depressed suicides. Brain Res 2005; Apr 11;1041(1):19-28
Boldrini M, Giromella A, Martini A, Rossi M, Becherini F, Castagna M, Sorbi S, Placidi GF: Serotonin transporter density in cortical areas of subjects with Alzheimer Disease and controls. Journal of Psychopathology 2005; 9(Suppl. N. 1):13-20
2004
Del Rosso A, Boldrini M, D'Agostino D, Placidi GP, Scarpato A, Pignone A, Generini S, Konntinen Y, Zoppi M, Vlak T, Placidi GF, Matucci-Cerinic M: Health related quality of life in systemic sclerosis as measured by SF 36: relationship with clinical and biological markers. Arthritis & Rheumatism (Arthritis Care & Research) 2004; 51(3):475-481
Ricca V, Nacmias B, Boldrini M, Cellini E, Di Bernardo M, Ravaldi C, Rotella CM, Sorbi S: Psychopathological traits and 5-HT2A receptor promoter polymorphism (-1438 G/A) in patients suffering from anorexia nervosa and bulimia nervosa. Neurosci Letters 2004; 365(2):92-96
2003
Boldrini M, Rossi M, Placidi GF. Paroxetine efficacy in stuttering treatment. Int J Neuropsychopharmacol. 2003; Sep;6(3):311-2
Mannucci E, Ricca V, Filetti S, Boldrini M, Rotella CM: Eating behavior and thyroid disease in female obese patients. Eating Behaviors 2003; 4:173-179
Ravaldi C, Vannacci A, Zucchi T, Mannucci E, Cabras PL, Boldrini M, Murciano L, Rotella CM, Ricca V: Eating disorders and body image disturbances among ballet dancers, gymnasium users and body builders. Psychopathology 2003; 36:247-254
2001
Arango V, Underwood MD, Boldrini M, Tamir H, Kassir SA, Hsiung SC, Chen JJX, Mann JJ: Serotonin 1A receptors, serotonin transporter binding and serotonin transporter mRNA expression are reduced in the brainstem of depressed suicide victims. Neuropsychopharmacology 2001; 25(6):892-903
1999
Boldrini M, Placidi GP: Neuropsychology of obsessive-compulsive disorder: review and experimental design. Psychiatry Studies 1999; 2:24-29
1998
Boldrini M, Placidi GPA, Marazziti D. Applications of chaos theories to psychiatry: A review and future perspectives. CNS Spectrum, 1998, 3,22-29
Placidi GPA, Boldrini M, Patronelli A, Fiore E, Chiovato L, Perugi G, Marazziti D: Prevalence of psychiatric disorders in thyroid disease patients. Neuropsychobiology, 1998; 38(4):222-225
1997
Toni C, Cappa S, Boldrini M, Frare F, Pedri S, Medda P, Perugi G. Selective neuropsychological dysfunction in patients with panic disorder-agoraphobia. Biological Psychiatry 1997; 42:1s-297s
Toni C, Cappa S, Perugi G, Boldrini M, Frare F, Pedri S, Medda P, Cassano GB: A selective pattern of neuropsychological dysfunction in patients with panic disorder-agoraphobia. CNS Spectrum 1997; 2:64-67
1996
Boldrini M, Placidi GP, Mosca M, Caponi L, Bombardieri S: Psychiatric disorders and immunological parameters in patients with Systemic Lupus Erythematosus. J Neural Transmission 1996; 103:10-18