Jermaine Jones, PhD
Associate Professor of Clinical Neurobiology ( in Psychiatry)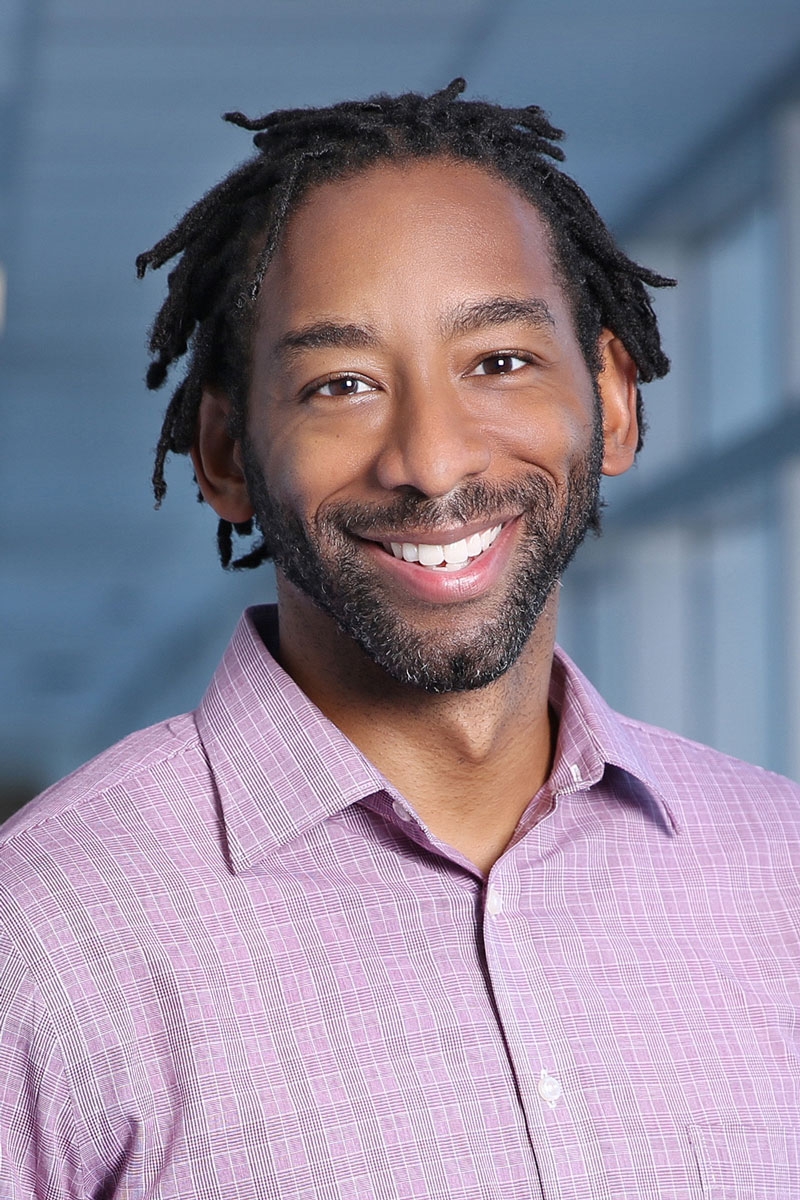 Overview
I was born in Henderson, Texas, and attended college at the University of Virginia majoring in Psychology and Biology. Throughout my post-secondary education, I was involved in several summer undergraduate research internships at Carnegie Mellon, the Univ. of Illinois and Johns Hopkins. While obtaining my doctoral degree at American University, I found a balance between behavioral and biological investigations that best fit my interests. My research in Dr. Anthony Riley's Psychopharmacology Laboratory focused on understanding alcohol's effects on cocaine-induced affective responses, along with neuropharmacological mediation of cocaine's aversive effects and their impact on its abuse liability. Working under Dr. George Uhl and Scott Hall at the Molecular Neurobiology Division at NIDA, I also researched the genetic contribution to cocaine's aversive effects. My graduate training provided me the opportunity to learn from two well-respected substance abuse investigators. Under the tutelage of Dr. Riley, I learned the importance of information gained by integrating behavioral assays into pharmacological research. Through my time with Drs. Uhl/Hall, I developed an appreciation for the influence that genetic factors have on behavioral responses to drugs.
In my postdoctoral training, I sought to expand my training in drug abuse research by gaining experience in clinical research. Working with Dr. Sandra Comer at the Division on Substance Use Disorders at Columbia University Irving Medical Center, I was involved in several human behavioral pharmacological investigations. I also had the opportunity to perform clinical rotations with the Substance Use Treatment and Research Service (STARS). In 2011, I became an assistant professor and received a K01 award to continue my career development at Columbia/New York State Psychiatric Institute.
As a result of my laboratory research among people who use drugs, I developed an interest in community-based drug use harm reduction. As an associate professor, my current laboratory research focuses on pharmacogenetics, while my work outside of the lab focuses on overdose harm reduction.
Academic Appointments
Associate Professor of Clinical Neurobiology ( in Psychiatry)
Credentials & Experience
Education & Training
BA, 1998 Psychology/Biology, University of Virginia
MS, 2004 Biological Psychology, Old Dominion University
PhD, 2008 Behavioral Neuroscience, American University
Fellowship: 2011 Columbia College of Physicians & Surgeons
Committees, Societies, Councils
Virginia Academy of Science: 2002-2004
Society for Neuroscience: 2004-2007
International Behavioral Neuroscience Society: 2006-2008
College on Problems of Drug Dependence: 2007-Present
American Psychological Association: 2011-Present
International Study Group Investigating Drugs as Reinforcers: 2012-Present
Honors & Awards
John Hopkins University School of Medicine: Ivor Colette Royston Research Program Award, 2004
American psychological Association: Diversity in Neuroscience Pre-doctoral Fellowship, 2005
College on Problems on Drug Dependence: Primm-Singleton Travel Fellowship, 2006
International Behavioral Neuroscience Society: Travel Award, 2007
Jackson Laboratory: Experimental & Mammalian Genetic Scholarship, 2009
National Institutes on Drug Abuse: Genetic Approaches to Substance Abuse Travel Award, 2010
CUMC/NYSPI:Substance Abuse Division Pilot Grant, 2010.
International Narcotics Research Conference: Young Investigator Award, 2012
College on Problems of Drug Dependence: Early Career Investigator Award, 2013
Association for Medical Education and Research In Substance Abuse: Travel Award, 2014
National Institutes on Drug Abuse: Frontiers in Addiction Research Travel Award, 2014
American Psychological Association: International Travel Grant, 2015
American Psychological Association: Division 28 Early Career Investigator Award, 2015
Society for Biological Psychiatry: Early Career Investigator Travel Award, 2016
Research
My career goal is to become a leading academic researcher integrating genetic techniques into the behavioral pharmacology of drug abuse. As an independent investigator I would like for my research to focus on understanding how genetic and epigenetic factors affect initiation and course of drug use disorders. My experience as a pre-clinical researcher heightened my awareness of how genetics contributes considerably to our understanding of substance abuse, and the lack of hypothesis-driven research being performed at the clinical level. In my career as a researcher, I would like to take clinical genetics beyond that of correlational analyses. My goal is to identify the proximal consequences of genetic variation and epigenetic modifications, as they pertain to the individual users (e.g., more robust positive subjective effects, more severe withdrawal).
Research Interests
Behavioral Genetics
Behavioral Pharmacology
Substance Use
Grants
K01 DA030446-05 (Jones) 08/15/11 thru 05/31/16 NIDA Contribution of Various Genetic Polymorphisms to Oxycodone's Abuse Liability This independent line of research will study the prevalence of three common gene variants among three populations and observe for correlations between the presence of these variants and altered subjective andphysiological effects of oxycodone. Role: PI U54 DA037842-02 (Levin) 09/01/14 thru 06/30/19 NIDA Shared Pharmacotherapeutic Strategies for Cannabinoid & Opioid Use Disorders Project 3: Laboratory: Pharmacotherapies for Opioid Use Disorder (PI: Comer) The goal of Project 3 is to examine a series of medications that may have utility in treating opioid use disorder, using our laboratory model and our decision algorithm to logically evaluate candidate medications to be tested in clinical settings. Role: Junior Investigator of Project 3 R01 DA035207-01A1 (Comer) 09/15/14 thru 08/31/19 NIDA Risk and Benefits of Overdose Education and Naloxone Prescribing to Heroin Users Fatal and nonfatal opioid overdoses have increased substantially in recent years. The current proposal seeks to evaluate a potential solution to this serious public health problem: namely, opioid overdose education and naloxone prescribing to substance abusers. Both a retrospective and a prospective study will be conducted to examine the risks and benefits of this novel approach. Role: Co-Investigator
Selected Publications
Jones J.D., Busse G,D., & Riley A. L. (2006) Strain-dependent sex differences in the effects of alcohol on cocaine-induced taste aversions. Pharmacology, Biochemistry and Behavior 83; 554-560.
Jones J.D., Hall F.S., Uhl G.R., Rice K., & Riley A. L. (2009) Differential Involvement of the Norepinephrine, serotonin and dopamine reuptake transporter proteins in cocaine-induced taste aversion. Pharmacology, Biochemistry & Behavior 93; 75-81.
Jones J.D., Hall F.S., Uhl G.R., & Riley A. L. (2010) Dopamine, norepinephrine and serotonin transporter gene deletions differentially alter cocaine-induced taste aversion. Pharmacology, Biochemistry & Behavior Pharmacology, Biochemistry & Behavior 94; 580-587.
Jones J.D., Manubay, J.M., Vosburg, S.K., & Comer S.D. (2010) Oxycodone abuse in New York City: Characteristics of intravenous and intranasal users. American Journal on Addictions 20; 190-195.
Jones J.D., Sullivan, M.A., Manubay, J.M., Vosburg, S.K., & Comer S.D. (2011) The Subjective, Reinforcing, and Analgesic Effects of Oxycodone in Patients with Chronic, Non-Malignant Pain who are Maintained on Sublingual Buprenorphine/Naloxone. Neuropsychopharmacology 36, 411-422.
Jones J.D., Mogali S. & Comer S.D. (2012) Polydrug abuse: A review of opioid and benzodiazepine combination use. Drug and Alcohol Dependence 125(1-2):8-18.
Jones J.D., Speer T., Nunes E., Comer S.D., Ross S., Rotrosen J.& Reid M.S. (2013) Opioid-like effects of the Neurokinin 1 antagonist aprepitant in patients maintained on and briefly withdrawn from methadone. American Journal of Drug and Alcohol Abuse 39(2):86-91.
Jones J.D., Roux P., Stancliff S., Matthews W., & Comer S.D. (2013) Brief overdose education can significantly increase accurate recognition of opioid overdose among heroin users. International Journal of Drug Policy 166-170.
Jones J.D., & Comer S.D. (2013) A review of human drug self-administration procedures. Behavioural Pharmacology 24(5-6): 384-395.
Jones J.D., Madera G., & Comer S.D. (2014) The Reinforcing and Subjective Effects of Intravenous and Intranasal Buprenorphine in Heroin Users. Pharmacology, Biochemistry & Behavior 122: 299-306.
Jones J.D., Sullivan M.A., Vosburg S.K., Manubay J.M., Mogali S., Metz V., Comer S.D. (2014) Abuse potential of intranasal buprenorphine versus buprenorphine/naloxone in buprenorphine-maintained heroin users. Addiction Biology 20(4): 784-798.
Jones J.D., Comer S.D., & Kranzler H.K. (2015) The Pharmacogenetics of Alcohol Use Disorder. Alcoholism: Clinical and Experimental and Research 39(3): 391-402.
Jones J.D., Comer S.D., & Kranzler H.K. (2015) A Review of Pharmacogenetic Studies of Drug Use Disorders. Drug and Alcohol Dependence 152:1-14.
Jones J.D., Atchison J.J., Madera G, Metz V.E, Comer S.D. (2015) Need and utility of a polyethylene glycol marker to ensure against urine falsification among heroin users. Drug Alcohol Depend. 153: 201-206.
Jones J.D., Luba R.L., Vogelman J., & Comer S.D. (2016) Evidence of Genetic Modulation of Opioid Withdrawal Severity. American Journal on Addictions DOI: 10.1111/ajad.12316. [Epub ahead of print]. Jones J.D., Sullivan, M.A., Manubay, J., Metz V., Mogali S., & Comer, S.D. (2016) The Effects of Pioglitazone, a PPARγ Receptor Agonist, on the Abuse Liability of Oxycodone. Physiology and Behavior (In Press).
Jones J.D., Vadhan N.P., Luba R.R., & Comer, S.D. (2016) The Effects of Heroin Administration and Drug Cues on Impulsivity. Journal of Clinical and Experimental Neuropsychology. (In Press).