Telling the Story of Racism's Role in Depression
Columbia authors explore in JAMA Psychiatry how three different types of racism can influence a patient's depressive symptoms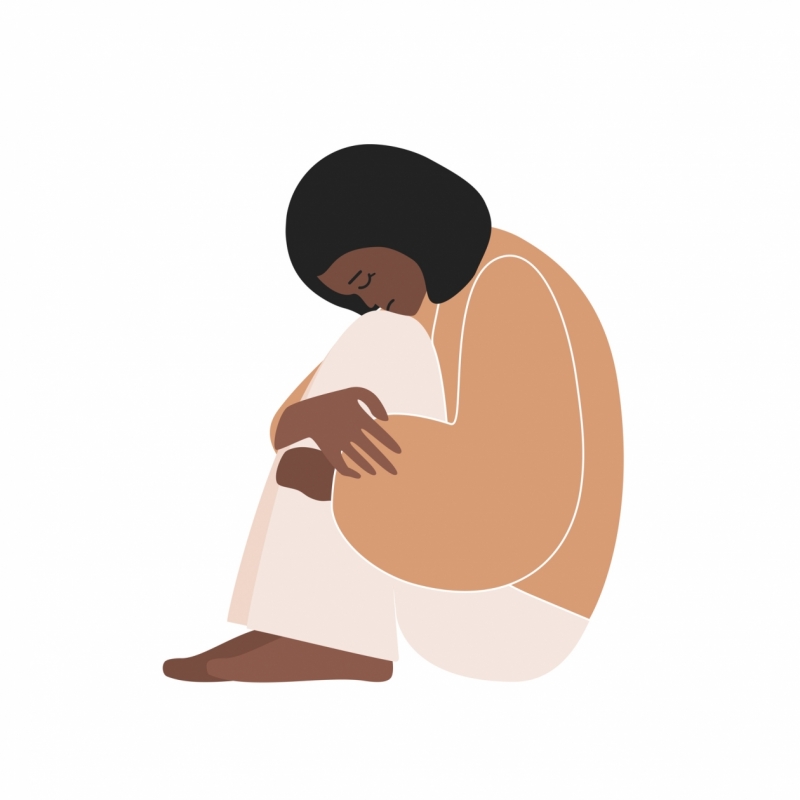 Racism, racial injustice, and racist treatment practices are woven into psychiatry's history up to the present day. That's why racism continues to deeply affect mental health for people who are Black, Indigenous, and People of Color (BIPOC). Recognizing that reality, the American Psychiatric Association issued a statement of apology in January for its role in structural racism and committed to work for change.
Now a Columbia University article in JAMA Psychiatry makes the case for doing more to promote anti-racist mental health care and to take steps for racial equity in clinics and communities. Psychiatrists, primary care providers, and other clinicians can help achieve those goals, the authors contend, by not ignoring how their patients' experiences with racism have harmed them. 
"Structural racism inevitably impacts your patients' lives, which as a physician is our responsibility to try to improve," said Sidney H. Hankerson, associate professor of clinical psychiatry at Columbia, who co-authored the Viewpoint article with Nathalie Moise, the Florence Irving assistant professor of medicine at Columbia.
Looking at just one illness, depression, the research evidence is stark: Black adults with depression have more severe symptoms and a longer illness course compared to white adults, yet Black adults have lower treatment rates.
Levels of racism
A clinical vignette, or patient's story, in the article demonstrates how racism affects depression. The vignette is based on a patient Dr. Moise, an internist, has known for years: a 65-year-old, single, employed, college-educated Black woman with recurrent depression, who has encountered racism throughout her life. 
Based on a theoretical framework of racism levels originated by physician and epidemiologist Camara P. Jones, the authors demonstrate how three different types of racism — institutionalized or structural, personally-mediated, and internalized— influenced the patient's depressive symptoms, interactions with psychiatrists and other physicians, and treatment access or engagement.
At the structural level, the patient experienced redlining, a federal policy that prevented many Black people from getting mortgages and building wealth through home ownership. At work, she was discriminated against by white colleagues. And when she sought mental health help, psychiatrists failed to see her, in her words, "as a whole person." Treatment centered on medications, which did not help her symptoms, so she resisted them. She internalized feelings of inferiority, self-doubt, and diminished self-worth.
The authors recommend actions clinicians can take immediately with their patients, such as listening to them, exploring their stories, and asking questions to uncover how racism has affected their depression trajectories. "You can't treat something without understanding why and how it happened," Moise said.
The authors know there might be resistance. "We explicitly say that clinicians can be racist and can be perceived as racist by patients," said Hankerson. "It's important to acknowledge that and important for physicians to respond accordingly."
Frequently, he added, having a story similar to the vignette leads to being labeled a 'difficult-to-treat' patient, "which I think is often code for patients of color."
Countering barriers
The article's recommendations are rooted in research and in the authors' multiple identities as physicians, investigators, and African Americans. Both are also engaged with efforts beyond the clinic to improve equity and counter racism's effects on mental health.
Hankerson is involved with a project in 30 Harlem churches that trains church members as community health workers. These certified workers screen people for depression, provide brief evidence-based counseling. He also works with Harlem Congregations for Community Improvement, a group of 90 faith-based organizations. Several local churches have hired full- or part-time clinicians to provide counseling. The church that he works most closely with, First Corinthian Baptist Church in Harlem, has a freestanding mental health clinic that provides free, evidence-based psychotherapy.
"It's still hard for many people, including clinicians, to truly grasp how and why structural racism and discrimination influence health outcomes," Moise said. "We used the vignette to truly elucidate the ways in which the different levels of racism impact patient care, to prompt action in the medical community."
                                                                     –  Robin Warshaw