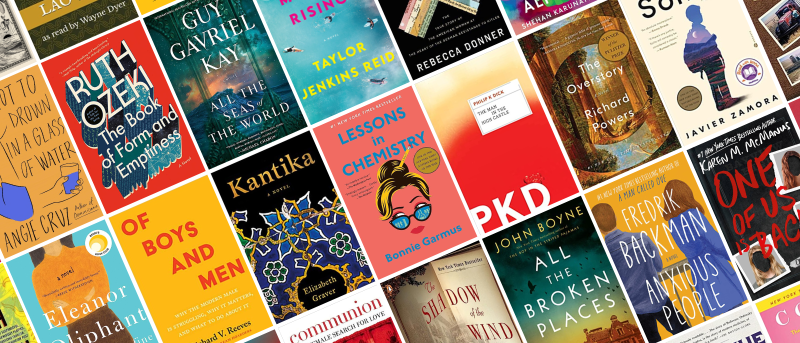 Summer Reading Suggestions from Faculty & Staff
Whether weighty and deep, beach reads, or related to scholarship, books play a starring role in the languid months of summer. Columbia Psychiatry News asked faculty and staff to share what books they're looking forward to or would like to recommend to their colleagues. Their picks span memoir, sci-fi, historical fiction, contemporary literature, thrillers, politics, coming-of-age stories, and much more.
 
The book I am most excited about this summer is Angie Cruz's How Not to Drown in a Glass of Water, which I recently finished and look forward to discussing with family and friends. It is a unique, gorgeous, and hilarious novel set right in the area around NYSPI about a middle-aged Dominican woman, Cara Romero, telling her life story to her job training counselor (she would love to work at our hospital). It's a story of immigration, family love and conflict and most of all friendship. Cara Romero is an unforgettable character!  
Milenna van Dijk, postdoctoral scientist, Translational Epidemiology
---
Guy Gavriel Kay writes historical fantasy, taking historical events, moving them to a planet with two moons, and adding a touch of magic. He has a trilogy on the Italian renaissance, including the struggles between Venice, Senj, and Dubrovnik (Children of Earth and Sky); the conflict between Federigo Montefeltre of Urbino and Sigismondo Malatestra, the two greatest condotierri of Renaissance Italy (including a breathtaking description of the Palio in Sienna); and this new one. 
Michael E. Goldberg, MD, David  Mahoney professor of brain and behavior in the Departments of Neuroscience, Neurology, Psychiatry, and Ophthalmology
---
I will be reading Desperate Hours. Marie Brenner, an award winning Vanity Fair writer, shares a remarkable depiction of New York―a city in crisis―based on behind-the-scenes reporting that captures the resilience, peril, and compassion of the early days of the Covid pandemic. The story is based on NewYork-Presbyterian Hospital.  
Diane DiCola-Leach, practice manager, Columbia University Clinic for Anxiety and Related Disorders (CUCARD) Westchester
---
I am looking forward to reading Bell Hooks' Communion: The Female Search for Love. I read her book All About Love, which helped me challenge my personal definition of love. I am excited to see how this next book takes a deeper dive into female love and how it is perceived in feminist spaces. 

Diana More, research coordinator, Child and Adolescent Psychiatry
---
I recently finished this moving memoir and highly recommend it. The book narrates in painstaking, yet poignant and beautiful detail the experience of a 9-year-old boy as he migrants from El Salvador to the U.S. to reunite with his parents.  
Anne Skrobala, MA, division administrator, Behavioral Health Services and Policy Research, Law, Ethics and Psychiatry, New York State Psychiatric Institute 
---
I am looking forward to reading Verghese's new novel, in which a Southwest Indian family that suffers a peculiar affliction—in every generation, at least one person dies by drowning. "A shimmering evocation of a lost India and of the passage of time itself, The Covenant of Water is a hymn to progress in medicine and to human understanding, and a humbling testament to the hardships undergone by past generations for the sake of those alive today." – Grove Press

Deena R. Harris, MD, assistant clinical professor and supervisor, psychotherapy program
---
I recently read this novel by Backman, who is also the author of  A Man Called Ove, and really enjoyed it. Despite the title, it will NOT make you anxious—we're all anxious enough these days!!—but may give you a welcome little escape.  Light, funny—perfect for an afternoon sitting/lying on the couch, a vacation or the beach. 
Prudence Fisher, PhD, associate professor of clinical psychiatric social work (in psychiatry)
---
I'm going to be reading The Man in The High Castle by Philip K. Dick, after watching the engrossing series on Amazon.  It's about an alternate reality where Germany and Japan win WWII and divide up the USA. Then film newsreels showing the Allies winning the war start appearing in that dimension, falling into the hands of the Resistance movement.  I like politically relevant science fiction with good characterization and plot lines, as well as suspense, plot twists, etc. 
Howard Bernstein, PsyD, psychologist, Inwood Clinic 
---
I am reading a book Of Boys and Men: Why the Modern Male is Struggling, Why It Matters, and What to Do About It. So far it is fascinating.  "A father of three sons, a journalist, and a senior fellow at the Brookings Institute, Reeves looks at the structural challenges that face boys and men and offers fresh and innovative solutions that turn the page on the corrosive narrative that plagues this issue. … A positive vision for masculinity in a postfeminist world." – Brooking Institution Press
Flávio Casoy, MD, medical director, Adult Community Services and Managed Care, Office of the Chief Medical Officer 
---
The Wheat Money is a living, breathing demonstration of the highly polarizing critical race theory in our politics today but examined through the lens of real people, because it is in fact real.  It is a great read, and the facts are verifiable. The book traces outcomes of one family on its two sides from 1865 to 2015; one side is black, and one side is white. You have to read it from start to end to really understand the impact of starting from the end of enslavement to the second term of America's first Black president.  
Shirley Juste, LMSW, project manager, Office of the Chief Medical Officer 
---
I am reading Come as You Are by Emily Nagoski. I think it should be required reading for everyone, especially women. It is transforming the way I think and provides invaluable research and information about how women's sexuality functions. This book is especially fascinating for those of us who are sexual health or sexual behavior researchers. 
Rebecca Giguere, research project manager, HIV Center for Clinical and Behavioral Studies
---
The next book I'm planning to read is Malibu Rising, based on excellent feedback from a few friends. "Malibu Rising is a story about one unforgettable night in the life of a family: the night they each have to choose what they will keep from the people who made them . . . and what they will leave behind." – Penguin Random House
Victoria Dolan, program manager for alumni & communications, Health and Aging Policy Fellows Program, Division of Behavioral Health Services and Policy Research 
---
A Pulitzer-prize winning novel on the historical events surrounding the life of a tree. I heard him speak at commencement exercises at Oberlin College, a brief speech describing the challenges: romantic, professional, and existential, that he faced on leaving college. It was one of the best, most moving and meaningful graduation addresses I had heard. 
Lawrence Maayan, MD, psychiatrist II-SL, Anxiety, Mood, Eating & Related Disorders
---
I'm listening to the book Tao Te Ching (translated and read by Wayne Dyer). Over the past year, there have been traumatic events occurring in my life. I listen to the book on my way in to work and during my morning walks. I find it to be both grounding and inspirational.
Suzette Thompson, senior director, Clinical Services Administration
---
A novel of the Sephardic Jewish Diaspora laced with family history, written by the sister of Columbia faculty member Ruth Graver, MD, supervising analyst, Center of Psychoanalytic Research and Training.
Deborah Cabaniss, associate director of residency training and director of psychotherapy training
Also recommended by Michael Grunebaum, MD, associate professor of psychiatry
---
A lovely coming-of-age story mixed in with themes of mental illness, bereavement, and family dynamics. It's about a boy named Benny who loses his father at a young age and begins to hear voices stemming from inanimate objects. Readers are propelled through his prodromal phase of psychotic illness and transition into adolescence, and it is clear the author did her research on the topic. Coming from an employee who works in the area of psychosis research, this book captured my attention instantly and is already leaving a lasting impression. 
Hannah Hesson, lab manager, Center of Prevention and Evaluation (COPE) 
---
More Recommendations!
A big thank you to everyone who contributed to this fabulous list! We encourage you to bookmark this page and share it with friends and colleagues.
– Neil Correia, safety and security
– Deena R. Harris, MD, assistant clinical professor and supervisor, psychotherapy program
– Karen M. McKinnon, director, Columbia HIV Behavioral Health Training and research scientist, New York State Psychiatric Institute
– Ilse Pruis, staff associate and research scholar
– Trish Gallagher, PhD, assistant clinical professor of psychiatry, Division of Child and Adolescent Psychiatry
– Jeffrey Cohen, PsyD, assistant professor of medical psychology (in psychiatry)
– Carla Cantor, director of communications
– Gabriella Dishy, MA, program manager, Office of Chair & Director
– Paul S. Appelbaum, MD, Dollard professor of psychiatry, medicine & law
Hao by Ye Chun
– Sue Rosenthal, child and adolescent psychiatry residency coordinator, Division of Child and Adolescent Psychiatry
– Melissa A. Kiosk, PsyD, staff psychologist and assistant clinical professor of medical psychology (in psychiatry), Division of Child and Adolescent Psychiatry
Miss Marple murder mystery series by Agatha Christie
– Jeff Thompson, adjunct associate research scientist, Molecular Imaging and Neuropathology Division and the Center for the Prevention and Treatment of Depression
– Lindsay Bolton, assistant research scientist, Division of Molecular Imaging and Neuropathology
– Jacques Ambrose, MD, MPH, FAPA, senior medical director, CUIMC
– Urszula Skupio, postdoctoral researcher, Neural Circuits Lab, Systems Neuroscience Division 
– Radhimir Villar, IT support technician
– Madeline Faris, program coordinator, Interventional Neurotherapeutic Psychiatry
– Jonathan Muntean, MBA, department project coordinator, clinical services
– Alexandra Tarasenkom, lab manager, Division of Molecular Therapeutics
– Laura Clarke, MD, assistant clinical professor of psychiatry
– John Markowitz, MD, professor of clinical psychiatry