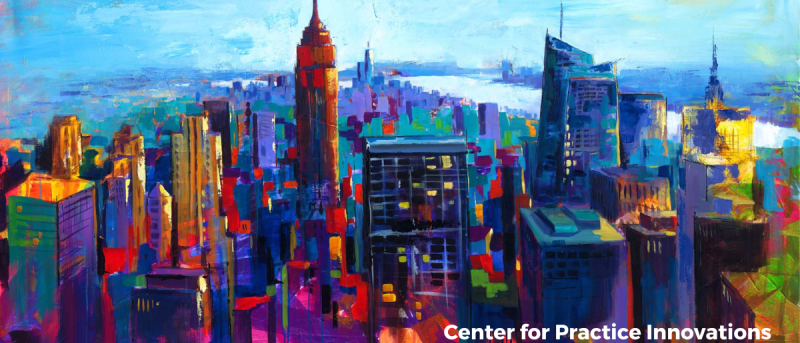 Spotlight: Center for Practice Innovations
New York State's secret asset for behavioral health education and training
Few beyond New York State's behavioral health community have heard of New York State Psychiatric Institute/Columbia University Department of Psychiatry's Center for Practice Innovations (CPI), and even fewer know what it does.
CPI has not made flashy headlines or been labeled "transformational." Rather, it's been New York's secret asset quietly helping to make the state's 38,000 public sector behavioral health workforce among the best trained in the country.
For more than 15 years, the center has helped to bridge the research to practice gap by educating and training mental health and addiction providers in evidence-based practices at hundreds of not-for-profit behavioral health organizations across New York State.
CPI has been able to meet only a small number of out-of-state training requests, but that may be changing. CPI is exploring scaling nationally to address the growing demand for staff prepared to deliver effective interventions—offering courses, materials, and consultation services to governments and behavioral organizations beyond New York.
Research to practice
Robert W. Myers, PhD, LMSW, senior deputy commissioner of the New York State Office of Mental Health, describes CPI as a key resource to the state by providing structured skill development to the behavioral health workforce.
"The vision is to integrate research into practice, delivering high quality care that facilitates the recovery of individuals with serious mental illnesses and addictions," Dr. Myers said. "We are the only state to provide free, custom, virtual, and in-person training essential to meeting the needs of a rapidly changing health care delivery system."
CPI benefits from the leadership of Lisa Dixon, MD, MPH, professor of psychiatry at the Columbia University Medical Center and director of the department's Division of Behavioral Health Services and Policy Research. CPI employs more than 50 staff members—many with Columbia faculty appointments—who design, implement, and evaluate the impact of training, that includes courses, workshops, learning communities, and toolkits delivered in person and online.
Beyond training staff directly, CPI partners with supervisors, managers, and leaders of New York's behavioral health organizations to help them implement practice changes in their programs and settings.
Areas of intensive focus
CPI does not try to be everything to everyone. While over 140 E-courses in the learning management system (LMS) deliver a wide array of trainings in evidence-based practices and core clinical competencies, CPI's areas of intensive focus include suicide prevention; supported employment; wellness self-management; cognitive remediation; integrated treatment for mental and substance use disorders; and Assertive Community Treatment (ACT). More recently, CPI has expanded into the areas of obsessive-compulsive disorder and psychopharmacology.
CPI is also responding to health inequities exposed and exacerbated by the COVID pandemic and murders of Black Americans. The center recently appointed its first Officer for Diversity, Equity, and Inclusion and is stepping up community education efforts, reaching out to meet people "where they are."
Another important addition is Coordinated Specialty Care, an early intervention found to be most effective in treating young adults experiencing a first episode of psychosis. CPI trains and oversees the growing footprint of New York's Coordinated Specialty Care programs (aptly named OnTrack). "Early detection and intervention are critical to individual and public health" shares Dr. Thomas Smith, chief medical officer of the New York State Office of Mental Health, adding "the Office of Mental Health is committed to ensuring New York is among the first states to offer statewide access to this service for all young adults who need it."
Provider perspective
David Woodlock, President, Woodlock & Associates and former CEO of the Institute for Community Living (ICL), said CPI helps fill a substantial portion of the training gap faced by nonprofits like ICL, one of New York City's largest mental health treatment and housing organizations.
"Ours is a challenging business. The capacity to invest in meaningful training and support has diminished as generating billable hours has become the lifeblood of behavioral health organizations," he said. "CPI equipped our workforce with the tools and training necessary to deliver critical, evidence-based mental health services and competent, compassionate care to the people we serve."
For more information about CPI, go to https://practiceinnovations.org/ and for questions about bringing CPI to your state, community or organization please email Paul Margolies PhD, (paul.margolies@nyspi.columbia.edu) Associate Director for Practice Innovation and Implementation Center for Practice Innovations, and Associate Professor of Clinical Medical Psychology (in Psychiatry) Columbia University Vagelos College of Physicians and Surgeons.