Our Celebration of Black History Month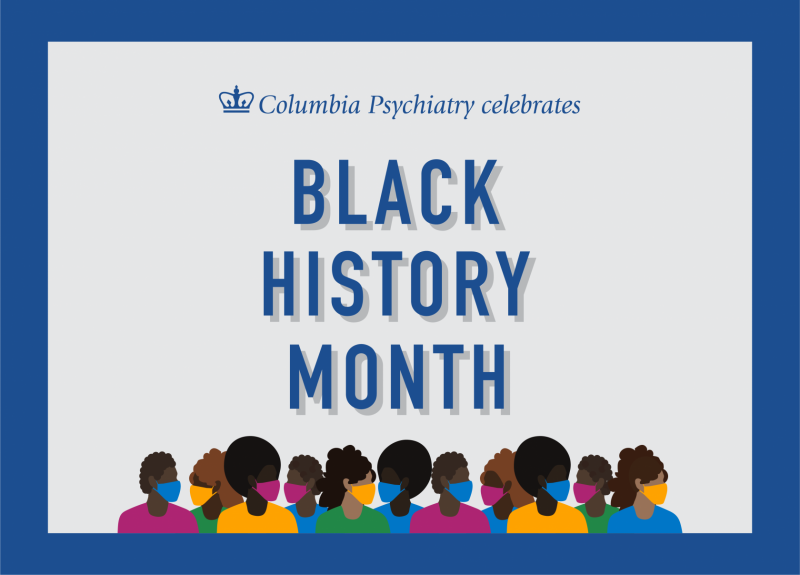 Black History Month is a celebration of the achievements and contributions of Black Americans and provides an important opportunity to amplify the voices and work of the Black community. During the month of February, Columbia Psychiatry has honored Black art, novels, podcasts, documentaries, and nonprofit initiatives and put together a curated list that we hope you will explore.
Week 1 Recommendations: 
Podcast to listen to: Hats Off: This podcast is co-hosted by two clinical social workers who are trying to change the stigma around mental health in the African American community. They use a combination of comedy and truth in each episode and focus on different pressing and important topics in mental health! Listen on Spotify, Apple, or wherever you get your podcasts.
Initiatives and nonprofits to learn about: The Loveland Foundation came to fruition in 2018 from Rachel Cargle's birthday crowdfunding campaign to increase access to and provide therapy support for Black women and girls around the country. Through partnerships with organizations such as Therapy for Black Girls, Talkspace, and National Queer & Trans Therapists of Color Network, the Loveland Foundation connects Black women and girls to culturally competent therapists and provides them with 4-8 free therapy sessions. Consider contributing to Loveland's therapy fund today!
Novel to read: The Vanishing Half by Brit Bennett tells the storyof twins who grew up in the '60s in a small town reserved for Black residents with light skin and how as adults everything in their lives is different: their families, their communities, their racial identities – an emotional family story that explores history of passing and the lasting influence of the past as it shapes a person's decisions.
Artist to know: Calvin Coleman uses heavy body acrylic paint, a variety of textiles and other mediums to embellish his uninhibited style of painting. His contemporary style reflects his spirituality, love for nature's beauty, lyrics of songs from a vast genre of music, and his journey through life. "The messages that Coleman's works relay are global as he strongly believes that his spiritual beliefs are global and has the power to transcend cultural, ethnic and national barriers," as stated in "Coleman: His Art Story."
Documentary to watch: I am Not Your Negro offers a visual essay of James Baldwin's crucial observations on American race relations through the stories of Medgar Evers, Malcolm X and Martin Luther King Jr. - a reminder of how far we have to go. Streaming on Netflix and Amazon.
Week 2 Recommendations: 
Podcast to listen to: Talking off the Couch: "It's ok not to be ok." The host, Tatiana Smith, is a Licensed Professional Counselor who focuses on mental health and mental wellness within the community of color. Each episode features great "take-away" advice and occasional guests. Listen wherever on Spotify, Apple, or wherever you get your podcasts.
Initiatives and nonprofits to learn about: Depressed While Black was first founded by Imadé, who developed the idea as part of her non-fiction creative writing MFA thesis at Columbia. From thesis to practice, DWB began as an online community but has since grown. Stemming from her first-hand experience with psychiatric hospitalization, Imadé began a wish list program last year, in which they donate Black-affirming personal care items—like hair products, skincare, and clothing—to psychiatric inpatients. To support Depressed While Black's mission to heal the Black community from severe depression, donate to their Wish List program today!
Novel to read: Sing, Unburied, Sing by Jesmyn Ward offers fully imagined characters both living and dead in a taut and eloquent road novel that moves beyond the road into the bigger story of what it means to be an American in the rural South both now and decades before this moment - from the elderly, loving Pops, to the clairvoyant toddler, Michaela – as the living and the dead confront racism, hope, and the everlasting handprint of history. 
Artist to know: Wesley Clark creates mixed media wood assemblages that are often hybrids of two or more objects or concepts. He infuses social and political criticisms into his works, merging the historical with the contemporary, to speak on issues faced by Blacks in America. "Clark's themes are ultimately timeless — trauma and justice and the history in between," notes critic Joe Nolan.
Documentary to watch: Dark Girls explores the deep-seated biases and attitudes about skin color and goes underneath the surface to explore the prejudices dark-skinned women face throughout the world. Available on Amazon.
Week 3 Recommendations: 
Podcast to listen to: Therapy for Black Girls: This podcast tries to encourage the mental wellness of Black women and girls by offering opportunities for mental health professionals across the country who provide high quality, culturally competent services to Black women and girls, an informational podcast and an online support community. Listen wherever on Spotify, Apple, or wherever you get your podcasts.
Initiatives and nonprofits to learn about: The HOPE (Healing On Purpose and Evolving) Center  born from Senior Pastor Michael A. Walrond's vision, aims to decrease stigma around communities of color seeking mental health services and provide opportunities for therapeutic healing. In partnership with the First Corinthian Baptist Church, the HOPE Center has created a space for parishioners and the general Harlem community to receive culturally appropriate care. Beyond offering mental health support, the Center hosts weekly virtual wellness check-ins open to the public, various training opportunities, and also participates in research with Columbia's Dr. Sidney Hankerson. The HOPE center is able to provide these free services to the community through donations, so please consider donating today!
Novel to read: Brown Girl, Brownstones by Paule Marshall gives us a vivid and bittersweet coming of age tale set in immigrant Brooklyn during the Great Depression and World War II - Selina Boyce grapples with identity, sexuality, and changing values in a new country as her Barbadian immigrant parents surmount poverty and racism to make their new country home. 
Artist to know: Epaul Julien uses reclaimed lumber and materials, transforming it into something lasting. His dedication to resourcefulness, environmental consciousness and artistic vision is also reminiscent of his Native American Ancestry. "Julien's ever-experimental way of putting a face and a form on abstract issues imbues them with a soulful, emotional aura," notes the New Orleans Art Insider. 
Documentary to watch: 13th examines the United States prison industrial-complex andgrowing detention industrial-complex – exposing how our nations' history of slavery has been perpetuated since the end of the Civil War by criminalizing behavior. Streaming on Netflix.
Week 4 Recommendations: 
Podcast to listen to: Between Sessions: "Two brown chicks changing the face of therapy." This podcast is co-hosted Eboni and Eliza, two therapists who created Melanin and Mental Health, an online repository and directory that promotes culturally diverse clinicians to help minority communities. The Between Sessions Podcast host various influential and educated guests, discuss different aspects of mental health like "misconceptions about therapists," different kinds of therapy, and the issues that minority communities face. Listen wherever on Stitcher, Apple, or wherever you get your podcasts.
Initiatives and nonprofits to learn about: The Confess Project (TCP) – Barber Coalition is "America's first mental health barbershop movement." Stemming from his personal experiences, Lorenzo P. Lewis started TCP to build a culture of mental health for boys and men of color by decreasing mental health stigma and providing capacity-building and support. Realizing that young men of color are unlikely to seek out mental health treatment but will go to the barbershop, TCP employs an innovative approach by training to barbers to become mental health advocates. Consider donating today!
Novel to read: New People by Danzy Senna presents the affectations of the Brooklyn Black faux-bohemia in which Maria, a distracted graduate student, lives with her fiancé - the perfect couple they've landed a starring role in a documentary about "new people" like them, who are blurring old boundaries in a brave new era. Darkly comic, it's a page-turner that challenges our every assumption about how we define one another, and ourselves. 
Artist to know: Greg Breda explores the strength, resilience and beauty of the human spirit with acrylic paint on canvas, mylar and paper. This contemporary visual artist seeks to encourage the viewer to envision being elevated, illuminated, and expansive "Through a layered exchange between symbolism and material, Breda's portraits present us with introspective narratives and moments of contemplation," notes Chicago's Patron Gallery.
Documentaries to watch: Slavery by Another Name challenges one of Americans' most cherished assumptions: the belief that slavery in this country ended with the Emancipation Proclamation and gives voice to the largely forgotten victims and perpetrators of forced labor and features their descendants living today. Available on Kanopy with your public library card or university login.