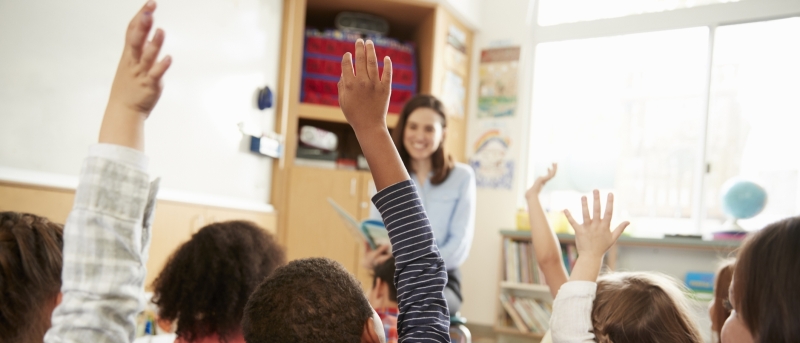 Are Schools the Key to Mental Health Support for Our Kids?
An NYP-Columbia program has been at the forefront of embedding mental health clinics in public schools
After two years of remote learning, hybrid schedules, social isolation, and other fallout from the Covid-19 pandemic, students across the country have returned to the classroom—far too many burdened under the weight of unaddressed mental health issues.
Numerous studies have found that incidence rates of depression, anxiety, and suicidality in children and adolescents have spiked during the last two years, as have emergency room visits for mental health issues, amid a severe shortage of clinicians to meet the increased demand.
To address the youth mental health crisis and increase access to care for children and families, the Biden Administration recently announced new funding to expand and strengthen mental health services in the nation's K-12 schools.
A pioneer in school-based care
Since the early 1980s, a NewYork-Presbyterian Hospital-Columbia University program, in collaboration with the New York City Department of Education, has been at the forefront of the school-based mental health care movement.
The NYP-Columbia School-based Mental Health program, offered at 14 public schools (K-8) in upper Manhattan, provides assessment, treatment, and referrals for students who exhibit signs of  emotional or behavioral health problems. Services are delivered at individual schools by psychiatrists, psychologists, clinical social workers, case managers, and other professionals affiliated with Columbia's Department of Psychiatry.
Clinicians also offer skill-building workshops—in both English and Spanish—on such topics as emotional wellness and early identification of children in need of mental health services to families and the community, whose population is primarily Latinx.
Aiyana Rivera-Rodriguez, MD, medical director of the program and an assistant professor of psychiatry at Columbia, said there has never been a more critical time to support the mental health and well-being of children, parents and caregivers, teachers, and staff.
"COVID-19 exposed and exacerbated existing disparities in services for children and adolescents, and given the pandemic's anticipated long-term effects, prevention and early intervention are key to addressing their needs," said Dr. Rivera-Rodriguez. "Educational settings offer a safe space and lifeline to underserved communities that face barriers to care due to difficulties accessing high-quality clinical services."
Prevention to intensive care
While school-based programs are becoming more common, only about half of U.S. public schools offer some form of mental health services, according to the National Center for Education Statistics, most frequently for diagnostic mental health and behavioral assessment. Fewer provide on-site interventions and referrals.
Jennifer Cruz, PhD, who oversees clinical operations of the NYP-Columbia program, said the objective of the clinics is to deliver a full suite of school-based mental health services, from prevention to intensive treatment and care. During an average year, clinical teams provide care for 400-500 children, which may include psychotherapy, group and family therapy, medication evaluation and management, home-based crisis intervention, and referrals as needed.
"We meet children and families where they are," said Dr. Cruz, an associate clinical professor of medical psychology in the Department of Psychiatry at Columbia and manager of psychology systems at NYP. "Why would parents want to bring their children to a hospital or outpatient clinic for care when they can be seen during the day at school by highly trained clinicians with minimal disruption to learning and routines?" 
In addition to evaluation and treatment, the clinical teams facilitate another form of support: an array of preventive services that are equally important, Dr. Cruz said. Prevention programming ranges from workshops to help parents and caregivers recognize and navigate behavioral health issues to clinician-teacher consultations, including in-room observation.
Impact on school climate
Over time, Dr. Cruz has observed the positive effect of embedded mental health care on school culture. A 2018 evaluation of a year's worth of data at partner schools, which includes 11 elementary and three middle schools, found:
Improvements in math, reading, and writing grades for students in the program
Increases in school attendance
Sharp reductions in incident reports, nurse visits, and suspensions
Fewer disruptions and behavioral problems in the classroom
Improved teacher and student reports of well-being
Cary Panteleon, principal of PS 128 Audubon (K-5) in Washington Heights, has worked with the NYP-Columbia program for more than a decade, first as a teacher and the last six years as an administrator.
"The school mental health clinic has become a vital support to our children and families," Panteleon said.  She has watched the program evolve, fine-tuning its integrated approach so that clinicians, school staff, and families work seamlessly together toward improving children's well-being.
At Audubon, a child-study team that includes the clinicians, teachers, a school psychologist, a parent rep, and school administrators, meet weekly to discuss students who are experiencing social or emotional difficulties. "We talk about ways to support the child and decide whether the teacher can manage the situation or if a clinician should be engaged in the process," Panteleon said.
She has noticed that because of their training, teachers feel more confident in initiating interventions and refer fewer students, mainly children in crisis or those who may need medication.
"Teachers are looking at students with a different perspective. Instead of blaming or punishing kids for behavior, they see them as a whole person, a child who needs attention and guidance," Panteleon said.
Telehealth improves coordination, quality of care
Dr. Cruz said the new academic year has brought about a few programmatic changes. During the last two years when students were mainly on hybrid schedules, clinicians continued providing care via tele-mental health, which was critical given the profound impact of the pandemic on the emotional and social development of this population.
One of the advantages of telehealth is ease of access. Flexible scheduling alleviates the challenges some parents and caregivers face taking time off from work or other responsibilities.
"Telehealth has become integral to our services. It improves coordination, access, and quality of care, allowing us to connect with parents during the school day," Dr. Cruz said. "We are also able to work with families during after-school hours and school breaks to help with changes in routines or challenges at home."
From a provider's perspective, she added, "telehealth gives us a direct window into the child's home, enabling us to better understand and tailor interventions to best serve a family's needs."
A beacon of hope and promise
Warren Ng, MD, is the director of clinical services for the Division of Child and Adolescent Psychiatry at Columbia University Irving Medical Center. He took oversight of the program in 2014 and continues his work as a child psychiatrist on the treatment team in schools. 
The school-based clinics are licensed by NYP through the New York State Office of Mental Health. Created by NYP as an innovative model of care through a contract with the NYC Department of Health and Mental Hygiene, the initiative launched in 1986 at three sites in Upper Manhattan. The goal was to create an integrated partnership bringing together mental health teams, schools, and families to increase access to culturally appropriate care for children and adolescents and to teach them self-regulation skills, while optimizing their achievement and functioning.
The model succeeded.  
The program proved popular with schools and in the community, and in recent years there has been increased demand for expansion of services.
Dr. Ng, who is also the medical director of outpatient behavioral health at NYP/Columbia University Irving Medical Center. is committed to improving access to mental health services for residents in neighborhoods surrounding NYP and Columbia through prevention as well as more intensive treatment. He would also like to see the number of school clinics increase in underserved communities throughout the city.
"It's better providing care for kids where they are at—in schools," said Dr. Ng.  "Our care is embedded within the community as a beacon of hope and promise for children and families."