Helping the Helpers: Health Care Worker's Mental Health Care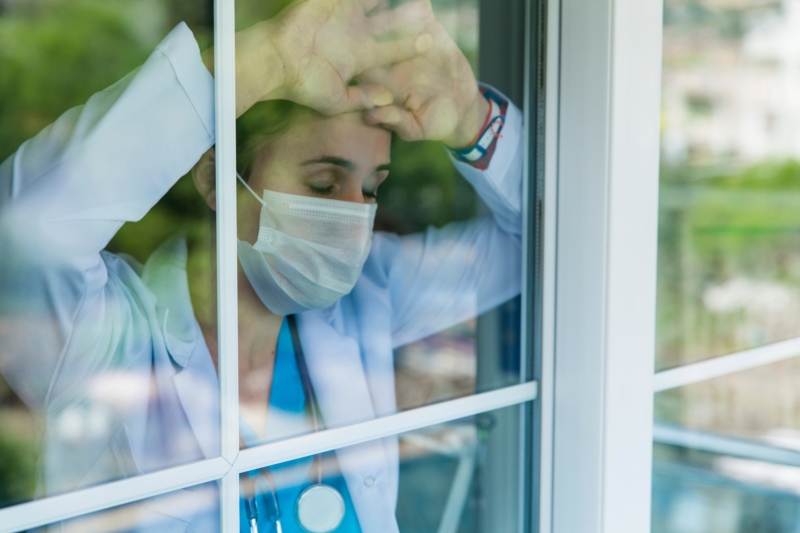 Allegra Califano, BA, COPE Clinic Research Assistant and contributor to Columbia Psychiatry News, looks at COVID-19's toll on healthcare workers including deployed psychiatric residents and explores two programs designed to support their mental health.
While COVID-19 is waxing and waning globally, a new branch of the virus, and potentially the budding of a new pandemic, in the form of mental distress for many and mental illness for some,has come into question. 
We have had to rethink  every aspect our lives, from economics to education and from socializing to healthcare, changing how we treat family, friends, patients and healthcare workers affected by the virus. While doctors, nurses and all front line medical staff have shown strength and perseverance during this incredibly difficult time, how have they been managing their own mental health? 
Holding weekly Townhalls, the Columbia University Department of Psychiatry has been listening to its health care workers. A recent Townhall led by Jeffrey Lieberman MD, Department Chair, and Melissa Arbuckle MD, PhD, Vice Chair for Education gave psychiatric residents who had been deployed to care for critically ill COVID-19 patients a platform and a voice to share their experiences and their struggles.
Dr. Nina Gao, one of the deployed psychiatry residents said, "We've all declared deaths that happened in ways we wish they wouldn't have and we wouldn't wish for our own deaths. Alone and on a vent, no family or friends to attend. As a provider, it's really hard sometimes not to feel powerless." Although these struggles have been hard on the residents, Dr. Gao also shared her appreciation of the ways in which the community has shown their appreciation, whether it be with PPE donations, food deliveries or clap lines. She ended her emotional speech by recalling a touching story of a phone call she had with the daughter of a patient. "I remember telling a daughter that her father's breathing was worsening and that we might have to paralyze [him]. At the end of the phone call their daughter asked 'and how are you? I can only imagine what it's like at the hospital right now.'" 
The stories told by Dr. Gao and others on the frontlines and understanding the strains they encounter has encouraged the development of programs designed to support them and ensure they emerge psychologically healthy. Fighting against the virus takes a toll.  Experienced staff and those still in training have gently cared for unresponsive patients; worked in makeshift ICUs; dealt with PPE shortages and questionable scrubs; and faced the  constant risk of infection. The tragedies they've seen today will stay with them for many tomorrows. 
Dr. Lieberman shared, "we have seen the evolution of the emotional reactions of our providers While at the beginning the issues were mostly around anxiety/fear across the board, then our front line nurses, physicians and staff dealt with an unprecedent amount of death. The amount of grief, loss and fear is enormous. We anticipate, this will have a traumatic effect on many of our people and long lasting effects that will need to be attended." 
With Dr. Lieberman's strong commitment to the frontlines, Columbia's Department of Psychiatry partnered with ColumbiaDoctors and NewYork-Presbyterian's CopeNYP in developing CopeColumbia, which provides information and resources for the medical center community, including counseling sessions; peer support groups; guided meditations; suggested readings; resources for managing stress, fear and anxiety; and when needed, connection to treatment. Available and responsive, the CopeColumbia team of expert faculty offers warm support, practical skills and needed help.
Nationally, the American Psychiatric Association Foundation (APAF) is doing their part.  APAF has a Disaster Relief Fund (DRF) that was established during crises such as Hurricane Katrina and Sandy. The COVID-19 Disaster Relief Fund has pledged to match donations to CopeNYP and Frontline Foods up to $25,000. Kit Hall, APAF'sDirector of Development, told us that "the Disaster Relief Fund is the APAF's response to the extraordinary need to support the mental health of frontline workers. It's that simple, we want to be part of the solution." 
The APAF's generosity was a positive reaction to the suicide of Dr. Lorna Breen, the Medical Director of the Emergency Department at New York Presbyterian, and acknowledges that health care staff have suffered and are vulnerable. Hall commented respectfully, "We originally came upon CopeNYP because of Dr. Breen's tragic death by suicide. We wanted to do something in response to that specifically." They are also supporting Frontline Foods, a national organization that helps another hard hit group - restaurants and their staff - that are serving food to Frontline Workers.
Hall went on to explain that "Our programs have never been more relevant," referring to a number of APAF programs that are helping with the impact of the pandemic. She shares one such example, "Our  Center for Workplace Mental Health created resources related to COVID and employee mental health and how employers can assist—currently and in the future—as people head back to work."
CopeColumbia and the APAF Disaster Relief Fund are among the many initiatives that organizations around the country are offering to emotionally support front line health workers.  It's a demonstration of gratitude but just as important it's a recognition that trauma has consequences and that the resulting mental distress and illness is real and treatable.  There will come a time when there is a COVID-19 vaccine, but while there is no "vaccine" for mental health on the horizon, effective help is available.