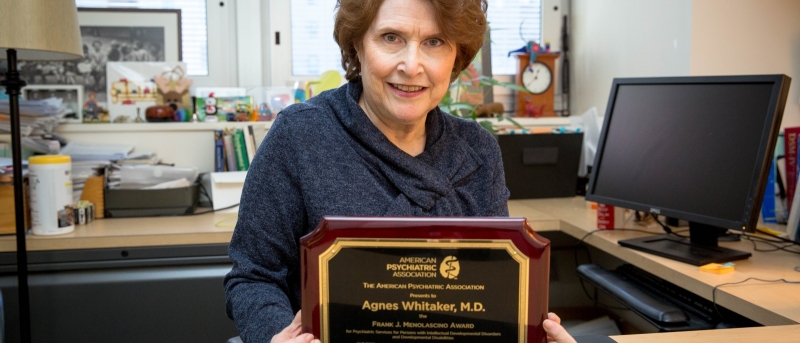 Frank J. Menolascino Award Presented to Agnes Whitaker, MD
APA's Prestigious Award Recognizes Significant Contributions to Psychiatric Services for Persons with Intellectual Development Disorders/Development Disabilities
Columbia Psychiatry is pleased to celebrate Agnes Whitaker, MD, Clinical Professor of Psychiatry at the Columbia University Vagelos College of Physicians and Surgeons, receiving the American Psychiatric Association Foundation's prestigious Frank J. Menolascino Award for Psychiatric Services for Persons with Intellectual Development Disorders/Developmental Disabilities.
The award was presented to Dr. Whitaker at the Institute on Psychiatric Services: The Mental Health Services Conference in Chicago in early October, with an introduction given by Kelly McGuire, MD, MPA.
Dr. Whitaker's selection as this year's Menolascino Award recipient is in recognition of her decades-long dedication to the care of those with developmental disabilities, through her work at NewYork-Presbyterian and in her personal practice, as well as in her seminal research on autism and other neurodevelopmental disorders.
"I was thrilled to hear that Dr. Whitaker was recognized with the Menolascino Award," said Jeremy Veenstra-Vanderweele, MD, Director of the Division of Child & Adolescent Psychiatry at NewYork-Presbyterian/Morgan Stanley Children's Hospital, New York State Psychiatric Institute (NYSPI), and Columbia University. "She is a gifted, dedicated clinician who has given her life to providing care for those with developmental disorders. She has pursued research to understand the underpinnings of neurodevelopmental risk and the trajectories of these disorders over time. Finally, she has trained and inspired the next generation of clinician leaders and scholars who will carry her legacy forward."
"I am very honored to receive the Frank J. Menolascino award," Dr. Whitaker said. "This award recognizes the need for mental health services for those among us who have intellectual or other developmental disabilities. I hope it will encourage training programs in general and child psychiatry to enhance their curricula and clinical experience in this underserved area."
Dr. Whitaker was one of the early clinical leaders to bring an integrated, multidisciplinary approach to the medical care of children with autism. With Margaret Bauman at MGH and other colleagues, she was an integral part of the founding sites of the Autism Speaks Autism Treatment Network (ATN), which has influenced care nationally. Dr. Veenstra-VanderWeele pointed to a recent paper as emblematic of Dr. Whitaker's work to spread this integrative treatment model, based on the medical home approach. Published with one of her mentees in Pediatrics in 2016, the paper "described an assessment and treatment pathway for patients with autism spectrum disorder presenting with irritability/agitation. Rather than pitching their insights primarily at psychiatrists, the authors provided guidance for front-line providers, including pediatricians, and took a broad approach, incorporating medical, psychosocial, behavioral, communication, and psychiatric factors contributing to this presentation." Dr. Veenstra-VanderWeele noted, "It has become the first paper that I hand to trainees sitting in with me in my clinic."
For over three decades, Dr. Whitaker has led a research team following a cohort of neonatal intensive care unit survivors to assess their neurodevelopmental outcomes. These studies have provided early evidence that extreme preterm birth, combined with very low birth weight, are risk factors in the development of autism spectrum disorder, and in intellectual disability and cerebral palsy. Findings from this work have significantly informed the field's understanding of the long-term effects of premature birth, and have appeared in some of the most influential journals: Archives of General Psychiatry (now JAMA Psychiatry), Pediatrics, and the Lancet.
In more recent years, Dr. Whitaker has also focused on the education of junior colleagues in clinical care, advocacy, and research related to developmental disorders. These efforts have included the founding of a fellowship program, Whitaker Scholars in Neurodevelopmental Psychiatry, which offers much-needed training opportunities at Columbia University, the New York State Psychiatric Institute, and the NewYork-Presbyterian Center for Autism and Developing Brain. The program has inspired the creation of similar fellowship programs throughout the country.
The Frank J. Menolascino Award for Psychiatric Services for Persons with Intellectual Development Disorders/Developmental Disabilities
Established in 1997, The Frank J. Menolascino Award recognizes an individual who has made significant contributions to psychiatric services for persons with intellectual development disorders/development disabilities, through direct clinical services and/or dissemination of knowledge through teaching or research. The award was established in memory of Frank J. Menolascino, M.D., an authority on mental health among persons with intellectual development disorders and developmental disabilities.