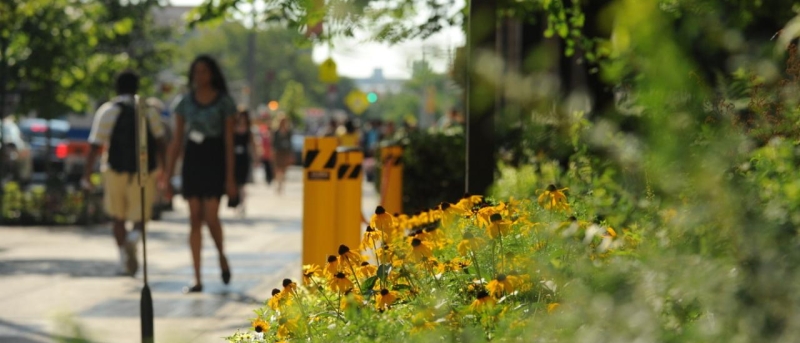 Family Medicine Doctor Helps Patients with Lingering Symptoms of Lyme Disease
At Columbia Cohen Center for Health and Recovery from Tick-borne Diseases, Kristen Kendrick takes the time to assess the patient from multiple perspectives
Kristen Kendrick's patients are battle-weary. Many have been to other primary care physicians and specialists by the time the family medicine physician sees them at Columbia's new Cohen Center for Health and Recovery from Tick-Borne Diseases.
This university-based center is the first of its kind in New York City providing care to children and adults with a history of tick-borne illness. Its multi-specialty team offers consultation and treatment to patients from the greater New York area, while at the same time integrating care with research to help unravel the medical mystery known by several names, including post-treatment Lyme disease syndrome, chronic Lyme disease, or long Lyme.
Dr. Kendrick's patients often have been met elsewhere with skepticism or disbelief as they recount their multi-system symptoms, including fatigue, brain fog, dizziness, headache, and pain. Instead of facing doubt and suspicion, they find an empathetic listener who is interested in helping them irrespective of standard testing that may not be able to clarify the precise cause of the persistent symptoms.
"Our patients have experienced invalidation based on lab tests that are insufficiently informative," says Dr. Kendrick, who is an assistant professor in the departments of Family Medicine and Psychiatry at Columbia. "The tests may not be definitive for a specific process or diagnosis, so clinicians are often uncertain how to treat."
Lingering symptoms common
The physical and psychiatric chronic symptoms occur due to how the body has responded to the infection and what is left behind, she says.
Some in the medical community contend that persistent post-treatment difficulties are not linked to Lyme disease. But research shows about 10 to 20 percent of the nearly half a million people in the U.S. treated for Lyme disease annually develop such after effects.
"We see a lot of neurocognitive and neuropsychiatric symptoms, such as anxiety disorders, new OCD, new depression," Dr. Kendrick says. "Things people didn't struggle with before, they have a sudden or subacute onset."
At the center, Dr. Kendrick spends two hours or more with each patient on an initial visit. She enjoys listening to them. "I think it's my nature," she says, adding that taking the time to listen helps her see each patient as a whole person and unravel often complex conditions.
"I like to spend enough time with patients to get the whole story and put all the pieces together," she says. "We facilitate the recovery process through a variety of therapeutic approaches. That's why I was interested in this clinic."
Rural roots informed her work
Raised in the Appalachian region of eastern Kentucky, Dr. Kendrick credits the Kentucky College of Osteopathic Medicine with training her to give care "focused on the patient and not just the pathology." That fits with the center's emphasis on the importance of the clinical history rather than relying simply on a laboratory test, she says.
Her rural background and experiences also sparked an interest in improving health literacy and physician-patient communication. She completed a family medicine fellowship at Georgetown University/Medstar Georgetown University Hospital, focused on health communication and has written on medical topics for national media, including ABC News and NPR.
As Dr. Kendrick guides patients through a spectrum of treatment options, she works closely with the center's integrative medicine specialist, Krishna Desai, MD, FAAFP. The team also includes two Columbia researchers on tick-borne diseases: Brian Fallon, MD, MPH, director of the Center for Neuroinflammatory and Somatic Disorders and director of the Lyme and Tick-Borne Diseases Research Center, and Shannon Delaney, MD, medical director of the Center for Health and Recovery, a neuropsychiatrist with specialty training in child and adolescent psychiatry.
Columbia center combines patient care and research
The Cohen Center for Health and Recovery from Tick-Borne Diseases, which combines patient care and research, was launched in 2021, supported by a generous gift from the Steven & Alexandra Cohen Foundation. Alexandra Cohen had long-term Lyme disease for several years, an experience that launched a philanthropic campaign to improve care, support research, and find better therapies.
The center offers clinical evaluation and care for children and adults with acute and chronic symptoms from Lyme and tick-borne diseases. It also provides access to a new clinical trials network investigating more effective treatments. After evaluation at the center, patients may receive care there for a time or be given guidance for treatment in their home communities.
Dr. Kendrick says the chronic symptoms that arise after Lyme disease are similar to symptoms some patients have after COVID-19 or Epstein-Barr infections, such as severe fatigue, joint and muscle pain, headaches, memory and other cognitive problems, and sleep disorders. Now that "long COVID" has become more widely accepted as a real condition, she hopes the medical community and the public will better understand chronic Lyme disease.
For some physicians, though, the lack of reliable tests that can confirm presence or absence of persistent infection makes decisions about treatment too challenging. "Before clinicians treat patients, they want to see more objective evidence of infection, or more specific labs to explain this complex syndrome of symptoms," Dr. Kendrick said. "Unfortunately, we know the testing can be unreliable, and there's no perfect lab for diagnosing and treating these patients who are really suffering," she adds. "We don't have the tests we need yet, but that doesn't mean we won't. My hope is that within five years we will."
Brian A. Fallon, MD, MPH, director of the Lyme and Tick-Borne Diseases Research Center, says that Dr. Kendrick's perspective and expertise is important to the vision of this multi-disciplinary center that includes experts in tick-borne diseases and neuropsychiatry, as well as experts in family and integrative medicine.
"The clinicians of today are so highly specialized that many avoid asking patients about other problems that may be contributing to ill health," Dr. Fallon says. "As a family medicine physician, Dr. Kendrick has been trained to view the individual in a holistic fashion, taking the time to assess the patient from multiple perspectives; this is a much needed approach when trying to help individuals with chronic multi-system illness."