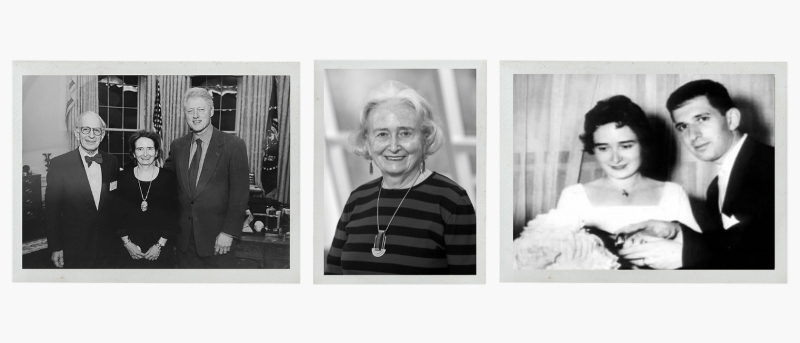 Esteemed Scientist Denise Kandel to Retire
Her influential 'gateway hypothesis' changed the way we think about addiction
On June 30, Denise Kandel, PhD, a gifted and beloved faculty member, whose trailblazing studies of drug use turned scholarship about addiction on its head, will retire following a distinguished career at Columbia University and the New York State Psychiatric Institute (NYSPI) that spanned more than 50 years.
Dr. Kandel, professor of sociomedical sciences in the Department of Psychiatry and head of the Department of The Epidemiology of Substance Abuse at NYSPI, has dedicated herself to understanding the risk factors and consequences of drug abuse and how it intersects with problem behaviors and psychiatric disorders in adolescents and adults. The developmental sequences of first-time drug use have been a special focus of her work.
In a seminal paper published in Science in 1975, Dr. Kandel documented a sequence in the initiation of drug use, starting with alcohol and tobacco, progressing to cannabis and then to other illicit drugs. These findings gave rise to the notion of "gateway drugs" and the "gateway hypothesis."
Blair Simpson, MD, PhD, interim chair of the Department of Psychiatry at Columbia and executive director of NYSPI, said that Dr. Kandel's influence on the field cannot be overstated. "How many scholars can lay claim to introducing a new term into the medical lexicon?" said Dr. Simpson. "The gateway theory is one of the most influential models of drug use of the 20th century, and relevant to this day."
Dr. Simpson added that for colleagues and friends at Columbia and NYSPI, including herself, the news of Dr. Kandel's  retirement is bittersweet. "We are excited for Denise as she embarks on her next life adventure, and  we will miss her wisdom, guidance, and support," Dr. Simpson said. "I am personally grateful for Denise's generous support of me as I assumed leadership roles in the department, and I will miss her razor-sharp perspective on any topic we discussed as well as her wry sense of humor." 
Denise Kandel will retire two months before her husband Eric R. Kandel, MD, a psychiatrist, neuroscientist, and professor of biochemistry and biophysics at the Vagelos College of Physicians and Surgeons. Eric Kandel, who also co-leads Columbia's Mortimer B. Zuckerman Mind Brain Behavior Institute, won the Nobel Prize in Medicine or Physiology in 2000 for his research on the physiological basis of memory storage in neurons of the brain.
A biological basis for progression
During their long marriage—the couple celebrated their 66th anniversary earlier this month—discussion about one another's work has been a major part of their day, but they pursued their scientific studies on separate tracks.
Then about 10 years ago the Kandels combined their expertise—Denise's in epidemiology and medical sociology and Eric's in neuroscience—to unravel the cellular and molecular mechanisms underlying the gateway effect. Using animal models, the scientists discovered that one drug affects the circuitry of the brain in a manner that intensifies the effects of a subsequent drug. The results provide a biological basis for the sequence of drug use observed in people.
Some of this work was done in collaboration with colleagues at the Psychiatric Institute, Amir Levine, MD, and Edmund Griffin, MD, PhD. In 2014, a review of that research was published in the New England Journal of Medicine, and in 2017, the same team collaborated on a study published in Scientific Advances that found alcohol, in a way similar to tobacco, facilitates the use of other substances, such as marijuana and cocaine.
A remarkable personal journey
Denise (Bystryn) Kandel's extraordinary scholarship is matched by a personal story that makes her achievements even more remarkable. She grew up in Colombes, a suburb of Paris. In 1941, one year after the German invasion of France, her father was arrested and sent to a French internment camp, from which he escaped before he would have been sent to Auschwitz. Her mother, who hid in various places, arranged for 9-year-old Denise to be boarded in a convent in southwestern France, where she lived for two years. Her younger brother was taken in by a local baker. In 1949, the family emigrated to the United States.
The Bystryn family made their home in New York City, where Denise received her baccalaureate from the Lycée Français. She graduated from Bryn Mawr College in 1952 and went on to earn a master's degree in 1953 and PhD in 1960, both from the Department of Sociology at Columbia. After post-doctoral training in mental health at the Massachusetts Mental Health Center at Harvard Medical School, she worked as a research associate at the Harvard Graduate School of Education. Dr. Kandel joined NYSPI in 1969, and subsequently the Department of Child Psychiatry, where she eventually established her own department, the Epidemiology of Substance Abuse. She joined the faculty at Columbia in 1974 in the Department of Psychiatry, Vagelos College of Physicians and Surgeons, and in the Department of Sociomedical Sciences at the Mailman School of Public Health.
Over the course of her career, Denise Kandel has published more than 200 papers and eight books. She was identified as a highly cited researcher in the social sciences by the Institute for Scientific Information and served as a member of the National Advisory Council and Extramural Science Advisory Board of the National Institute of Drug Abuse. She has received numerous awards, including a Research Scientist Award from the National Institute on Drug Abuse; the Pacemaker Award from the Institute on Drug Abuse for her work in identifying stages of drug use; the Prevention Science Award from the Society for Prevention Research; and most recently, the Rema Lapouse Award for Achievement in Epidemiology from the Public Health Association.   
"Denise Kandel is highly accomplished, innovative, and meticulous. Despite her recognition and awards, she is modest and devoted to Eric and her family," said Myrna Weissman, the Diane Goldman Kemper Family Professor of Epidemiology and Psychiatry at Columbia, and a longtime colleague. "Columbia and I were fortunate to have had a woman like Denise among the faculty at a time when there were so few women professors. She leaves a lasting legacy as a role model and collaborator and will be greatly missed."
A match made at Columbia
Denise Bystryn met her future husband in 1955 while pursuing her doctorate at Columbia. At the time, Eric was working in the Columbia laboratory of renowned neuroscientist Harry Grundfest, one of his earliest mentors. Denise and Eric married in 1956 and raised their children, Paul and Minouche, first in Boston and then in Riverdale. After living for 50 years in the same house, several years ago they moved to a Columbia apartment on Riverside Drive.
The Kandels are looking forward to a future without the demands and deadlines of academic life. But they are not abandoning their research interests. One project is to collaborate on an updated review on the gateway hypothesis, again, from both epidemiological and biological perspectives. The couple also share a passion for art—museums, opera, and collecting art. Denise also hopes to be able to continue to collaborate with her longtime colleague and friend, Dr. Pamela Griesler.
A few years ago in a video, Eric Kandel shared the story of how Denise and her family survived the war, speaking movingly of Denise's strength and accomplishments.
 "I have been so very lucky on both a professional and personal front," he said. "Being married to her has been the greatest privilege of my life."