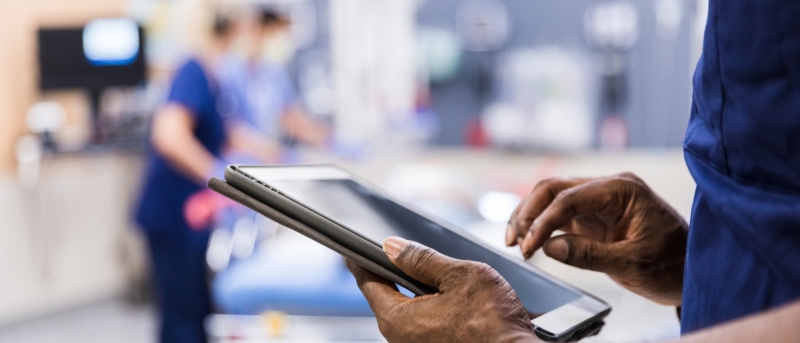 The ER: A Safe Place to Be in a Psychiatric Crisis
Short-term intervention is often a first step in a longer mental health journey
With its bustling activity and bright lights, the hospital emergency room for many may feel overwhelming. And for those facing a psychiatric crisis, the ER can be especially daunting. Seeking immediate help, however, in a psychiatric emergency for yourself or a loved one is crucial, and, in some cases, a life-saving decision.
"Mental health emergencies, such as severe depression, suicidal thoughts, or exacerbations of psychotic symptoms, require prompt intervention to ensure the safety and well-being of the individual," said Ryan Lawrence, MD, director of the Comprehensive Psychiatric Emergency Program (CPEP), based at NewYork-Presbyterian (NYP) /Columbia University Irving Medical Center. "Getting people to a safe setting is often the first priority. After that, we do our best to understand what is going on and how we might be helpful."
Dr. Lawrence oversees a staff of more than a dozen trained professionals who provide 24/7 psychiatric emergency services to about 6,500 individuals a year. The program, located at 168th Street in north Manhattan, can offer patients immediate stabilization, short-term observation, and psychiatric assessment to determine the appropriate course of action, which range from interventions and referrals to transfer to an inpatient bed, if needed. Dr. Lawrence notes that CPEP sees adults only and patients under 18 are referred to NYP's Morgan Stanley Children's Hospital.  
Increase in mental health-related visits
Against the backdrop of a shortage of mental health providers, research shows that the number of individuals visiting emergency departments for mental health reasons has been increasing in the United States over the past decade. According to the Agency for Healthcare Research and Quality, one in eight ED visits is related to a mental health or substance use issue. The rise is most pronounced among U.S. children, adolescents, and young adults, whose mental health-related ED visits increased fivefold from 2011-2020; the increase is significant in all age groups across sex, race, and ethnicity, insurance type, and geography.
"While emergency room visits can be important in the short term, they are often a first step in a longer mental health journey," Dr. Lawrence said. 
Columbia Psychiatry News spoke with Dr. Lawrence about most common reasons for visits to CPEP, what individuals can expect during an ER visit, and why a rise in mental health-based visits highlight both challenges and progress in the field of behavioral health care.
Can you describe the primary responsibilities of your role as CPEP director?
I provide direct clinical care to patients on the emergency psychiatry service and also oversee the daily operations of the team. This ranges from coordinating shift schedules, to building new workflows with other clinical services, to leading quality improvement initiatives. We are also a teaching site for medical students, residents, and fellows, so education is another big part of the job. I don't do any of this by myself. We have a wonderful team of people who are dedicated to making the service run as seamlessly as possible.
On average, how many patients do you see at CPEP in a typical month?
In a given month, we'll see roughly 500-600 individuals, and that number has remained fairly stable over time. All of our patients are triaged through the hospital ER; some are routed some directly to CPEP and others to the medical ER first. CPEP serves members of the local community as well as those from other neighborhoods and are also a critical resource for police and emergency responders. We have a mobile crisis team that serves people in the community.
What are most common reasons people end up at CPEP?
Unfortunately, one of the most common reasons for mental health related visits is thoughts of suicide. In a typical month at CPEP, 40% of individuals are experiencing suicidal thoughts and another 7% have made a suicide attempt. Other conditions we commonly see include panic attacks, non-suicidal self-harm, psychosis, major depression, and substance use, including overdose and withdrawal symptoms. Often, substance use disorders and other mental health conditions co-occur.  
Can you describe the protocol for psychiatric assessment in the emergency room? How long do patients typically stay?
Usually, a nurse is the first clinician to engage with the patient. In many cases, the nurse will get a sense of what is going on, complete some rating scales, and orient the patient to the unit. After that they are seen by a psychiatrist. We have attending psychiatrists on site 24 hours per day. We are also a teaching hospital, so sometimes a medical student, resident, or fellow will also be involved. Other team members—who may become involved—include psychiatric social workers, a recreation therapist, a peer specialist, and pastoral care.
A full assessment typically involves reviewing available records, speaking face-to-face with the patient, and obtaining collateral, which means, with the patient's permission, speaking with a family member, a close friend, or an outpatient provider about what may be going on.
The average length of stay is around 24 hours, but this is highly variable from person-to-person. Some people are discharged within a few hours, others might stay for a few days in an extended observation bed if the situation requires it.
How do you determine whether an individual should be hospitalized? And how are evaluations made to discharge someone?
A hospitalization is reserved for situations where a person's symptoms cannot be safely or effectively treated in an outpatient setting, and the vast majority of patients are not hospitalized. For many, their symptoms improve during their time in the CPEP and they return to outpatient care settings. We find that most of our patients are already connected with outpatient providers.
We've read about the inpatient bed shortage. What is the typical wait time for a bed if a patient needs one?
Some days there are multiple open beds and the wait time is short. At other times, it can take a few days for an inpatient psychiatry bed to become available. We are fortunate to have a full-time bed coordinator who finds inpatient beds for our patients. Usually, those beds are in the NewYork-Presbyterian system, occasionally they are at other hospitals in and around the city.  
What do you think the rise in ER psychiatric visits says about the state of mental health care?
What's behind the increase in psychiatric visits to the ER is complex, and answers are still evolving. That said, I believe the phenomenon has both positive and negative implications for the behavioral health system. On the one hand, we are glad to see that people are looking for help. I hope it means there is less stigma and greater openness to getting connected with counselors, therapists, psychiatrists, and other mental health professionals. At the same time, if people are coming to the emergency room because they cannot get timely access to outpatient care, that's a problem that we all need to take seriously.