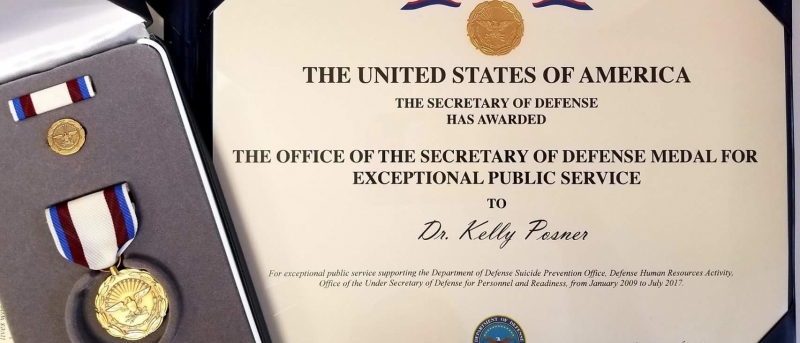 Department of Defense Presents Medal for Exceptional Public Service Award to Kelly Posner, PhD
Honor Bestowed by Department of Defense in Recognition of Suicide Prevention Efforts Called "nothing short of a miracle" by DoD
Columbia Psychiatry is pleased to recognize Kelly Posner, PhD, Professor of Psychiatry in the Vagelos College of Physicians and Surgeons at Columbia University and Founder and Director of The Columbia Lighthouse Project, for receiving the Department of Defense's Medal for Exceptional Public Service.
The medal was presented at the 2018 Department of Defense and Department of Veterans Affairs Suicide Prevention Month Event and Award Ceremony on September 6th. The ceremony took place in the Hall of Heroes of the Pentagon, with Surgeon General Jerome Adams present, along with many representatives from the DoD and the VA. Dr. Posner then visited the Hill and met with Senator Chuck Schumer, Senator Kirsten Gillibrand, Senator Marco Rubio, Representative Adriano Espaillat, and Representative Jerry Nadler.
Dr. Posner has received this remarkable honor in commemoration of her work saving lives across the nation over the past 10 years and in recognition of her exceptional public service supporting the Defense Suicide Prevention Office and other offices within the Department of Defense.
"It is with immeasurable gratitude that I received The Secretary of Defense Medal for Exceptional Public Service," Dr. Posner said. "This extraordinary honor is emblematic of DOD's unwavering and tireless commitment to saving lives. This medal is a symbol of our ability to come together and to face one of the oldest and most intractable problems of humanity." She went on to note, "Suicide claims more lives than car crashes, more firemen than fire, more police officers than crime, and more soldiers than war. But we do not need to feel trapped by this history. We can and are transcending these seemingly impossible limits. At one point in history learning to wash hands began saving lives. "Just Asking," to use the Columbia Lighthouse Project's tagline, and being there for each other is helping us save lives today."
Dr. Posner's work with the Columbia Suicide Severity Rating Scale (C-SSRS) has been recognized by the White House and Congress, and she presented in a recent forum on school safety at the U.S. Senate. Recommended or adopted by CDC, FDA, DoD, and NIMH, the C-SSRS has become the gold standard for suicide monitoring and is ubiquitous across the U.S. and many international agencies. The FDA has characterized Dr. Posner's work as "setting a standard in the field" and the Center for Disease Control has said that her work is "changing the paradigm in suicide risk assessment in the US and worldwide." Jim Shelton, Former Deputy Education Secretary of the U.S. Department of Education, has stated that Dr. Posner's work "has the potential to keep the 64 million children in our schools safe physically and mentally by helping prevent school violence."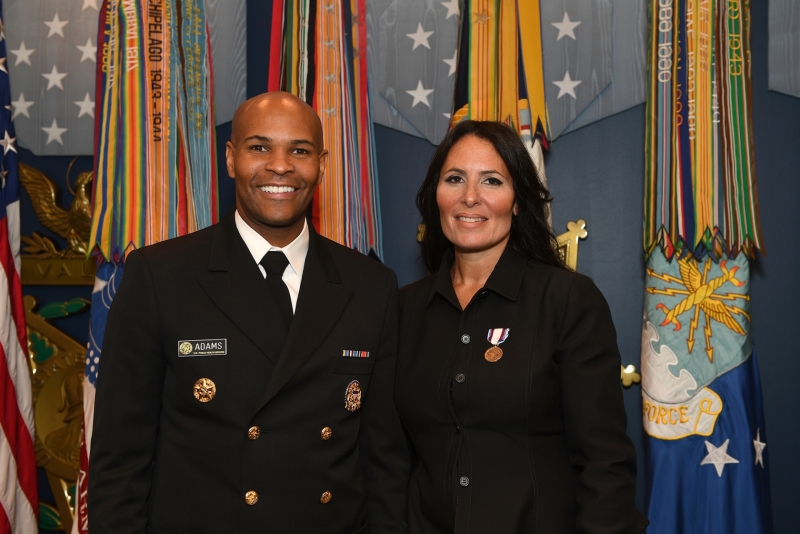 Through her advocacy, Dr. Posner has changed local, national, and international policy, which in turn has helped achieve reductions in suicide across all types of public health settings including healthcare, schools, and the military.
The U.S. Department of Defense has called Dr. Posner's work "nothing short of a miracle," central to their National Strategy, and has said her efforts "will help propel us closer to a world without suicide." Director of the New York State Psychiatric Institute and former President of the American Psychiatric Association, Dr. Jeffrey Lieberman, has noted that the C-SSRS and its dissemination "could be seen as really a watershed moment, like the introduction of antibiotics." He has also stated that because of her work, we "may actually be able to make a dent in the rates of suicide that have existed in our population and have remained constant over time…that would be an enormous achievement in terms of public health care and preventing loss of life."