The Columbia Day Program and a Focus on Dialectical Behavioral Therapy (DBT)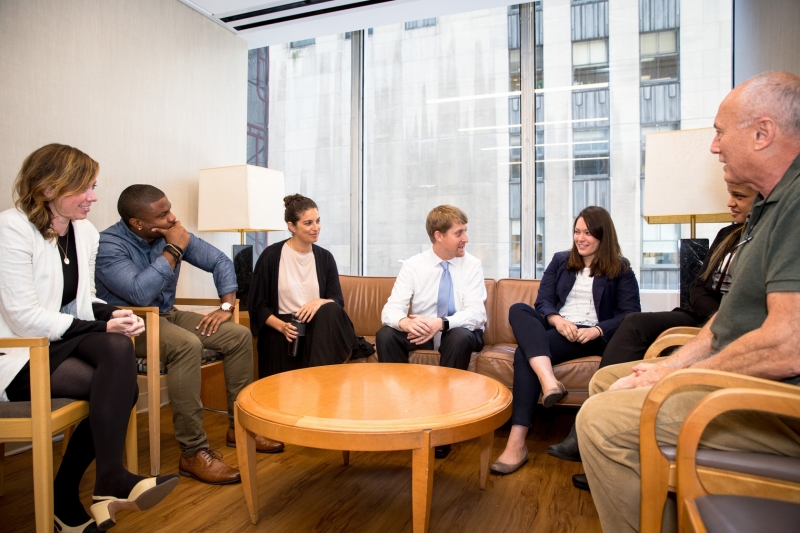 Dialectical Behavioral Therapy (DBT) is a treatment developed to help patients who struggle with difficulty regulating their emotions and has been found effective for treating Borderline Personality Disorder, suicidal behaviors, substance use disorders, eating disorders and depression, among other psychiatric disorders.
As of March 2019, there are only 14 people in New York State, and 224 people worldwide, who have DBT-Linehan Board of Certification, Certified ClinicianTM status, with ColumbiaDoctors' Zachary K. Blumkin, PsyD recently joining Colleen Cullen, PsyD, Clinical Director of the Faculty Practice Organization at Columbia University Irving Medical Center as a DBT-Linehan Board of Certification, Certified Clinician™. Both Drs. Blumkin and Cullen feel extremely honored to join some of the top clinicians in the country who are identified as providing adherent DBT.
Dr. Blumkin is the clinical director of the Columbia Day Program, which offers structured, state-of-the-art therapy 3-5 days per week for people struggling with depression, anxiety, substance use, and/or personality disorders that impact their ability to function fully at school or work. Our expert providers use evidence-based treatments to help people develop skills to improve relationships patterns and coping skills to help them get back on their feet to return to educational and professional pursuits.
Founded thirty-five years ago the clinic offers a multidisciplinary, evidence-based group therapy treatment approach for adults aged 18 and over. Patients in these groups may experience depression, mood swings, anxiety/panic attacks, substance use disorders, and other psychiatric disorders.
DBT is one of the key treatments and services offered at the Columbia Day Program. DBT is aimed at helping individuals understand the triggers that lead to destructive and impulsive behaviors and acquire, utilize and generalize new skills to cope with emotion dysregulation. The treatment also focuses on developing a capacity to hold onto seemingly contradictory truths, like the need for both acceptance and change, at the same time.  
A comprehensive DBT treatment generally starts with a commitment to at least 6 months of treatment to learn the skills and apply them, but often requires longer to improve understanding and generalization of the skills to everyday life. The four components of adherent DBT treatment are:
Individual structured DBT therapy
DBT skills group
Skills coaching via telephone contact outside of session
Participation of the DBT therapist in a treatment team consultation group
DBT skills groups include four categories of skills taught to improve emotion regulation. Mindfulness focuses on increasing experiential attention and awareness into the here and now. Mindfulness is practiced throughout the course of treatment and aids in utilization of the other skills. Distress tolerance focuses on developing skills to manage and tolerate suffering and crisis situations without acting on impulses and/or making things worse. Interpersonal Effectiveness skills focus on building and maintaining healthy relationships, developing appropriate boundaries, and making requests. Emotion regulation focuses on developing skills to use one's emotions to guide internal, interpersonal and behavioral choices. The focus is on learning to understand, validate and integrate emotional experience to create a deeper connection with life and to make it more meaningful.
The Columbia Day Program and the Lieber Recovery Clinic both offer DBT skills groups within their programs.  In addition, at ColumbiaDoctors Psychiatry, we have individual providers who provide all four components of comprehensive DBT (individual therapy, DBT skills groups, telephone coaching and providers participate in DBT consultation team).  Search our providers for a therapist or psychiatrist with expertise in DBT.
To make an appointment, please call 212-305-6001 or submit our online form.
Topics