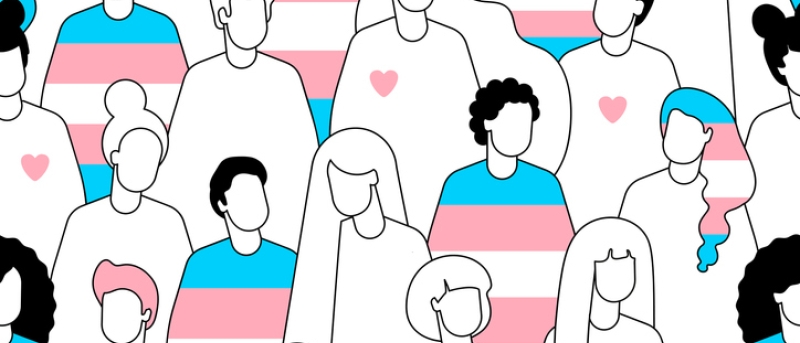 Affirming Trans Lives and Experiences
Five self-care tips and resources to help navigate challenging times
Transgender Awareness Week, observed each year from Nov. 13 to 19, aims to raise visibility of issues that impact the lives of the transgender community. This advocacy work is accomplished through the education of the public, the sharing of stories and experiences of transgender individuals, and the highlighting of inequalities, prejudices, discrimination, and anti-trans violence that transgender individuals face every day. Transgender Awareness Week is also, importantly, a time to honor the strength and resilience of individuals within the transgender community.
Transgender Awareness Week culminates on Transgender Day of Remembrance (Nov. 20), a day dedicated to honoring lives lost to anti-transgender violence. Transgender Day of Remembrance was founded in memory of Rita Hester, a Black transgender woman who was murdered in an act of anti-transgender violence in 1998. Since the first Transgender Day of Remembrance in 1999, the day has been embraced by many cities and countries around the world. Each year, folx (a gender inclusive term sometimes used to refer to LGBTQ+ communities) gather to honor the lives of individuals whose lives were lost to anti-transgender violence that year. We also honor the unknown lives lost to anti-trans violence, as we acknowledge that many of their stories go unreported, particularly in the case of Black, Indigenous, People of Color (BIPOC) individuals.
Unfortunately, 2022 has been a challenging year for the transgender community. In addition to an increase in rates of anti-transgender violence, more legislation has been filed to restrict the lives of transgender children, adolescents, and adults so far this year than at any other point in the nation's history. These bills aim to prevent trans folx from playing on sports teams with teammates who share their gender identity; bar them from accessing bathrooms and locker rooms where they feel safe; prevent them from changing the gender on their birth certificates; allow people and organizations the right to refuse goods, services, or employment to transgender folx on religious grounds; and restrict the ability of trans children, adolescents, and adults to acquire gender-affirming medical care. Notably, these measures not only oppose current scientific evidence, but also threaten the physical and mental health of transgender individuals.
Given some of the unique challenges and hardships faced by transgender individuals, this year for Transgender Awareness Week, we seek to not only raise awareness of some of these challenges outlined above, but also to promote free or low-cost self-care practices for individuals impacted by anti-transgender discrimination, prejudices, and violence while simultaneously uplifting and highlighting the voices and experiences of the transgender community. In the words of Audre Lorde, "Caring for myself is not self-indulgence, it is self-preservation, and that is an act of political warfare." Thus, self-care can be seen as an act of radical love and resilience in the face of hate.
Self-Care Practices
Disconnect from harmful media and connect with others
Our society's treatment of transgender people can often feel overwhelming. If you're following the news and you're feeling this way, allow yourself to take a break. Also be conscious of who you follow on social media and consider unfollowing any accounts that may feel emotionally taxing or unplug altogether. Connect with trusted supports in person, whether it's with your friends, family, and peers; local or regional support groups; or even larger national LGBTQIA+ and TGNB-focused organizations. Indeed, prior research has shown that social connectedness can help to decrease stress, increase happiness, and improve well-being. Below are some options for places to connect with other members of the transgender community:
Express yourself
Allow yourself the time and space to mindfully engage in a creative activity as an act of self-care. You can express yourself through your own creative efforts, whether it be through art, writing, cooking, dance, or music. Engaging in these creative outlets can help you to feel relaxed and reduce levels of stress. Coloring can be a great self-care activity; here are some suggestions of coloring books focused on the trans experience:
Educate yourself
Today we are starting to see a wider range of gender identities and sexual orientations represented in the mainstream media. Podcasts, books, and documentaries are working to de-stigmatize transgender identities through education. Below are a few examples of different forms of media embracing and elevating transgender voices:
Self-reflect
Whether through guided prompts or an open-ended journaling practice, self-reflection or journaling practices may offer opportunities to express your emotions in an honest, vulnerable, and safe way.
It's ok to not be ok
There may be times during which you feel overwhelmed by the challenges and hardships faced by transgender individuals. This is understandable, and you may benefit from additional mental health support in these moments. Below are some additional mental health resources that may be helpful to you if you feel this way:
---
Julia Case, PhD, (she/her)  is a clinical postdoctoral fellow within the Columbia Gender Identity Program. 
Melina Wald, PhD, (she, they) is a clinical psychologist and the clinical director of the Columbia Gender Identity Program.