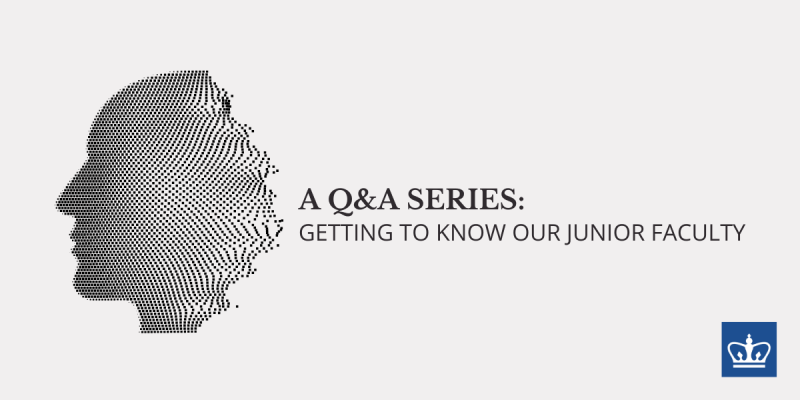 Columbia Psychiatry News is thrilled to bring you a new series, "Getting to Know Our Junior Faculty." Over the coming months, we will introduce you to some of the department's up-and-coming faculty whose skills and professionalism contribute to our trifold mission of patient care, medical education, and scientific research every day. You'll learn about their work, what inspired them to pursue psychiatry and attracted them to their specialties, and how they view their future. You also may also come across some interesting trivia—for example, how Dr. Amy Rapp's Dad, a "former hippie turned corporate lawyer," inspired her passion for meditation.
Amy Rapp, PhD, Assistant Professor of Clinical Medical Psychology | Center for OCD & Related Disorders
What is the focus of your research?
My research focuses on understanding the neural and cognitive processes that are involved in compulsive behaviors, which are behaviors repeated again and again despite no longer being helpful to them or resulting in unfavorable consequences. I specifically study this in the context of obsessive-compulsive disorder, commonly known as OCD.
How could this research help people and/or advance knowledge in the field?
OCD is a complex disorder. Even though we have treatments that work well for most people, there are still many individuals who don't respond to treatments or continue to have symptoms that interfere with their lives even after receiving treatment. My research, supported by a Young Investigaor Award from the International OCD Foundation, aims to better understand how neural and cognitive alterations contribute to individuals developing compulsive and anxiety disorders, so that down the road, we can pinpoint when in development these alterations emerge. The ultimate application would be to use this information to identify opportunities for early intervention or prevention, as well as provide inroads for improved treatment personalization.
What inspired you to pursue psychiatry as a profession?
At my high school in Westchester where I grew up, I took a course where you would work with a mentor to conduct a lab-based research project. I connected with a researcher at Weill Cornell, and she gave me this incredible opportunity to work on a project we designed together to study genetic factors that contributed to a complication that commonly occurred following heart surgery. I learned so much from this experience that I still draw on today and consider the excitement I felt then about every aspect of the research process as laying the foundation to becoming a clinical psychologist. Whenever I present at a conference now, I'm always reminded of all the science fairs I competed in over 15 years ago. To show my appreciation, I've volunteered annually as a judge in the Weschester-Rockland regional science fair since moving back to New York. 
What attracted you to your research area?
After high school, I got certified as an emergency medical technician, and one of my summer jobs as an undergraduate was providing first aid at a camp. There were certainly scrapes and bee stings to tend to, but most of the kids who came to visit me were honestly just anxious. They worried about being apart from their parents or felt nervous socializing with the other kids. Back at college, because of my EMT background, I became involved with a project in the psychology department focused on children's ability to recall medically pertinent information. I conducted interviews with kids about their experience with medical visits and procedures and found that they often described this consistent feeling of being anxious. Intrigued by these experiences, I pursued coursework and additional research focused on child development and psychological disorders. After graduating from college, I worked as a research coordinator in Dr. Moira Rynn's lab at Columbia University/NYSPI, where I assisted with projects focused on the treatment of OCD, anxiety, and mood disorders. These experiences led to me pursuing a doctoral degree in the clinical science program at UCLA to continue my training in the study and treatment of anxiety and compulsive disorders in youth.
What are your long-term professional goals?
Since joining Columbia in 2019, I have focused on deepening the skills I developed during graduate school so I can be better equipped to conduct research that informs the development of early interventions and prevention strategies. Specifically, I've been learning how to combine my existing skills in using electrophysiology to measure neural processes with mathematical modeling to more precisely study the mechanisms of compulsive behavior and pathological anxiety. Broadly, my hope is that my research contributes to improved quality of life for individuals with OCD and anxiety disorders. Long-term, I'd like to lead a lab that focuses on conducting research that uses cutting-edge science to reduce the negative impact that psychiatric symptoms can have on functioning by improving existing treatments and developing new ones.
Outside of work, how do you like to spend your free time?
I try to practice what I preach as a therapist when it comes to well-being. Especially during the work week, I put effort toward maintaining the fundamentals—exercising, cooking healthy meals, and getting enough sleep. I've also had a mindfulness practice for several years now. My dad is a former hippie turned corporate lawyer who has always been interested in mindfulness and meditation. Growing up, I often would overhear him listening to meditation recordings from Jon Kabat-Zinn. During graduate school, I took a class at the UCLA Mindful Awareness Research Center and have made mindfulness a part of my life ever since. In my free time, I love absorbing as much culture as I possibly can. I often get teased for always wanting to do a million activities over the weekend—spending the day on the couch watching TV is torture for me. My favorite thing to do is to go see art, especially sculpture. I recently visited the Noguchi Museum in Queens which has an interesting mix of art and design.
What are you reading and/or watching these days? Anything to recommend?
I'm an avid nonfiction reader. I particularly enjoy reading about topics or events where New York City is the backdrop. One the most interesting books I've read where this is the case is The Snakehead by Patrick Radden Keefe. It's a fascinating story centered around a woman living in NYC's Chinatown who oversaw this largescale, complex human smuggling operation. This summer I read a book about the making of the The Godfather. My mother's family all immigrated from Sicily, so you can imagine I've heard a lot of opinions on the movie over the years. It was fun to get the backstory on something so iconic, especially how the politics of the time in NYC influenced the movie's production.