Cores
The OPAL Center is a collaboration of health services researchers who represent several disciplines including psychiatry, psychology, social work, epidemiology, health policy, public policy, economics, and statistics. We collaboratively developed the OPAL Center and its projects and structure. Our cores, multidisciplinary investigators comprise the Scientific Steering Committee that will inform all of the Center's work. The structure of OPAL Center is presented in below.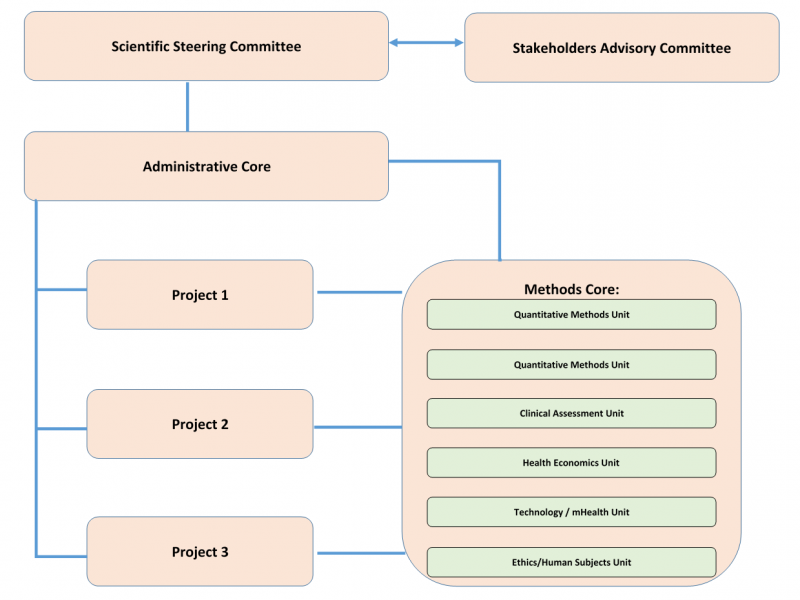 Administrative Core
The Administrative Core works to maximize the impact of the OPAL Center's work. The Administrative Core supports and coordinates the efforts of all investigators and units to create synergies among the Center's activities. The Core fosters interdisciplinary collaboration, manages a pilot project program, supports training opportunities, monitors Center activities and monitors progress, plans for future research projects, and disseminates information about the Center and the results of its efforts.
The specific aims of the OPAL Center's Administrative Core are:
Support Center activities to facilitate innovative, transdisciplinary translation research that will lead to improved treatments, services, and outcomes for individuals diagnosed with schizophrenia.
Foster interdisciplinary synergies among research disciplines and the Center's cores.
Solicit, select, and support pilot projects.
Support training opportunities.
Communicate OPAL's aims and activities and disseminate information about the Center and the results of its efforts.
Monitor and evaluate center progress.
Plan for future projects.
Click here for a link to the personnel in Administrative Core.
Administrative Core Leader: T. Scott Stroup, MD. MPH.
Scientific Steering Committee
The Scientific Steering Committee (SSC) includes each of the research project leaders and the leaders of the Methods Core and its Units. The SSC oversees Center progress including the research projects, the pilot project program, training activities, and other activities to promote internal and external collaboration. This Committee formulates OPAL policies and develops plans to address problems that arise. The SSC reviews and selects pilot projects, and oversees training and mentoring. The SSC serves as the OPAL's Publication Committee. The SSC conducts strategic planning with the input of the Stakeholders Advisory Committee.
Click here for a link to the personnel in SSC.
SSC Chair: Lisa Dixon, MD. MPH.
Stakeholders Advisory Board
The Stakeholders Advisory Board includes local, state, and national leaders who provides the perspective of public and private sector policy makers, payers, clinicians, consumer advocates, and consumers. The Stakeholders Advisory Board monitors the Center's progress and provides strategic advice. The Board helps ensure that the OPAL Center's work is relevant and important to real-world settings. The Board also provides guidance on current issues and advice on implementation and dissemination.
Click here to know more about OPAL SAB members.
Methods Core
The OPAL Center's Methods Core constitutes its scientific infrastructure and its source of innovative research momentum. We have designed the Core to be both responsive and generative; its resources are available to collaborators working on current or future projects related to our theme, and its membership actively chart needed areas of investigation and new methodologies. The Methods Core will pursue the following specific aims:
Cultivate innovative research on treatments and services for schizophrenia that optimizes their effectiveness in real-world clinical settings and readiness for broad deployment.
Support the work of OPAL projects and pilot studies by offering perspectives and skills from multiple disciplines, and offer ideas and assistance to ensure productive use of OPAL resources
The Methods Core will be comprised of several Units, each with a designated leader.
Qualitative Methods Unit
OPAL uses qualitative methods to develop, adapt, and refine interventions that are well suited to real-world clinical settings. The Qualitative Methods Unit provides leadership, supervision, and training in qualitative methods. The primary function of the qualitative methods unit is to provide expert consultation, training, and supervision to the OPAL's studies, particularly in using qualitative methods to inform intervention adaptations at multiple levels (e.g. client, provider, setting) and to identify multilevel factors that can facilitate or impede the implementation of these interventions in routine practice settings. To accomplish this function, the qualitative methods unit provides the following services and activities:
Expert Consultation on Intervention Adaptation Procedures
Expert Consultation on Qualitative Data Analysis
Click here for a link to the personnel in Qualitative Methods Unit
Qualitative Methods Unit Leader: Leopoldo J. Cabassa, PhD.
Quantitative Methods Unit
In addition to the development of innovative statistical methods to advance research that optimizes the effectiveness of interventions for schizophrenia in real-world clinical settings, the Quantitative Methods Unit provides support for data collection and quality control including centralized data management and data collection services.
Click here for a link to the personnel in Quantitative Methods Unit
Quantitative Methods Unit Leader: Melanie Wall, PhD.
Clinical Assessment Unit
The Clinical Assessment Unit (CAU) provides centralized clinical assessment services. The CAU oversees the training, reliability and quality control for all diagnostic and clinical assessment components of OPAL. The CA unit will provide a structure for the clinical characterization of subjects participating in all the Center's research protocols (projects 1, 2, 3, and pilots), while maintaining the highest standards of safety and ethics. The CA unit will be responsible for:
Centralized training of clinical raters
Ensuring uniformity of assessments and measures across the projects and over time
Expert consultation on measure selection and how best to analyze the clinical symptom data generated from each project
Click here for a link to the personnel in CAU
CAU Leader: David Kimhy, PhD.
Mobile Health and Technology Unit
The Mobile Health and Technology (MHT) Unit provides expertise and consultation to all investigators and trainees. In addition, the Unit guides the use of mobile technology for its critical role in OPAL Project 3. The MHT unit will be responsible for:
Expert Consultation on mHealth including Experience Sampling Methods (ESM) using smartphones.
Assessing software/hardware infrastructure to support OPAL mHealth initiatives.
Technical assistance and quality control procedures for Project 3.
Click here for a link to the personnel in MHT
MHT Leader: David Kimhy, PhD.
Ethics and Human Subjects Unit
The Ethics and Human Subjects Unit (EHSU) assures that all OPAL personnel receive appropriate training in the Responsible Conduct of Research and that all research conducted by OPAL meets all regulatory and ethical requirements. In addition, the Unit will explore new approaches to human subject issues in translational research relevant to its conduct in real-world settings. The EHSU is responsible for:
Training
Oversight of informed consent
Consultation
Central IRB
Data and Safety Monitoring Plan
Click here for a link to the personnel in EHSU
EHSU Leader: David Strauss, MD.
Health Economics Unit
The Health Economics Unit (HEU) guides OPAL investigators in the assessment of the costs of study interventions and their impact on implementation. The Health Economics Unit is a resource to OPAL investigators as they consider the costs of interventions and how this affects implementation decisions. Although thorough cost-effectiveness evaluations are beyond the scope of the OPAL projects proposed here, our access to Medicaid claims data allows us to estimate healthcare costs (both behavioral healthcare and physical healthcare costs) to the payer for clients receiving services in the interventions under study. New York requires all Medicaid managed care entities to submit encounter data even for services that are paid under a capitated arrangement, hence the Medicaid claims data include both paid claims and encounter data (hereafter, simply called "Medicaid claims"). We can then estimate costs of services by using Medicaid, Medicare, or other payer rates.
Click here for a link to the personnel in HEU
HEU Leaders: Thomas G. McGuire, PhD, and Jennifer Humensky, PhD.