Posner Lab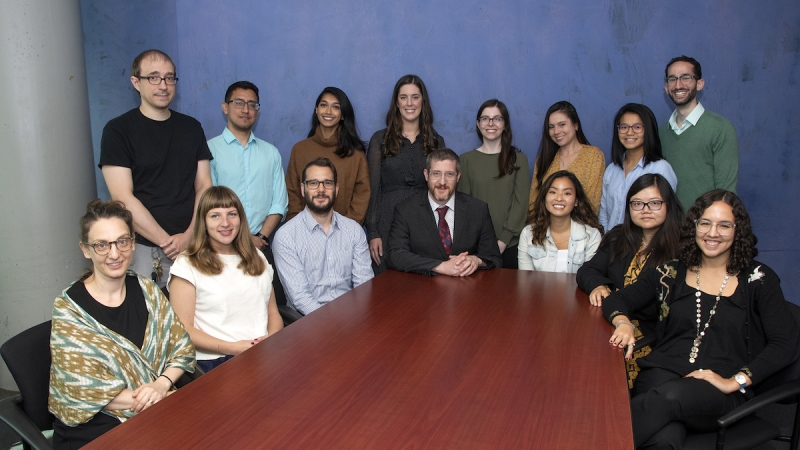 Location and Contact Information
Our research uses brain imaging to study the function and organization of neural circuits in a range of psychiatric disorders.
Our laboratory uses multimodal magnetic resonance imaging (MRI) to study the organization and function of neural circuits underlying symptoms seen in a range of psychiatric disorders affecting children and adolescents. By combining brain imaging with treatment studies, our research aims to understand the mechanisms underlying symptoms such as impulsivity, inattention, emotional lability, and anxiety. Moreover, we aim to identify how treatments work so that new treatments can be developed that are more targeted and effective than those currently available.
Lab Members
Jiook Cha, PhD

Assistant Professor of Neurobiology (in Psychiatry)
Division of Child and Adolescent Psychiatry

Based on biomedical engineering (BS, at Korea University, Korea) and basic neurobiology (MS, at Catholic University of Korea, in Korea), during the PhD training (in Neuroscience at State University of New York at Stony Brook), Dr. Cha studied the neural underpinnings of anxiety using complementary methodologies to disentangle complex relationships among brain, mind, and behavior. In 2013, after obtaining his PhD, Dr. Cha joined the Posner lab to learn the phenomenology of psychiatric disorders affecting children and young adults (e.g., ADHD, anxiety, depression, and eating disorders). In 2016, Dr. Cha completed his postdoctoral training under the supervision of Dr. Jonathan Posner and a NIMH-funded T32 research fellowship in the Eating Disorder program (directed by Drs. Evelyn Attia and B. Timothy Walsh). As an Assistant Professor of Neurobiology, Dr. Cha currently studies neural and cognitive underpinnings of anxiety in anxious youth. His work attempts to develop ways to link brain circuits and cognition to behaviors with the sensitivity and specificity to predict how the mind works in a single individual. He collaborates with visual cognitive neuroscientists (Dr. Lars Muckli at University of Glasgow) and computational neuroscientists (Drs. Klaas Stephan and Andreea Diaconescu at ETH Zurich). This line of study ultimately aims to determine how brain function begins to deviate from a normal developmental trajectories. Dr. Cha's research is currently funded by a NIH CTSA (Clinical and Translational Science Awards) Career Development Award (KL2) at Columbia University, NARSAD Young Investigator Award, Columbia University-University of Glasgow Research Exchange Fellowship, and NYSPI Pilot MRI Award.

Elizabeth Raffanello, MPH

Elizabeth received her BA in clinical psychology and community health from Tufts University. She later received an MPH from Yale University in the social and behavioral sciences. She is currently a PhD candidate in clinical psychology at the University at Albany, SUNY. Blending her interests in neuropsychology and health psychology, Elizabeth's dissertation is focusing on emotion regulation in individuals with multiple sclerosis. Elizabeth joined Dr. Posner's lab in 2014 as a lab manager. She will continue to help supervise psychological assessments when she begins her predoctoral internship in psychology in Fall of 2016.

David Semanek, BA, HCISPP

David Semanek received a BA in experimental psychology with a concentration in visual perception from Columbia University in 2005. He recently earned the HealthCare Information Security and Privacy Practitioner certification from (ISC)2. His main professional interests are MRI data acquisition and processing methods as well as research data management and security. David came to NYSPI in 2008 and has worked on a diverse collection of MRI studies covering mood and attention disorders, autism, toxin exposure, infant and childhood development, and both prescription drugs and drugs of abuse. David's long-term goals focus on the advancement of data management techniques and data exchange for the field of MRI research with an emphasis on maintaining high standards of information security and integrity.

Claudia Lugo-Candelas, PhD

Postdoctoral Research Fellow

Claudia Lugo-Candelas, PhD, is a postdoctoral fellow in translational research training in child psychiatry. She obtained her PhD from the clinical psychology program at the University of Massachusetts, Amherst. Her earlier graduate work explored the influence of culture in parents' emotion socialization practices. Her dissertation focused on better understanding the neural correlates of emotion processing in preschoolers with hyperactivity, as well as in typically developing populations. Dr. Lugo-Candelas is interested in better understanding, at the neural and behavioral levels, what factors (individual, familial, and cultural) contribute to emotion dysregulation and the pathways and mechanisms though which dysregulation develops into psychopathology in preschoolers. She recently completed her clinical internship at the Lincoln Medical and Mental Health Center in the Bronx.

Tamara Sussman, PhD

Postdoctoral Research Fellow

Dr. Tamara Sussman is a postdoctoral research fellow in the Division of Child & Adolescent Psychiatry. She graduated from Yale University with a bachelor's degree, and from Stony Brook University with a PhD in clinical psychology. While at Stony Brook, she conducted research examining the impact of emotional stimuli on visual perception and associated brain activity in normal function and in anxiety. She also provided treatment for a broad range of disorders, including anxiety, PTSD, ADHD, and depression. During her internship at the Rutgers University Counseling Center, she provided treatment to a diverse group of university students, and received specialized training in the treatment of trauma-related disorders.

Yun Wang, PhD

Postdoctoral Research Fellow

Yun Wang, PhD, joined the Posner Lab as a postdoctoral research fellow after completing her PhD in electrical and computer engineering at Auburn University. Dr. Wang's undergraduate training was in electrical engineering at Central South University in China. Dr. Wang's research interests include multimodal imaging, resting fMRI data analysis, and machine learning.

Natalie Aw

Natalie Aw is a data analyst in the Posner Lab. She has a Bachelors of Science in Electrical Engineering and Economics from Rose-Hulman Institute of Technology in Terre Haute, Indiana and a Masters of Science in Electrical Engineering from University of Illinois at Urbana-Champaign in Champaign, Illinois.

Sarah X. Rojas, BS

Sarah X. Rojas is a research assistant in the Posner Lab and assists in multiple research studies concerning childhood disorders. Sarah received a BS in communication sciences and disorders from Pennsylvania State University in 2016. She previously worked in the social work field outside Philadelphia and is now completing her masters in neuroscience and education at Teachers College, Columbia University. Her research interests include neuropsychology, child psychopathology, and minority mental health. Sarah plans to pursue a doctorate in clinical neuropsychology.

Sarah Pieper, BA

Sarah Pieper is a research assistant in the Posner Lab. She graduated from Smith College in 2018 with a BA in psychology and a minor in education and child study. She has worked with children with developmental disorders in the past and, while at Smith, she worked in a research lab focused on child language acquisition. Those experiences clarified her desire to work in research involving children and their mental health. She is interested in research that investigates the mechanisms of psychiatric disorders and how to effectively treat them in children and adolescents. She plans to pursue a PhD in clinical psychology in the future.

Susie Hong, BS

Susie graduated from Binghamton University in 2015 with a BS in integrative neuroscience. Susie first joined NYSPI as a volunteer for Dr. Posner's lab in 2014. Currently, Susie is responsible for coordinating Dr. Posner's research studies, which primarily investigates the underlying neurobiological mechanisms of ADHD treatments. She is interested in studying and improving the diagnosis and treatment of neuropsychiatric disorders. She plans to pursue a PhD in clinical psychology.
Select Publications
Claudia Lugo-Candelas, Jiook Cha, Susie Hong, Vanessa Bastidas, Myrna Weissman, William P Fifer, Michael Myers, Ardesheer Talati, Ravi Bansal, Bradley S Peterson, Catherine Monk, Jay A Gingrich, Jonathan Posner. Associations Between Brain Structure and Connectivity in Infants and Exposure to Selective Serotonin Reuptake Inhibitors During Pregnancy. JAMA Pediatrics, 2018.

Posner J, Cha J, Wang Z, Talati A, Warner V, Gerber A, Peterson BS, Weissman MM. Increased default mode network connectivity in individuals at high familial risk for depression, Neuropsychopharmacology, 2015 Nov 23

Biezonski D, Cha J, Steinglass J, Posner J. Evidence for thalamocortical circuit abnormalities and associated cognitive dysfunctions in underweight individuals with anoxeria nervosa. Neuropsychopharmacology, 2015 Oct 14

Cha J, Fekete T, Siciliano F, Biezonski D, Greenhill LL, Pliszka S, Blader J, Roy A, Leibenluft E, Posner J. Neural correlates of aggression in medication naive children with ADHD: Multivariate Analysis of Morphometry and Tractography, Neuropsychopharmacology, 2015 Mar; 40: 1717-1725

Posner J, Park C, Wang Z. Connecting the dots: A review of resting connectivity MRI studies in Attention-Deficit/Hyperactivity Disorder. Neuropsychology Review, 2014 Mar 24(1): 3-15

Posner J, Hellerstein DJ, Gat I, Mechling A, Klahr K, Wang Z, McGrath P, Stewart JW, Peterson BS. Antidepressants normalize the default mode network in patients with dysthymia. JAMA Psychiatry. 2013 Feb 6:1–10.

Posner J, Nagel BJ, Maia TV, Mechling A, Oh M, Wang Z, Peterson BS. Abnormal amygdalar activation and connectivity in adolescents with attention-deficit/hyperactivity-disorder. Journal of the American Academy of Child and Adolescent Psychiatry. 2011;50:828-837. PMCID: PMC3155780.

Posner J, Russell J, Gerber A, Gorman D, Colibazzi T, Yu S, Wang Z, Kangarlu A, Zhu H, Peterson BS. The neurophysiological bases of emotion: an fMRI study of the affective circumplex using emotion-denoting words. Human Brain Mapping. 2009;30:883-995.

Posner J, Russell J, Peterson BS. The circumplex model of affect: an integrative approach to affective neuroscience, cognitive development, and psychopathology. Development and Psychopathology. 2005; 17:715-734.