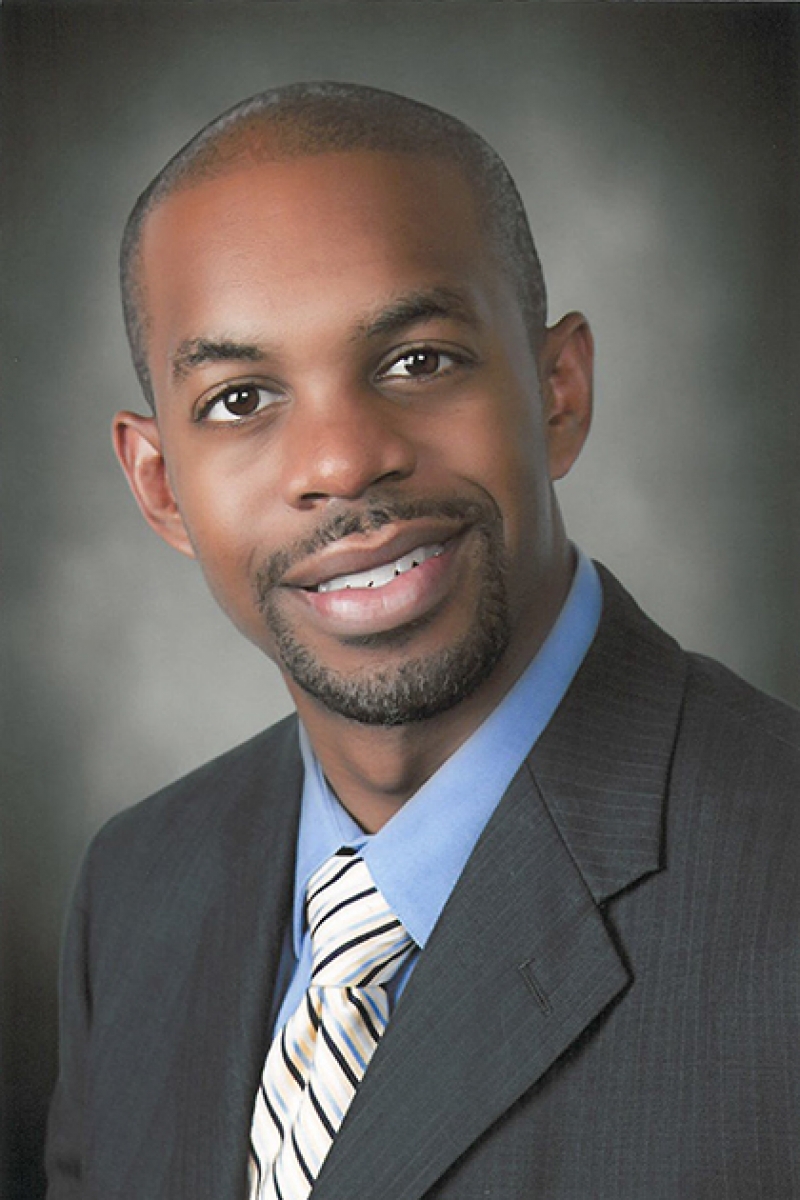 Overview
Dr. Hankerson is Co-Director of the Columbia Wellness Center, Associate Professor of Psychiatry at Columbia University Irving Medical Center, and Adult Psychiatrist at the New York-Presbyterian Charles B. Rangel Community Health Center. His research focuses on reducing racial/ethnic disparities in mental health treatment. He has been awarded grant funding from the National Institute of Mental Health (NIMH), Brain and Behavior Foundation (formerly NARDAD), the New York State Office of Mental Health, Columbia University, and private foundations. He is a nationally recognized expert at faith-based mental health services research.
He has presented his study results at the White House, United Nations, NIMH, Substance Abuse and Mental Health Services Administration (SAMHSA), Gracie Mansion (NYC Mayor's Office), and numerous national academic conferences. He was an inaugural member of the American Psychiatric Association's (APA) Council of Faith and Community Partnerships and served on the APA Council of Minority Mental Health and Health Disparities. NYC Mayor DeBlasio appointed Dr. Hankerson as Chair of the Community Services Board of the New York City Department of Health and Mental Hygiene in 2021.
Dr. Hankerson completed a dual MD/MBA program from Emory University, where he was Medical School Class President for two years. He completed his psychiatry residency at Emory and was named Chief Resident of Psychiatry at Grady Memorial Hospital. He then completed a NIMH T32 post-doctoral research fellowship at Columbia University/New York State Psychiatric Institute.  
Academic Appointments
Associate Professor of Psychiatry at CUMC
Hospital Affiliations
NewYork-Presbyterian / Columbia University Irving Medical Center
Schedule an Appointment
Connect Patient Portal
For existing patients, login to make an appointment, view documentation or contact your care provider.
Location(s)
1051 Riverside Drive
Unit 24
Credentials & Experience
Education & Training
MD, Emory University School of Medicine
Internship: Emory University Hospital, GA
Residency: Emory University Hospital, GA
Fellowship: NewYork-Presbyterian Hospital/Columbia University Medical Center
Research
Grants
Fellowship and Grant Support: 

06/2020–05/2025

Community Partnered Approach to Implement Depression Screening in Black Churches


NIH/NIMH
1 R01MH121590-01A1 (Hankerson/Williams Co-PIs)
This cluster randomized controlled trial aims to compare the effect of Screening Brief Intervention and Referral to Treatment (SBIRT) to Referral as Usual on treatment engagement and depressive symptoms. Total direct support:  $2,342,751
Role: Contact PI  
08/2020–07/2022

Church-Tailored Opioid Education and Naloxone Distribution


NIH/NIDA(Hankerson PI)
This competitive loan-repayment program is designed to retain highly qualified health professionals in research careers. This study will develop and test the efficacy of a church-tailored OEND intervention. Total direct support: $100,000. 
Role: PI 
06/2017–06/2022 

Addressing Mental Health and Drug Use Needs of Harlem Community Members


Columbia University 
Zuckerman Mind, Brain, and Behavior Institute (Hankerson PI)
This study aims to train West Harlem community members in evidence-based practices.  Total direct support: $684,287. 


Role: PI 

01/2021–12/2021

Engaging Black Men in Depression Care


Columbia University, CTSA (Hankerson/ Lena Green Co-PIs)
This study explores barriers and facilitators for mental health service utilization among Black men at a large Baptist church in Harlem, NY.  Total direct support: $30,000.  
Role: Co-PI   


06/2021–05/2026

Clinical and Translation Science Award


NIH
5 UL1TR001873 (Muredach Reilly PI)


T

his

 

g

r

ant

 

p

r

o

v

ides

i

n

f

r

as

t

r

uc

t

u

r

esupport

 

for

 

clinicaland

 

tr

ansla

t

ional

r

esearch

 

ac

r

ossColumbia'smedical campus

t

h

r

ough

 

e

x

pe

r

t

ise

i

n

 

biomedicalinfo

r

m

a

t

ics,

 

s

t

udydesign

 

ands

t

a

t

is

t

ical

 

anal

y

ses,bioe

t

hics,

r

egula

t

o

r

y

 

issues,and

 

communi

t

y

-

based

 

r

esearch. Total direct support: $41,961,589.
Role: Co-I
06/2021–05/2026

Herbert Irving Comprehensive Cancer Center


NIH/NCI
5 P30CA013696 (Anil Rustgi PI)


The Community Outreach and Engagement (COE) core uses principles of community-based participatory research to reduce disparities in breast and prostate cancer mortality in Harlem, NY. Total direct costs: $5,859,653.           


Role: Co-I
01/2021–12/2023

Digital Mental Health Care for COVID-19 High-Risk Populations


Columbia University, Columbia World Projects (Yuval Neria PI)
This study addresses mental health stigma among front line workers and healthcare workers through a digital intervention.  Total direct support: $300,000.  
Role: Co-I
07/2019–06/2020

Training Medical Students in Social Determinants of Health

  
Columbia University, Apgar Academy Educational Institute 
This study will develop a medical school course to train medical students in the social determinants of health by use of Community Health Workers (CHWs) and principles of community-based participatory research, Total direct support: $30,000.


Role: PI

01/2018–12/2019  

Exploring Mental Health Screening and Linkage to Care Among Young African American Men


NIH/NIMH
1 R36 MH115722-01 (Alexandria Booker PI)
This study explores facilitators/barriers, and potential intervention strategies regarding receipt of mental health screening with young urban African American men.  Total direct support: $49,891 
Role: Consultant   
06/2014–09/2018

Community Partnered Approach to Implement EBPs for Depression 


NIH/NIMH  
K23 MH102540(Hankerson PI)
The overall aim of this study is to test the feasibility, acceptability, and effectiveness of implementing EBPs in Black churches.  Research training goals include developing expertise in community-based participatory research, dissemination and implementation science, and mixed methods. Total direct support: $689,600.
Role: PI
01/2018–06/2018

Weekend of Faith for Mental Health 


New York City Department of Health and Mental Hygiene 
The purpose of this study was to engage African American Faith-Based Organizations in Mental Health Awareness Month.  Total direct support: $20,000.


Role: PI

07/2017–04/2018

Addressing Depression Stigma among Black Men

  
New York State Office of Mental Health (OMH)(Hankerson PI)
This study aims to identify barriers and facilitators to depression help-seeking among Black men via stakeholder interviews with clinicians and barbers.  Total direct support: $17,200.
Role: PI   
07/2013–06/2014

Engaging Church Leaders in Mental Health Promotion


Columbia University, Gray Matters Foundation(Hankerson PI)
This project was used to identify, engage, and recruit churches for mental health promotion and research. Total direct support: $50,000. 
Role: PI
07/2013–04/2014 

Training African American Clergy in Interpersonal Counseling (IPC)


New York State Office of Mental Health (OMH)(Hankerson PI)
The goal of this study is to assess the feasibility and acceptability of training clergy in an evidence-based treatment called IPC. Total direct support: $12,720
Role: PI
07/2013–06/2014  

Community Based Approach to Increase Access to Depression Care

  
Columbia University, Pisetsky Young Investigator Award 
This study will evaluate facilitators and barriers to African Americans receiving depression care. Total direct support: $10,000. 
Role: PI
07/2012–06/2014

NIH Health Disparities Loan Repayment Program

  
NIH/NIMHD
This competitive loan-repayment program is designed to retain highly qualified health professionals in research careers focused on studies pertinent to racial/ethnic minority groups. Total direct support: $70,000. 
Role: PI
07/2011–06/2014 

A Pilot Study of Group Interpersonal Therapy among Depressed African

Americans

  
Brain and Behavior Foundation (formerly NARSAD) 
The overall aim of this project is to test the feasibility delivering an evidence-based group psychotherapy in a Black church.  Total direct support: $60,000.                      
Role: PI
07/2010–06/2013  

Research Training in Mood and Anxiety Disorders: From Animal Models to Patients


NIH/NIMH
5-T32 MH015144(Steven Roose PI)
The goal of this fellowship is to develop the skills necessary to become a fulltime academic researcher in psychiatry.  The training includes an intensive, supervised research experience with a mentor and didactic courses in statistics, research design, and research techniques. Total direct support: $159,336.
Role: Research Fellow
08/2009–06/2010  

Program for Minority Research Training in Psychiatry

  
NIH/NIMH
5-T32 MH19126(Darrel Regier PI)  
Research fellowship designed to increase underrepresented minorities in research.  Total direct support: $45,504. 
Role: Research Fellow 
09/2021–08/2024

Church-Tailored Opioid Overdose Education and Naloxone Distribution to Target Overdose and Stigma Among African American Communities


NIH/NIDA
R34 MH127762-01 (Hankerson and Jones MPIs)
This study will adapt an Opioid Overdose Education and Naloxone Distribution intervention for use in Black churches to prevent overdose deaths. Total direct support: $425,00
Role: Contact PI
09/2021–08/31/2026

Center to Improve disease Outcomes through Multi-level and Multi-generational approaches Unifying Novel Interventions and Training health EquiTy (The COMMUNITY Center) 


NIH/NIMHD
P50MD017341(Terry, Cohn, Williams, Phillips, Hershman, ShimboMPIs)
The COMMUNITY Center of NYC brings together an interdisciplinary team of investigators, health care providers and community stakeholders around NYC through multi-institutional partnerships (Columbia, Cornell, New York Presbyterian Hospital, Physician Affiliate Group of New York) to reduce health disparities in multiple chronic diseases. We focus on cardiovascular disease and cancer, and their risk factors, as they are the two leading causes of death and that share common social context, etiological pathways, risk factors and management strategies. 
Total direct support: $15,000,000
Role: MPI of R01 Project #3
Selected Publications
Peer-Reviewed Research Publications in Print or Other Media

2021

Moise N, Hankerson SH*.Addressing Structural Racism and Inequities in

Depression Care. JAMA Psychiatry. 2021 Jul 21. doi:
10.1001/jamapsychiatry.2021.1810. Epub ahead of print. PMID: 34287639
This viewpoint is guided by Jones' multi-tiered framework of racism to address empirically supported recommendations to address inequities in depression care.
 


Coombs A, Joshua A, Flowers M, Wisdom J, Crayton LS, Frazier K, Hankerson

SH*. Mental Health Perspectives Among Black Americans Receiving Services From a Church-Affiliated Mental Health Clinic. Psychiatr Serv. 2021 Jul
8:appips202000766. doi: 10.1176/appi.ps.202000766. Epub ahead of print. PMID:
34235947.
This qualitative study assessed facilitators and barriers of mental health service utilization at a church-affiliated mental health clinic.
 


*Hankerson SH, Crayton LS, Duenas SC. Engaging African American Clergy and

Community Members to Increase Access to Evidence-Based Practices for Depression. Psychiatr Serv. 2021 Aug 1;72(8):974-977. PMID: 33993714.
This qualitative case study explores the perspectives of clergy and community members on training clergy in evidence-based psychotherapy called Interpersonal Counseling (IPC).
 


*Hankerson SH, Shelton RC, Weissman MM, Wells KB, Teresi J, Mallaiah J, Amita J, Williams O. Study protocol for comparing Screening, Brief Intervention, and Referral to Treatment (SBIRT) to referral as usual for depression in African American churches. Trials (Submitted and Under Review)

This study protocol describes the research procedures of my NIMH-funded R01 focused on leveraging Community Health Workers to deliver SBIRT
2020

Starks SM, Hankerson SH, Collins PY. Shifting the Policy Paradigm to Achieve Equity. Psychiatr Clin North Am. 2020 Sep;43(3):439-450. Epub 2020 Jul 15. PMID: 32773073

The purpose of this article is to describe community-based and other evidence-based strategies to implement policies that promote health equity. My role included drafting sections on the Black church's extensive history of promoting policy change and health advocacy. 
2018

*Hankerson SH, Wells K, Sullivan MA, Johnson J, Smith L, Crayton L, Miller-Sethi F, Brooks C, Rule A, Ahmad-Llewellyn J, Rhem D, Porter X, Croskey R, Simpson E, Butler C, Roberts S, James A, Jones L. Partnering with African American Churches to Create a Community Coalition for Mental Health. Ethn Dis. 2018 Sep 6;28(Suppl 2):467-474. PMID: 30202200. PMCID: PMC6128345. 

This article yields results of my NIMH-funded community advisory board focused on reducing mental health disparities in Upper Manhattan. As PI of the study, I was responsible for data collection, design, and drafting the entire manuscript.

*Hankerson SH, Svob C, Jones MK. Partnering with Black Churches to Increase Access to Care. Psychiatric Services. 2018 Feb; 1;69(2):125. PMID: 29385949; PMCID: PMC6417500.

This paper was in invited commentary on church-based approaches to increase access to mental health services. I was responsible for the design, overview, and draft of the entire paper.

Murphy E, Hankerson SH.  Beliefs about Causes of Major Depression: Clinical and Treatment Correlates among African Americans in an Urban Community. Journal of Clinical Psychology. 2018 Apr;74(4):594-607. PMID: 29077209; PMCID: PMC5867240.

This paper examines clinical and socio-demographic correlates of causal attributions of depression among a clinical sample of African Americans.  My role involved reviewing data on depression treatment outcomes among African Americans and drafting the discussion.
2015

*Hankerson SH, Lee Y, Brawley DK, Braswell K, Wickramaratne P, Weissman MM.  Screening for Depression in African American Churches.  American Journal of Preventive Medicine.  2015 Oct; 49(4):526-33.  PMID: 26232907; PMCID: PMC4575828.

This cross-sectional study reports results of the first-ever church-based depression screening study with the Patient Health Questionnaire-9 in three African American churches. As PI of the study, I was responsible for conceptualization, data collection, interpretation of results, and drafting the manuscript.

Breland-Noble AM, Wong MJ, Childers T, Hankerson SH,Sotomayor J.  Spirituality and religious coping in African American Youth with Depressive Illness.  Mental Health, Religion & Culture. 2015; 18(5):330-341. PMID: 26500425; PMCID: PMC4612492.

This qualitative analysis reports results of adolescents' attitudes towards depression and barriers to care. My role involved conducting qualitative data analysis of all semi-structured interviews and focus groups, drafting the results and discussion sections, and making edits to final document.

Lukachko A, Meyer I, Hankerson SH.  Religiosity and Mental Health Service Utilization among African Americans.  Journal of Nervous and Mental Disease. 2015 Aug;203(9):578-82. PMID: 26172387; PMCID: PMC4535188.

Using a nationally representative sample in the U.S., this paper found that rates of religious service attendance were inversely correlated with professional depression treatment seeking. My role involved writing the introduction and discussion sections on depression among African Americans, the church's role in care, and impact of religiosity as a barrier/facilitator to professional treatment.

*Hankerson SH, Suite D, Bailey RK. Treatment Disparities among African American Men with Depression: Implications for Clinical Practice.  Journal of Healthcare for the Poor and Underserved.2015. 26(1):21-34. PMID: 25702724; PMCID: PMC4406484.

This review paper outlined depression treatment barriers and facilitators among African American men. I was responsible for conducting the literature review and drafting the entire manuscript.
2014

Weissman MM, Hankerson SH, Scorza P, Olfson M, Verdeli H, Shea S, Lantigua R, Wainberg M.  Interpersonal Counseling for Depression in Primary Care. American Journal of Psychotherapy. 2014. 68(14):359-383.  PMID: 26453343; PMCID: PMC4603528. 

This paper reported the theoretical components of Interpersonal Counseling (IPC) and its relevance for use in primary care. My role included drafting the introduction with detailed overview of mental health services provided in primary care settings and impact on disparities among racial/ethnic minorities.

Williams L, Gorman R, *Hankerson SH. Implementing a Mental Health Ministry Committee in Faith Based Organizations: The Promoting Emotional Wellness and Spirituality Program. Social Work in Health Care. 2014. 53(4):414-434.  PMID: 24717187; PMCID: PMC4000587.

This paper described the theoretical underpinnings of a model of faith-based mental health promotion and community engagement.  Senior author contributions included drafting the introduction with a focus on implementing EBPs in faith-based settings; and drafting the methods and results.

*Hankerson SH.  What's Wrong with the Poor? Psychiatry, Race, and the War on Poverty.  American Journal of Psychiatry. 2014. 171(4):470-471.  

This invited book review provided a summary of psychiatry's history of providing care to people of color and in under-resourced communities. My role involved writing the entire manuscript. 
2013

*Hankerson SH, Watson KT, Lukachko A, Fullilove MT, Weissman MM. Ministers' perceptions of church-based programs to provide depression care for African Americans. Journal of Urban Health. 2013. 90(4):685-98. PMID: 23471573; PMCID: PMC3732678.

This qualitative analysis reported results of focus groups with 21 African American clergy's perspectives on feasibility and acceptability of church-based depression services. As PI of the study, I was responsible for data collection, analysis, interpretation of results, and drafting the manuscript.
2012

*Hankerson SH and Weissman MM. Church-Based Health Programs for Mental Disorders among African Americans: A Review. Psychiatric Services. 2012.  63(3):243-9. PMID: 22388529; PMCID: PMC3952019.

This systematic review describes mental health interventions for DSM-IV mental disorders implemented in African American churches. As PI of the study, I was responsible for study design, data collection, interpretation of results, and drafting the manuscript.
2011

*Hankerson SH, Fenton MC, Geier TJ, Keyes KM, Weissman MM, Hasin DS. Racial Differences in Symptoms, Comorbidity, and Treatment for Major Depressive Disorder among Black and White Adults. Journal of National Medical Association. 2011.  103(7):576-84. PMID: 21999032. PMCID: PMC3866690.

This paper examined data from the National Epidemiological Survey on Alcohol and Related Conditions (NESARC) to examine clinical and treatment differences among black and white adults with major depressive disorder. As first author, I was responsible for study design, interpretation of results, and drafting the paper.
2019

*Hankerson SH, Wong E, Polite K. (2019). The Black Church and Mental Health. In E. Griffith, B. Jones, & A. Stewart (Eds.), Black Mental Health: Patients, Providers, and Systems (pp 183-196). Washington, DC: American Psychiatric Association Publishing.

This book is considered a seminal work in African American mental health literature and the first such book published by the American Psychiatric Association in over 20 years. As first author, I was responsible for writing the introduction, discussion, future directions, and conclusions